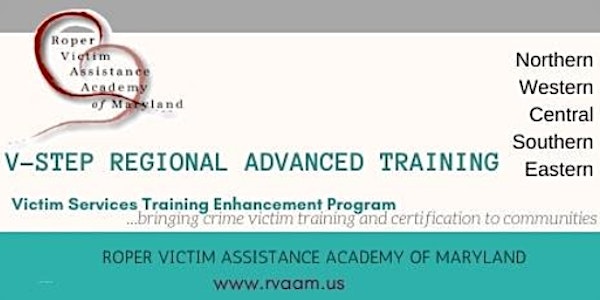 V-STEP WEBINAR: Death Notification - Breaking the News with Compassion
V-STEP: Death Notification - Breaking the News with Compassion
About this event
This training is a 2 and a half hour training for service professionals who serve crime victims & their families dealing with Death Notification.
Dates & Times (in EST)
Monday, December 12 ~ 10:00 AM - 12:00 PM EST
TRAINER: Debbie Bradley, C.A., VASIII 410-638-4905 or bradleyd@harfordsheriff.org
Training Contact: Anne Milun (Litecky), VASIII, Program Coordinator, 410-837-5055, alitecky@ubalt.edu, Francis Poblete 443-799-2596
SUMMARY:
Death notification is acknowledged to be one of the most difficult tasks faced by law enforcement officers and other professionals. For most people, first learning about the death of a dear family member or close love one will, most likely, be the most traumatic event in their life. Few professionals have received either classroom or experiential training in death notifications.
Making a death notification is something you may never have to do in your career, or it might be something that you may have to do way too often. Be prepared, you may be called upon in your career to deliver a death notification. This V-STEP training will provide you with the necessary tools and information to do so. There are no do overs, you only get one chance to get it right.
OBJECTIVES:
Recognize the importance of handling a death notification properly so as not to harm the survivors.
Understand the possible reactions of survivors and how to deal with them. Crisis reactions.
Recognizing that children are different when providing death notifications and how to respond to their needs.
Understand how to respond to the death of a child.
Identify the survivor's needs after a death notification.
Understand how to implement a step-by-step process for delivering a death notification.
Discuss what should be said and what should never be said to survivors before, during and after a death notification.
Understand the needs of survivors in reference to wanting/needing to view the body before its removal.
Define the purpose of crisis intervention and the aftermath of traumatic death.
ROPER VICTIM ASSISTANCE ACADEMY OF MARYLAND (RVAAM), University of Baltimore
Victim Services Training Enhancement Program (V-STEP)…Bringing Crime Victim Training and Certification to Maryland Communities
NOTE:
RVAAM selected curriculum has been approved for specific professions (e.g. social work, law enforcement, corrections, probation/parole) Participants will receive Continuing Education Units (CEUs), and are welcome to ask for academic credits. All participants will receive a Certificate of Training (1 credit per hour).