V For Victory is hosting a virtual walk-a-thon to raise awareness and fund for local families fighting cancer.
About this event
V For Victory is a 501c3 nonprofit organization that provides resources and services to local families battling cancer in the Jacksonville, Gainesville, and Cary, NC areas.
***All event proceeds will go to V For Victory, which will use the funds to provide supportive services for our local families battling cancer***
The event will start the morning of Friday, February 4th (World Cancer Day) and end Sunday, February 6th.
Participants can choose between walking a 3k or 5k. You are welcome to walk or run wherever you would like (this can include nature trails, around your neighborhood, or on a treadmill).
Make sure you track your distance and time on your phone, smart watch, or other devices (Strava is a great app to use to track your walking time/distance).
At the end of the walk, send in your picture of your time to vforvictory@vforvictory.org for a chance to be showcased on our Facebook Page and win a prize (for top walker)!!
All participants will receive a free downloadable certificate for completing the walk-a-thon!
Below are the prizes offered for amount of donations raised. These incentives are per person and can be collected by a one rate donation on this page or a pledge per 1k.
**If you decide to pledge per 1k, please us the sheet below track the money raised**
Make sure to write the name of the person you are donating for so they can receive their prizes!!
V4V Level 1 ( $10.00 - $25.00 raised):
V4V Level 2 ($25.00 - $50.00 raised):
A V4V wristband
A V4V Tote
V4V Level 3 ($50.00 or more raised):
A V4V wristband
A V4V Tote
A V4V Water Bottle
Top 2 Participants who raised the most will receive a $50 gift card to V Pizza!!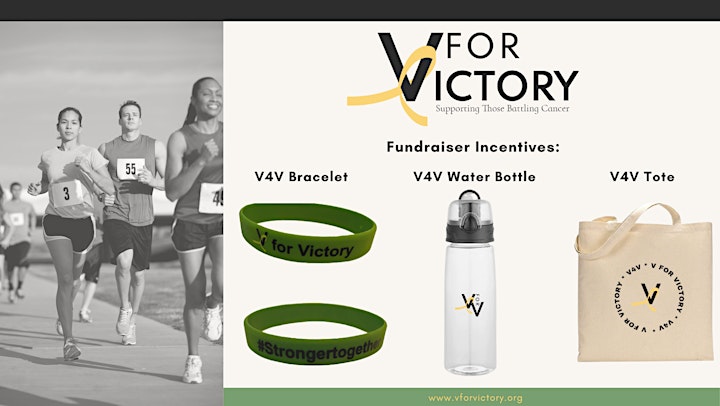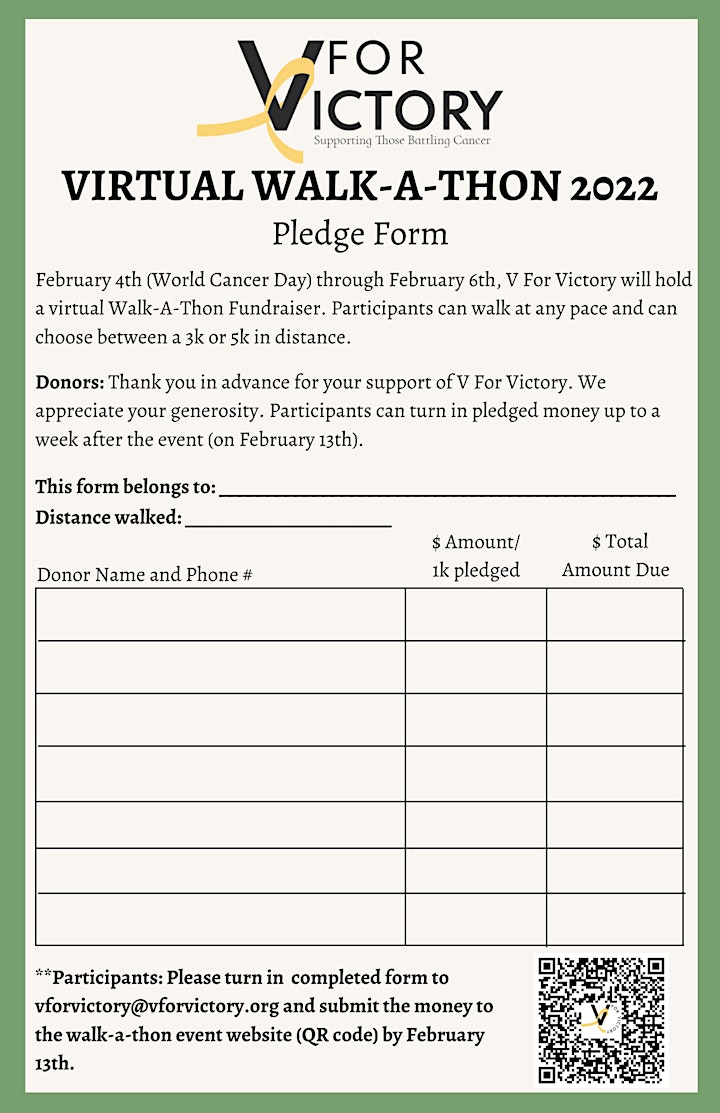 Date and time
Location
Refund policy