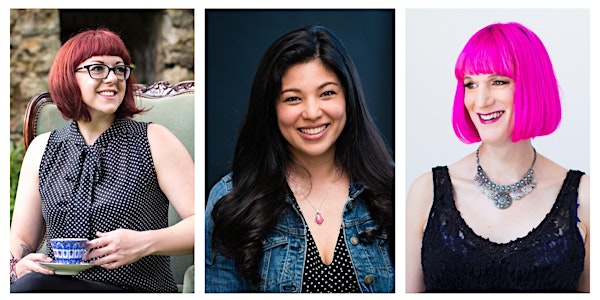 V. E. Schwab, Maggie Tokuda-Hall and Charlie Jane Anders For Books Inc.
A fundraiser for Books Inc., and book launch for Maggie Tokuda-Hall.
Refund Policy
Contact the organizer to request a refund.
About this event
It's a tough time for local bookstores, what with the social distancing and the sheltering in place. So we're raising funds to help local Bay Area bookstores stay in business, with a series of fundraisers. This event will be a discussion between Charlie Jane Anders, V. E. Schwab, and Maggie Tokuda-Hall (for whom this is also a launch party).
The authors
Victoria "V.E." Schwab is the #1 NYT, USA, and Indie bestselling author of more than a dozen books, including Vicious, the Shades of Magic series, and This Savage Song. Her work has received critical acclaim, been featured by EW and The New York Times, been translated into more than a dozen languages, and been optioned for TV and Film. The Independent calls her the "natural successor to Diana Wynne Jones" and touts her "enviable, almost Gaimanesque ability to switch between styles, genres, and tones."
Charlie Jane Anders is the author of the City in the Middle of the Night. Her debut novel, All the Birds in the Sky, won the Nebula Award for Best Novel and was a Hugo Award finalist. Her story, "Six Months, Three Days" won a Hugo Award. She has also had fiction published by McSweeney's, Lightspeed, and ZYZZYVA. Her journalism has appeared in Salon, the Wall Street Journal, Mother Jones, and many other outlets.
Maggie Tokuda-Hall is the author of the Parent's Choice Gold Medal winning picture book, Also an Octopus, illustrated by Benji Davies, and the young adult novel The Mermaid, The Witch and The Sea. You can read her writing for adults in her column for Catapult Magazine (Fear and Loathing in Utero), and her fiction on The Rumpus, Joyland Magazine, and Columbia Journal for Literature and the Arts.
This event is hosted by Evan Karp, events manager for Booksmith and organizer of Quiet Lightning.
The beneficiary
Books Inc.'s origin dates back to the Gold Rush Days of 1851 when Anton Roman struck it rich in Shasta City, California and set himself up in business selling books. That small bookstore was moved, bought, sold, burned, rebuilt, renamed and became Books Inc., as we know it today, in 1946.
Today, with 11 stores and around 200 employees, Books Inc. serves as a shining example that independent bookselling can survive and prosper, even if we must dance among the elephants.
Every penny you spend on this event will directly to Books Inc.
How does it work?
We use the conferencing system Zoom. After you sign up you'll get an email with the Zoom access code. (Check that Eventbrite is using your current email address.) You don't have to join with video, but it's nice to see faces.