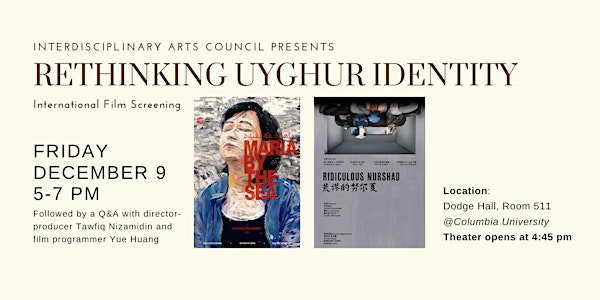 Uyghur Shorts - Film Screening and Q&A
The IAC's DEI committee presents two short films (30 min each) by Uyghur filmmakers with a Q&A with the directors and producers afterward.
When and where
Location
Dodge 511 2960 Broadway Room 511 New York, NY 10027
About this event
RIDICULOUS NURSHAD
2022 / 31 min / Drama / Uyghur, Mandarin, English / English subtitles
San Diego Asian Film Festival 2022
During the Chinese New Year holiday in 2020, four childhood friends are trapped in the
same neighborhood in Urumqi due to the COVID-19 pandemic. Kamran invites them to his
home for a feast. Arkin, who has returned from Macao, arrives first, but he keeps talking
on the phone. The next to arrive, Nurshad, starts to play Emir Kusturica's
UNDERGROUND on TV. Knowing that Nijad is running late, the others start eating without
him.
As they eat, they begin to talk about COVID-19. A bit irritated, Nurshad shares his own
opinion that the Uyghurs are immune to the virus. The other two try to refute him, but to no
avail. Nurshad remains firm in his belief, leaving his friends speechless. An awkward
silence has just fallen upon the dining room when Nijad arrives and rekindles the debate.
Director's Bio
Ikram Nurmehmet, a native of Urumqi, Xinjiang, graduated from Marmara University with a
degree in television and film production. Currently based in Beijing, he has directed
multiple narrative and documentary shorts.
——————————
MARIA BY THE SEA
2019 / 38 min / Drama / Korean, Uyghur / English subtitles
International Film Festival Rotterdam 2019
Busan International Film Festival 2019
In a western restaurant in Seoul, Professor Jung is explaining to his date, Ms. Lee, why he
is late: he ran into his former student, Maria, who helped him choose a gift; then they
talked at a café, as Maria had a few questions for Professor Jung. The story unexpectedly
pleases Ms. Lee, so she offers to treat him. Professor Jung objects. Small talk grows into a
hostile conversation. Feeling offended, Ms. Lee leaves without Professor Jung's gift...
Director's Bio
Tawfiq Nizamidin is a Uyghur director born in Urumqi in 1991. He graduated from Beijing
Film Academy. In 2017, his short film THE NIGHT OF ARZU was nominated for Best Live
Action Short Film at the Golden Horse Awards in Taipei. In 2018, he completed his second
short film MARIA BY THE SEA, shot in Korea in collaboration with the Korean Academy of
Film Arts. It premiered at the Voices section of International Film Festival Rotterdam and
was selected by Busan International Film Festival's Community section. He also produced
and co-wrote ELEPHANT IN THE CAR. Currently he is based in France and preparing for
his next short film and first feature.
Attendees must be fully vaccinated for entry. For non-Columbia attendees, proof of vaccination will be checked at the door.