Description
Rally Overview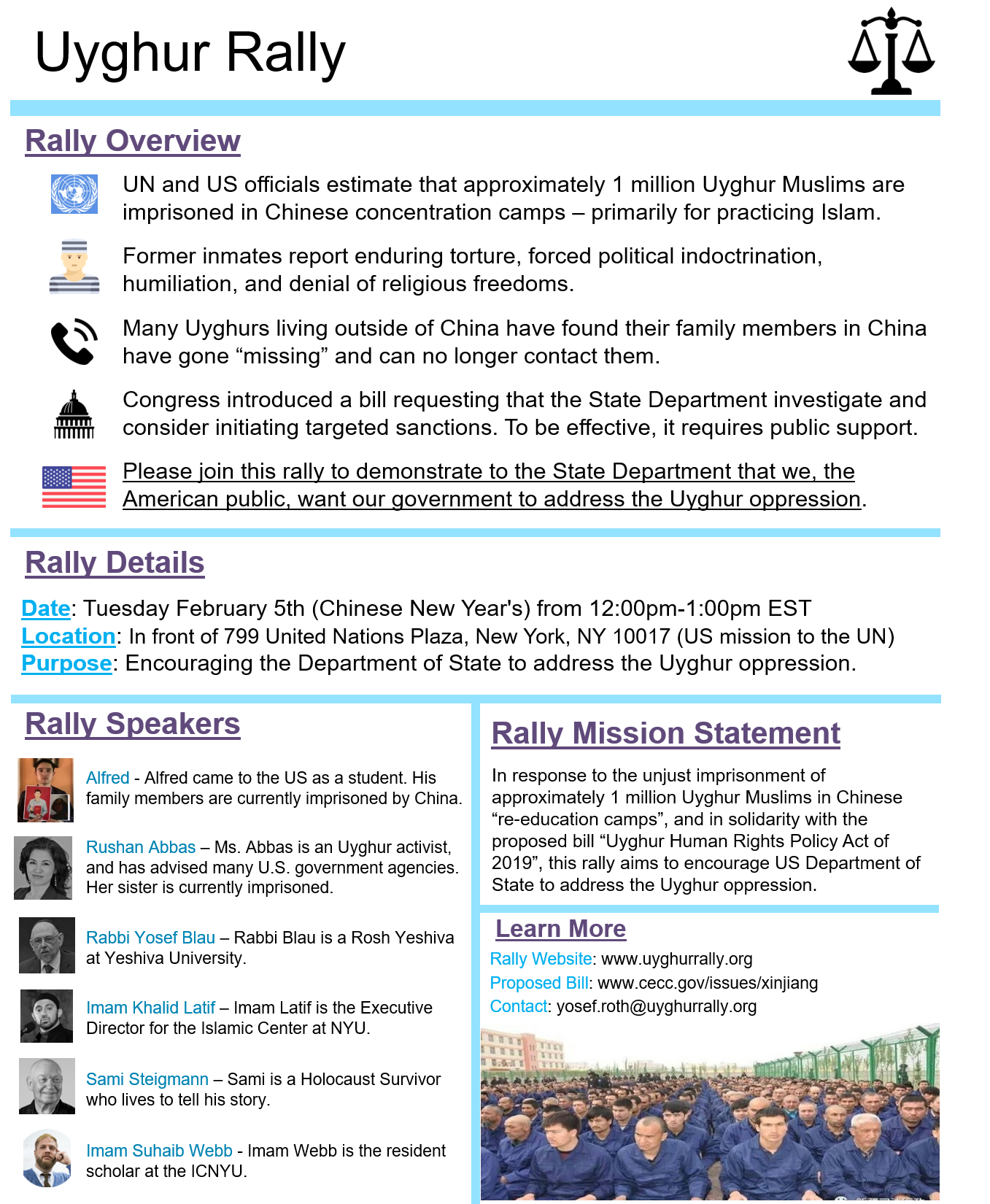 Background
According to recent UN estimates, approximately 1 million Uyghur Muslims have been imprisoned in "re-education camps". Recently, Congress introduced a bill requesting that the state department investigate and consider initiating targeted sanctions.

Mission Statement
In response to the unjust imprisonment of approximately 1 million Uyghur Muslims in Chinese "re-education camps", and in solidarity with the proposed bill "Uyghur Human Rights Policy Act of 2019", this rally aims to encourage US Department of State to address the Uyghur oppression. We believe our country must protest this enormous attack on human rights, human dignity, and ability to worship God.
Rally Speakers
Alfred - Alfred came to the US as a student. His family members are currently imprisoned.
Rushan Abbas - Rushan Abbas is an Uyghur activist, and has extensive experience working with U.S. government agencies. Her sister is currently imprisoned in the camps. For more information, please see Ms. Abbas's op-ed in the Washington post.
Rav Yosef Blau - Rav Blau is a Rosh Yeshiva and Mashgiach Ruchani at Yeshiva University and a member of the Rabbinical Council of America. He has been a leader in the Jewish community for over 50 years. He will speak about the moral and religious imperative to fight the Uyghur oppression.
Imam Khalid Latif - Imam Khalid Latif is the Executive Director for the Islamic Center at NYU, has been named a Global Interfaith Visionary by the United Nations Temple of Understanding (2010), and was selected as one of 60 NYC leaders to serve on May Bill Deblasio's Transition Team.
Sami Steigmann - Sami Steigmann is a Holocaust survivor who lives to tell his story. He will be speaking about his experiences and the lessons the world must learn from the Holocaust.
Imam Suhaib Webb - Imam Suhaib Webb was named as a "Faith Leader to Watch" by The Center for American Progress in 2016, selected by the Muslim Community as one of CNN's 25 Most Influential Leaders; as well as one of "Five Hundred of the Most Influential Muslims" by the Royal Islamic Studies Center in 2017. He is currently the resident scholar at the ICNYU and teaches a course at NYU on Islamic Law and Ethics.
Website - https://uyghurrally.org/

Facebook - https://www.facebook.com/events/281446025894081/
Twitter - https://twitter.com/UyghurN