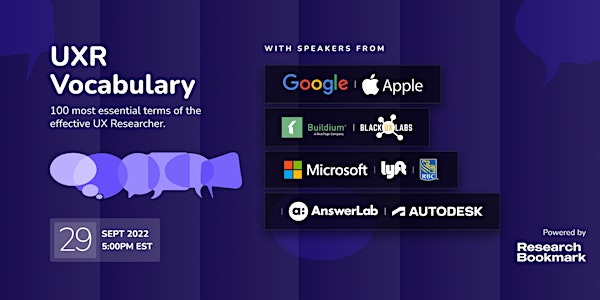 UXR Vocabulary: 100 most essential terms of the effective UX Researcher.
This event brings UX terms to the table, ones that you should know as a beginner, intermediate or transitioning UX Researcher.
About this event
Moving into a new field is challenging. Add being unfamiliar with its terminology and jargon to the mix, and the experience is overwhelming. Getting started in UX Research is no different.
Knowing your way around UX terms and jargon can help release some of the pressure. It'll also give you the confidence to engage in UX conversations, ask questions, and network with ease.
Join us on the 29th of September as we discuss with senior level UXRs from Google, Microsoft, Apple, AnswerLab etc. about the must-know UX terms to help you engage in UX conversations with confidence and get your projects moving.