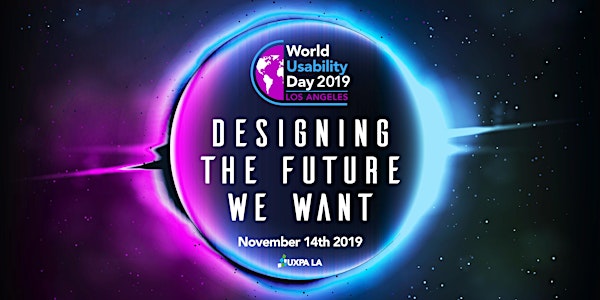 UXPALA World Usability Day 2019: Designing The Future We Want
Date and time
Thursday, November 14, 2019 · 6 - 9:15pm PST
Location
TicketMaster 7060 Hollywood Boulevard Hollywood, CA 90028
Refund Policy
Refunds up to 1 day before event
Description
UXPALA WORLD USABLITY DAY 2019:
DESIGNING THE FUTURE WE WANT
As usability professionals, our work is moving us closer to a certain future. Whether the progress is intentionally or unintentionally created, and whether that future is tomorrow, next month, or several years or decades down the line - we are all heading towards endpoints of our own creation.
With such a large topic, this brings up the question - What and how are we designing for the future we want?
---
SPEAKERS & TALKS: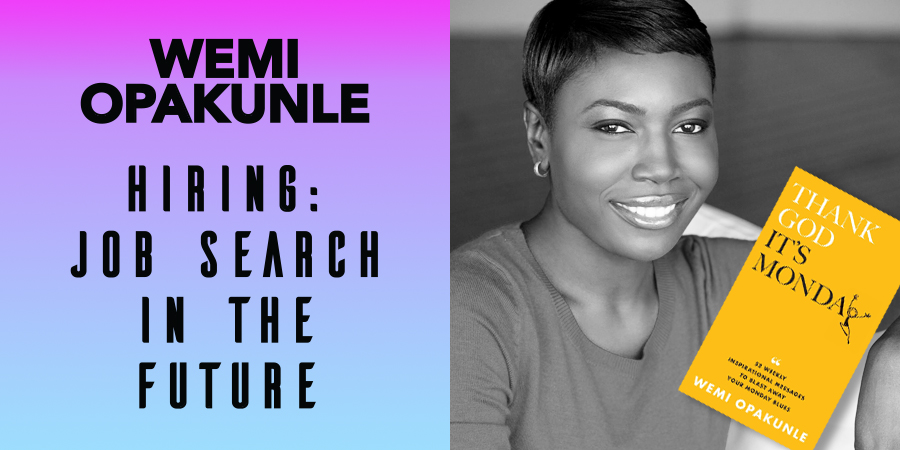 HIRING: JOB SEARCH IN THE FUTURE
Wemi Opakunle and Marcella Missirian, President of UXPA of LA, will sit and discuss what hiring in the UX industry will be like in 3-5-10 years. Where will the jobs be, growth of our industry, how the hiring process will be different (or the same!), what you can do to move your career into the future you want. We will also have an audience Q&A with Wemi.
Wemi recruits for the following departments at Netflix:
UX and UI
Product Design
IXd
Motion Design
Visual Design
Product and Project Managers
WEMI OPAKUNLE, Recruiter at Netflix, Author - Thank God It's Monday

Wemi Opakunle is a Recruiter, Author and Coach who has spent the past 14 years partnering with top advertising agencies, global brands and entertainment studios. She currently leads recruiting efforts across Netflix's Creative Studio (including Innovation), Product Creative Strategy and Product Testing teams. She is also the author of the recently released book, Thank God It's Monday -- 52 Weekly Inspirational Messages To Blast Away Your Monday Blues. As a motivational speaker and writer, she is dedicated to the encouragement and empowerment of the human spirit. She spends her time spreading the message of hope, finding spiritual balance, and encouraging others to live their lives to their fullest potential. LinkedIn Instagram @Wemi_Opakunle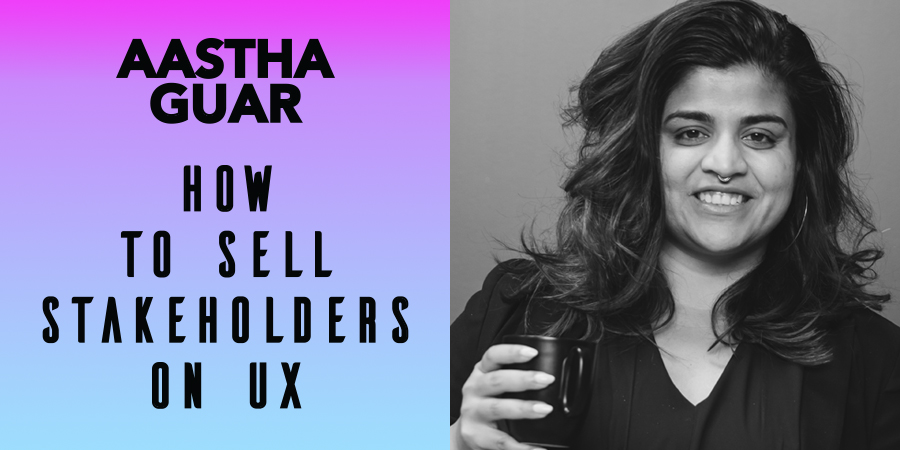 HOW TO SELL STAKEHOLDERS ON UX
Creating a great user experience isn't a solo effort. To do our best work, we have to have a team of good people in our corner: engineers, sales, program managers, product managers, and other folks who might not understand the value (or necessity) of user-centered design. As designers, how do we make sure that UX has a seat at the table? What's the secret code for explaining the importance of user research and experience to non-designers—and non-believers?
AASTHA GAUR, Senior Manager UX - Google
Aastha will be sharing the strategies she's developed for getting stakeholders on board from her seven years at Google, along with practical tips for positioning yourself as an indispensable part of the building process. Learn how to make engineers and product managers care about users, and how to use that to elevate your organization's design culture. LinkedIn @AstadaPasta

FLYING TAXI'S ARE JUST OK...
Everyone is excited about the arrival of flying taxis, but how might they actually function in LA people's everyday lives? Research methods to uncover not hypotheticals, but how products and services fit with people's daily habits and practices.

RACHEL CARMEN CEASAR, PhD
Rachel Carmen Ceasar, PhD, is a health and tech anthropologist and the founder of Culture of Health+Tech Consulting, a womxn-owned research and design firm in Los Angeles. She is currently a research associate at USC Keck School of Medicine where she is examining the impact of cannabis on opioid use.
Web LinkedIn Meetup - Service Design LA @RCeasara

GRACE G. LAU - UX Architect, PatientPop Inc.
Grace is an Information Architect at PatientPop, in drought-ridden, sun-baked Southern California. She received her MLIS from UCLA, where her graduate portfolio focused on information-seeking behavior in online communities, gaming, and communities of practice. Since then, she has 9 years experience working in-house and as a consultant doing both strategic and tactical design. She has worked on large intranets and websites, eCommerce and search systems, a content management system, and a mobile app. When she's not working, she's organizing clothes, sorting Lego bricks, and working on a controlled vocabulary on Asian dramas. Find her on LinkedIn and Twitter @lauggh.
DESIGN FOR INNOVATION BY CONNECTING THE DOTS FOR BETTER PATIENT EXPERIENCE


---
Who Should attend:
Anyone working in UX, UI, Product Design, IXd, Motion, Visual Design

Product/project managers

Directors, VP's C-Level

This event is open and relevant to anyone interested in forward thinking future design
---
VENUE:
TICKETMASTER HEADQUARTERS - HOLLYWOOD
7060 Hollywood Boulevard
Hollywood, CA 90028
Google Maps: https://goo.gl/maps/uEyNbRE4Aqk
---
SCHEDULE
6:00 - Check-in, Network, Refreshments
6:45 - Business, Sponsors, Community
7:15 - 7:40 (5 min Q&A) - Grace Lau (Patient Pop - Healthcare)
7:40 - 8:05 (5 min Q&A) - Rachel Ceasar Ph.D. (Culture of Tech + Health - Flying Taxi's)
8:05 - 8:35 (5 min Q&A) - Aastha Gaur (Google - Selling UX to Stakeholders)
8:35 - 9:05 (5 min Q&A) - Wemi/Marcella - (Netflix) Recruiting and Jobs
9:05 - Raffle
9:15 - See you in 2020!
---
RAFFLE
BIG RAFFLE PRIZE - 1 Year License to Adobe CC!! ($708.00 value)!
Swag from Netflix
2 signed copies of Wemi Opakunle Book - Thank God Its Monday
UXPALA Books - 1 book to 3 different winners from O'Reilly or Rosenfeld Media
Duffle Bag - Tek Systems
Thrive Market - Membership + other stuff
Vivid Resources, 3 winners of a 1-hour resume review sessions ($200 value for a session!)
---
PARKING
VERY LIMITED Parking is available underground at the Ticketmaster/LiveNation building. Enterance on N. Sycamore Ave. $20+
Metro Light Rail Hollywood and Sycamore Hub:
Please check Google Maps. There is a metro station very, very close to the front door of Ticketmaster.
Public $$ Parking:
7086 Hollywood Parking
1712 El Cerrito Pl, Los Angeles, CA 90028
Hollywood Entertainment Plaza Parking
1638N N La Brea Ave, Los Angeles, CA 90028
(Quick right into alley before you get to Hollywood Blvd at Y junction off of La Brea)
$15 Parking
1670 N Sycamore Ave, Los Angeles, CA 90028
Public Street Metered Parking on:
Hawathorne Ave
Hollywood Blvd.
Sycamore Ave.
Lanewood Ave.
Orange Ave.
Mall across the street at your own risk
---
PARTNERS:
TICKETMASTER HOLLYWOOD


Remember the last time you cheered so hard you lost your voice? Stood speechless after witnessing greatness? Or saw your favorite band play a triple encore? We do. And it's why we do what we do.
Those amazing, unforgettable, magical moments that are never the same from one night to the next —it's Ticketmaster's mission to make that connection between fans and the artists, teams and performers they love.
Visit us: TicketMaster Web Twitter Facebook Ticketmaster BLOG
CARVANA

Carvana is the new way to buy a car. Search, finance, and buy online. No dealerships. 7-Day Money Back Guarantee. Simply put, Carvana is a better way to buy a car. You can browse, finance, and purchase a car online and have it delivered to you as soon as the next day. Cutting out the dealerships translates to thousands of dollars in lower costs on every vehicle we sell. We pass these savings on to consumers in four ways: lower prices, premium cars, a better experience, and no hidden fees. @Carvana Facebook @GoCarvana
Carvana is hiring for UX Roles! #TheNewWayToBuyACar
THRIVE MARKET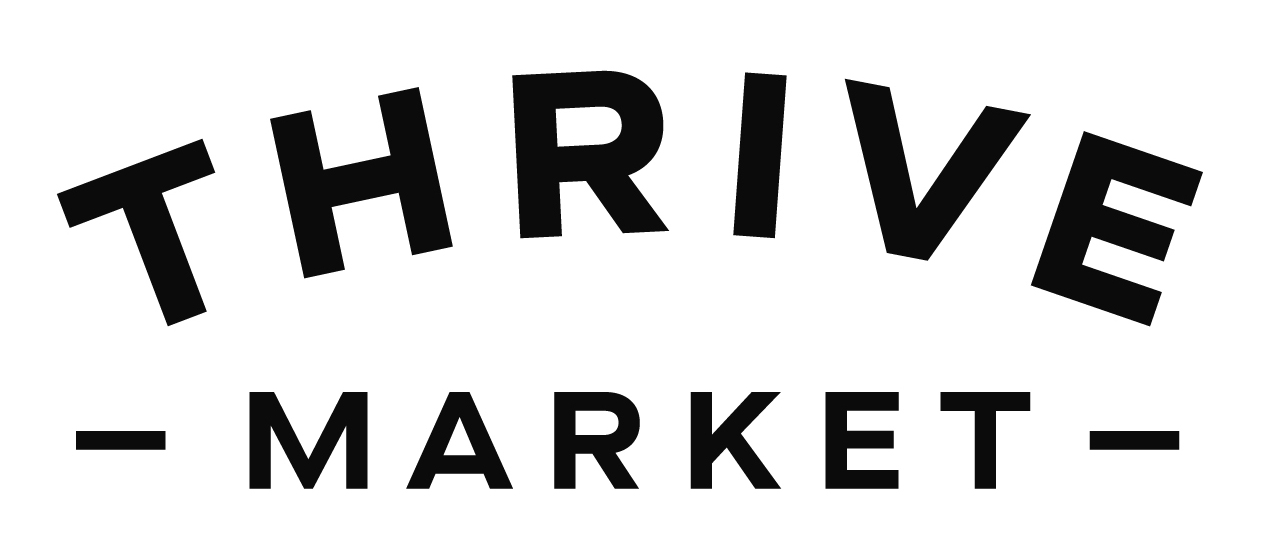 Thrive Market was founded in 2014 with a mission to make healthy living easy and affordable for everyone. As an online, membership-based market, we deliver the highest quality healthy and sustainable products at member-only prices, while matching every paid membership with a free one for someone in need. Every day, we leverage innovative technology and member-first thinking to help our 600,000 members find better products, support better brands, and build a better world in the process.
Go to thrivemarketcareers.com to join our team and learn more about Thrive Market.
Sr UX Designer, Sr Product Manager

Software Engineer (all levels)
Thrive on: Instagram Facebook YouTube Pinterest @ThriveMarket

ADOBE AND ADOBEXD - DESIGN TOOLING REIMAGINED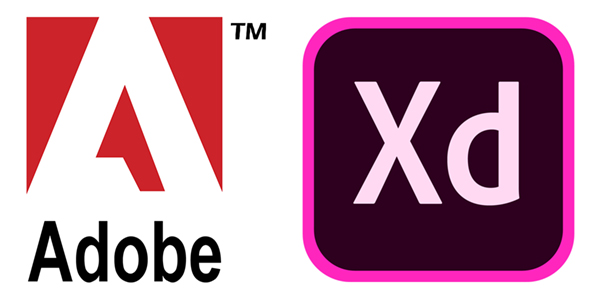 Wireframe, design, prototype, present, and share amazing experiences for web, mobile, voice, and more — all in one app. XD is made for designers, creative teams, and organizations that need to design at scale. It's everything you need to work more efficiently, collaborate effortlessly, and create and manage your design system. ADOBE XD #ADOBEXD
OPTIMAL WORKSHOP

A User Research Platform that helps you and your team make design decisions with confidence. We've created a suite of usability tools that help improve your website navigation, define information architecture, understand first-clicks, capture qualitative research, and more. All the things in all the right places. The research methods and features you'll need and love
Visit us: OptimalWorkshop Web Twitter Facebook LinkedIn
VIVID RESOURCES

Helping companies find the best User Experience Talent since 2004.
My mission is to assist my clients in finding User Experience and digital creative talent for their staffing needs while offering a single point of contact for clients and talent. I truly enjoy taking full ownership of the process.
User Experience staffing is the perfect space for me! My background in music, my experience working with MS and PhD's in Psychology and 8 years of staffing in technology laid the groundwork for my transition to UX. I am also honored to call many UX professionals my friends and advisors and value their assistance in staying current around the ever-evolving space of digital technology. My relationships, built on trust and performance and developed over the past 15 years of UX specialization, drive my passion for UX forward.
There is great reward for me in finding and presenting to my clients for hire the tremendous talent I work with. Equally as rewarding is freeing up my clients to spend their valuable business hours on achieving their goals while I focus on what I do best. To me, it's a perfect partnership.
VISIT US: Vivid Resources Web Twitter LinkedIn Facebook YouTube
AIRTABLE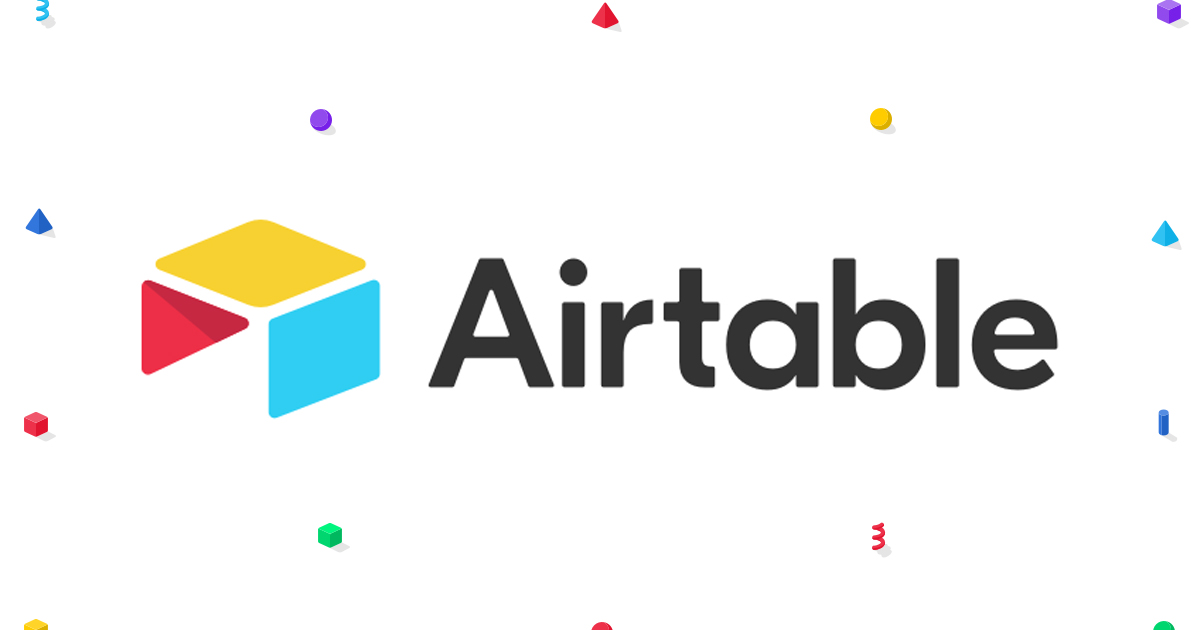 Airtable was founded on the belief that software shouldn't dictate how you work—you should dictate how it works. Our mission is to democratize software creation by enabling anyone to build the tools that meet their needs. Creators and creatives around the world use Airtable to do everything from cattle tracking to filmmaking, and they have great things to say. Airtable.com @Airtable Airtable is hiring for various positions.
SOCIAL MEDIA
Event Hashtag — #WUDLA19
Worldwide Hashtag: #WUD2019 #worldusabilityday2019
@Wemi_Opakunle - Wemi
@RCeasara - Rachel
@lauggh - Grace

@AstadaPasta - Aastha
---
Tickets are required for this event and walk-ups are not permitted. Space is limited, so register now.
Drinks and appetizers will be provided. This private event is for UXPALA members ages 21+ if you are drinking alcohol. Please bring your ID to the event. By registering for this event, you are agreeing to UXPALA's Community Terms of Use.
---
FAQs
How do I access this event space?
This space is ADA accessible - Please contact contact@uxpala.org with any questions.
How can I contact the organizer with any questions?
Contact us at contact@uxpala.org with any questions!
Do I have to have pre-purchase my ticket to this event or can I just show up on the event day?
Tickets are required for this event and walk-ups are not permitted. Space is limited, so register now.
Do I have to bring my printed ticket to the event?
You can if you want. But you can also just check in with your name.
Is my ticket transferrable?
Not at this time but you can recieve a full refund up to 24 hours before the event. Usually we have a waitlist for our events so we'll make your ticket avaible to the next person on that list.
Is there a code of conduct?
Yes. Please take a moment to read through UXPALA's CODE OF CONDUCT FOR GUESTS, VOLUNTEERS, LEADERSHIP AND OFFICERS. By purchasing a ticket for this event, you AGREE to adhere to the UXPALA's Code of Conduct which you can find at the link as well as our CONFIDENTIAL REPORTING FORM. We strive to respoond immediately to all reports of Code of Conduct violations to keep everyone safe.
Do I have to be 21 or over to attend this event?
You do not have to be 21 years old, but we ask you be at least 18 years old to attend this event. However - Drinks and appetizers will be provided. This private event is for UXPALA members. Guests ages 21+ may drink alcohol. Please bring your ID to the event. By registering for this event, you are agreeing to UXPALA's Community Terms of Use.
About the organizer
The goal of our Los Angeles chapter of UXPA is to support user experience professionals in advancing their knowledge and use of usability best practices. To accomplish this, our chapter focus is on service and education. 
Through networking, publications, events and workshops, UXPALA strives to help you hone your skills and deepen your involvement in the UX community.
Our members are employed in a wide variety of disciplines, including product and service strategy, design, research, content and development. We are colleagues in pursuit of a common goal: better products and services, better working, and better living through usability.