Description
POSITION YOURSELF FOR GROWTH IN 2020.
BUILD A TEAM. JOIN A TEAM. CREATE GREAT THINGS!
UXhibition 1 and UXhibition 2 were big wins with incredible connections made and new opportunities grabbed. So we are motivated to organize another chapter of this series.
Startups looking to hire Usability professionals with pay or equity share, this is the event for you. Likewise digital product designers and researchers looking for new opportunities. Come one, come all UXers from junior to senior level to the third chapter of our User Experience (UX) Talent Exhibition & Founders Networking. Get to witness startups pitch their projects in a bid to attract new talents to their teams, as well as designers showcasing their portfolios followed with questions and answers.
Industry talents in demand include:
Senior UX Designers
UX Managers
User Researchers
Paid UX Interns
Specialist UX Designers
Generalist UX Designers aka Unicorns
Front-End Devsigners or UX Developers
Visual/UI/Graphic Designers
Interaction Designers
Content Designers / Strategists
Information Architects
Usability Analysts
Service Designers
Hiring companies to be in attendance include:
Carwow - The car buying comparison site
Penser - Payments and Fintech Consulting
Lingumi - The English learning platform for kids ages 2-6
zeroheight - Design system builder platform for companies
Marshall Wolfe - Hiring by design consultancy

More loading...
Agenda:
16:00 - Doors open, refreshments & networking
16:30 - Employers introduction & presentation
17:15 - Reaching the next 500m children by Lingumi + Q&As
17:35 - UX case studies & portfolio presentations + Q&As
18:15 - Job inquiries & more networking
19:00 - Lights out!
If you are a UX pro/newbie/student in any of the above areas with the availability to work or co-found a project, then don't miss this great opportunity. Even if you just want to network and meet some of the founders to be in attendance. You could be joining one of the industry's next winning teams as an outcome of your attendance.
If you're an employer or recruiter, then skip stack of CVs, come network and put a face behind your job prospects. Some connections could gel at first meet.
There will be presentations from startups as well as designers showcasing their works. There is also a follow up Paintball event to extend the courtship of new candidate, team mate or co-founder prospects by playing paintball in amazing game zones on Saturday, 21 March, 2020 (subject to your ticket type).
---
Startups & Topics of Discussion:
• Lingumi: "Removing the need for a live teacher - Teaching the next 500M children"
- History of Lingumi. Pre 2015 to Now
- Their 10 year vision. How they're reaching the next 500 million children to give every child a headstart in life
- How they're solving big problems through Design and UX
• More loading...
Objectives of this event:
• Connect founders with designers as potential co-founders or team mates
• Provide start-ups with direct access to UX talents
• Ease talent acquisition cost for startups that have shares option
• Disrupt the status quo, facilitate new spontaneous professional connections
• Inspire and enable a renewed or new sense of direction for participants in the dawn of 2020
More featured startups, presenters and sponsors are to be confirmed and announced soon with the day's Agenda. Please check back later.
Price Guide Table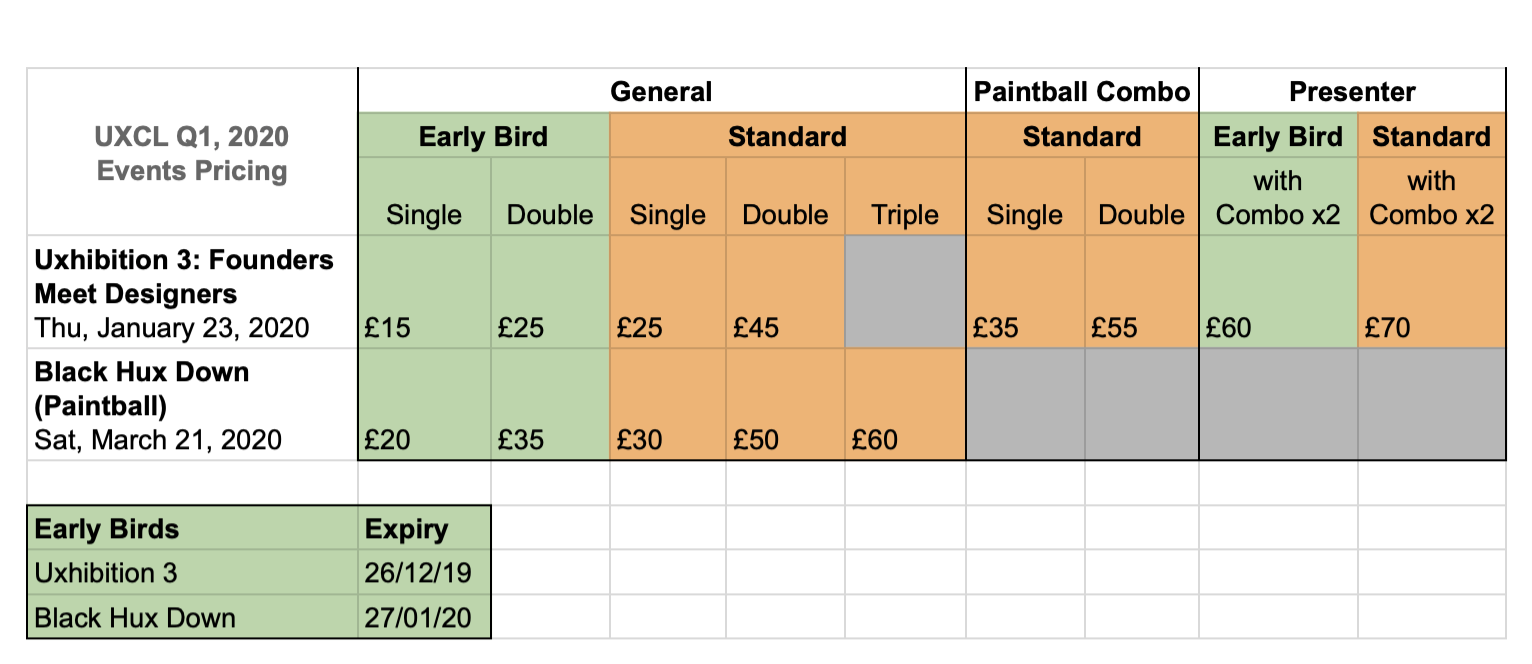 ---
Note for employers, founders and recruiters:
If you're hiring as an employer, looking to team up with a designer as a co-founder, or you're interested in giving a talk on any relevant topic of choice within context, please complete the form here http://uxconnect.org/partners/ to register your interest and provide us more details.
Recruiters are also welcome. Slots are FREE for a limited period for hiring teams, so hurry and book now. Registration per startup or recruiter will attract either of the available tickets fee once the first 5 free slots are filled. Hiring employers and startups are entitled to 1 free ticket only from the available 5 free slots. Get a paid ticket for additional delegates. Any of the available Single and Double tickets will entitle you to a presentation time of up to 10 min. You do not have to get the Presenter ticket. It's for job seekers only.
Note for all including job seekers and spectators:
Only Early Bird tickets are refundable until 26 December 2019 should in case you go off the market before the event or for other reasons. If you wish to raise your odds of getting noticed/discovered by employers and founders, then grab the Presenter ticket for an added benefit of 15 min stage time to showcase your portfolio to the audience including Q&As. The Presenter ticket (Early Bird or Standard) is also inclusive of the Combo-Double benefits, that is, provides you and a friend admissions to the UXhibition 3 and Paintball events and it's available in limited quantity. So hurry and secure your space soon.
What is the Combo deal?
1 Combo ticket (Early Bird & Standard) = 2x interesting events
The Combo ticket will gain you entry to both of our events in Q1, 2020 which includes the UXhibition 3 (Thu, Jan 23rd) and Paintballing (Sat, Mar 21st). Please buy your Combo ticket on this page.
---
Organizer of UXhibition 3 - Startups Meet Designers
UX Connect London is a unit of UX Connect Global, committed to hosting engaging, entertaining and educational meetup events in London for those in and interested in User Experience with the aim of making the field more accessible, understood and refined. We organise events and sessions around mentoring, networking and learning of digital experience design to educate, inform and inspire UX'ers.
Our wonderful community welcomes all levels of usability professionals and stakeholders including UX Designers, Visual Designers, User Researchers, Interaction Designers, Content Strategists, Information Architects, Usability Testers, Scrum Masters, Product Managers, Copywriters, and UX enthusiasts at large to help accelerate their career and build a support network.
Opportunities for members include:
• Local network growth
• Direct access (possibly employment) to UX gigs recommended by other members or jobs offered by partners
• Free (or discounted) tutoring from experienced members in UX subject areas of concern
• Quality network of user experience and design contacts
• Unreserved references and recommendations from qualified members
• Free (or discounted) subscription to UX tools offered by sponsors
• More skills and knowledge in UX areas of interest as well as trending topics
• Express mentoring from other experienced members
Wish to become a volunteer for us? Then learn more about and join here https://www.meetup.com/uxconnecthq/