Der Ticketverkauf ist beendet
Registrierungen sind abgeschlossen
Thanks for registering for UXCamp Switzerland. We're looking forward to seeing you at the event. If you have any questions considering your order, accessibility or food allergies, feel free to contact us connect@uxcamp.ch Additional Information: BarCamp: Saturday, May 5th, 9:00-18:00 Uhr Venue: ZHdK Zürcher Hochschule der Künste Toni Areal Pfingstweidstrasse 96 8005 Zürich Cancel your ticket if you can't make it to the event until April 30th, 2018
Eventinformationen
Veranstaltungsort
Zürcher Hochschule der Künste
Pfingstweidstrasse 96
Toni-Areal
8005 Zurich
Switzerland
Rückerstattungsrichtlinien
Rückerstattungsrichtlinien
Kontaktieren Sie den Veranstalter, um eine Rückerstattung anzufordern.
Der Ticketverkauf ist beendet
Registrierungen sind abgeschlossen
Thanks for registering for UXCamp Switzerland. We're looking forward to seeing you at the event. If you have any questions considering your order, accessibility or food allergies, feel free to contact us connect@uxcamp.ch Additional Information: BarCamp: Saturday, May 5th, 9:00-18:00 Uhr Venue: ZHdK Zürcher Hochschule der Künste Toni Areal Pfingstweidstrasse 96 8005 Zürich Cancel your ticket if you can't make it to the event until April 30th, 2018
Beschreibung
The fifth edition of the UXCamp Switzerland is taking place on May 5th, 2018 at the ZHdK in the Toni-Areal Zurich.
Saturday, May 5th: UXCamp Switzerland
The focus of the UXCamp is user experience design. You and other attendees (professionals and novices) will host sessions and discussions on user research, design strategy, information architecture, interaction design, prototyping, usability, visual design or front-end and UI development.
A view beyond the horizon "Tellerrand" to topics such as product design, coding, failure and success in relation to UX is also welcome.

Friday, May 4th: Halfday Workshops sponsored by Namics and Ergosign
As introduced last year are also organising two half-day workshops.
Creative Workshop Methods for UX Designers, lead by Toni Steimle and Ergonomics for UX Designers, lead by Mariana Helgurea. Register here.
PREPARE YOUR SESSION!
It's a BarCamp. So no spectators, just active participants! We request you to prepare a session and speak, or discuss, ask questions in the sessions, support the speaker, critique and help the organising team. Write about the UXCamp on your blogs, post pictures, and sketch notes. The BarCamp is the ideal place to meet other campers. Be open to new ideas, topics, and opinions. Be proactive, because YOU are the UXCamp!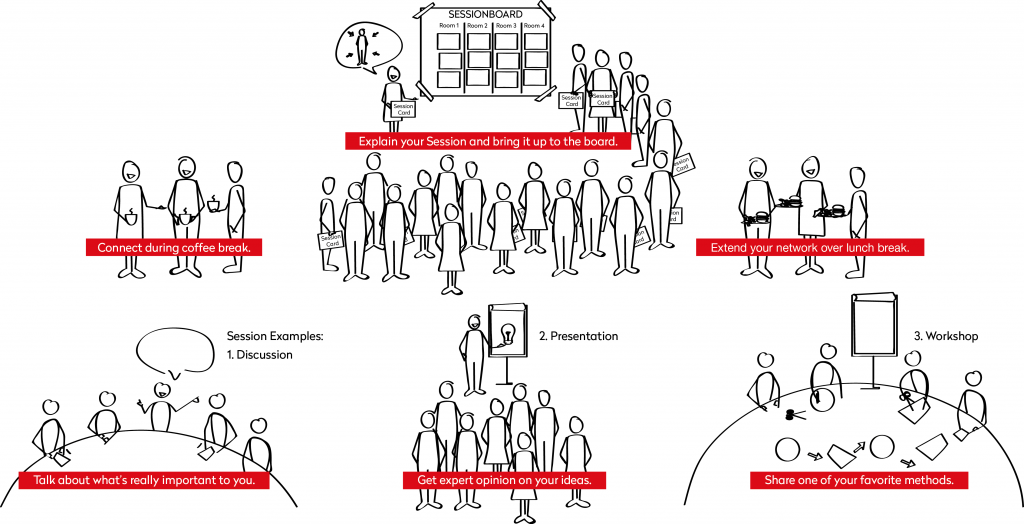 UXCamp Switzerland Language
We kindly ask you to prepare your session in the English language as we try to be open to participants from all over Switzerland and those who might even join from foreign places. This is not a must but would be a nice to have.
NoShows
As always we will be "sold out", even so, we did not sell the tickets. But sadly we had no-shows. This is especially frustrating as some people could not take part as they were not able to register and when it came to catering, we had so many leftovers from the food.
As we won't charge anything for the tickets we request you to cancel your reservation if you are not able to make it to the event as soon as you know about it. This could give other people the chance to step in and may give us the chance to adapt our planning.
---
Apply for sponsoring…
http://uxcamp.ch/kontakt/sponsoring/
FAQs
I have a ticket but can't make it to the event. What to do?
Cancel your ticket if you can't make it to the event until April 30th, 2018
Where do I get a ticket for the workshop day?
We have set up a second eventbrite event for the workshop. Find it here.
Can I help?
Sure! We are always looking for volunteers. We have some tickets reserved for those you would like to help us throughout the camp day. Please choose one of those or write an e-mail to connect@uxcamp.ch
Datum und Uhrzeit
Veranstaltungsort
Zürcher Hochschule der Künste
Pfingstweidstrasse 96
Toni-Areal
8005 Zurich
Switzerland
Rückerstattungsrichtlinien
Kontaktieren Sie den Veranstalter, um eine Rückerstattung anzufordern.