Description
Rosenfeld Media is pleased to present full-day workshops by three leading User Experience authorities...

September 26 - LOU ROSENFELD
Adaptable Information Architecture: How to Say No to Your Next Redesign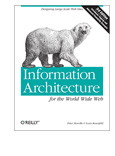 Is your site stuck in a cycle of redesign after expensive, painful redesign?Are you tired of making short-term, cosmetic changes, and never really solving problems for your site's users?Then attend this workshop!
Lou Rosenfeld, co-author of Information Architecture for the World Wide Web, will teach you practical skills and show you design approaches that will help you tune and tweak your site's information architecture, improve your users' experiences with your site, all while costing your employer less than just about any redesign initiative.
Detailed description

September 27 - STEVE KRUG
Do-It-Yourself Usability Testing: The Workshop

Usability testing is the single most valuable thing you can do to improve a Web site, a Web application, or a piece of software, and not nearly enough of it gets done. In this day-long workshop, Steve Krug, author of Don't Make Me Think and Rocket Surgery Made Easy, will teach you how to do your own low-cost/no-cost testing that's simple enough to make it a routine part of your design process.
Detailed description

September 28 - STEVE PORTIGAL
Interviewing Users: Spinning Data into Gold

While we know, from a very young age, how to ask questions, the skill of getting the right information from users during interviews is surprisingly complex and nuanced. And then, what are we even supposed to do with all that data? This session will focus on getting past obvious facts and superficial observations, to deeper, more subtle, actionable insights.
In this day-long participatory workshop, Steve Portigal, author of the forthcoming The Art and Craft of User Research Interviewing, will teach you best practices for managing and conducting interviews, and for turning those data into insights and opportunities.
Detailed description

LOCATION AND SCHEDULE
Workshops take place at the Central Library location of The Seattle Public Library in downtown Seattle.
Each workshop runs from 9 am to 5 pm. Doors open at 8:30 for sign-in and continental breakfast. There will be morning and afternoon beverage/snack breaks. Lunch will be on your own; a list of local restaurants will be provided.

REGISTRATION RATES
Early registration After September 9 Single Day $495 $595 All Three Days $995 $1,295

Early registration rate ends September 9th at midnight (Pacific Time).

GROUP DISCOUNT
Groups of three or more get a 10% discount. Use discount code GROUP when registering.

CANCELLATIONS AND SUBSTITUTIONS
Payment is required in advance; but it is refundable, less a $100 processing fee, if you notify us at least one week before the workshop. If you fail to attend and do not notify us at least one week in advance, your money will not be refunded.
Substitutions are accepted if we are notified no later than the day before the workshop. Notify us about cancellations or substitutions by sending a message to Rosenfeld Media.

OUR OTHER FALL 2011 WORKSHOPS
Washington, DC
Sept. 7 - Steve Krug Do-It-Yourself Usability Testing
Sept. 8 - Indi Young Mental Models: Aligning Design Strategy with Human Behavior
Sept. 9 - Lou Rosenfeld Adaptable Information Architecture

London
Oct. 3 - Anders Ramsay Designing with Agile: Fast, Effective UX Methods that Work
Oct. 4 - Lou Rosenfeld Adaptable Information Architecture
Oct. 5 - Steve Krug Do-It-Yourself Usability Testing

SPONSORED BY

Organizer of UX Workshops: Lou Rosenfeld, Steve Krug, and Steve Portigal September 26-28, 2011