UX Strategy Online Masterclass With Jaime Levy | 6 Weeks Jan. 11 @ 9am PST
Whether you are a product/UX designer, manager, or entrepreneur, you will learn product strategy techniques that can be applied immediately.
About this event
Whether you are a product/UX designer, product manager/owner, entrepreneur, or part of an innovation team, this 6-week masterclass taught by UX guru Jaime Levy offers an impactful way to quickly get up-to-speed on the practice of UX/product strategy techniques for devising innovative digital products. Get personalized feedback from Jaime by taking this masterclass that meets online for six weeks. Graduate with a UX/product strategy portfolio that demonstrates that you know how to methodically conduct product strategy techniques on a product concept of your choosing.
Masterclass overview
There will be six online lectures, one a week. You can attend them live or watch the recording later.
Each lecture will end with a product strategy homework assignment.
Attend your weekly group feedback session and present your work to Jaime to get personalized feedback for improving your concept and/or execution of the technique.
Finish the course with a product strategy portfolio and certification!
How it works in detail
1. Attend 6 Weekly Live Online Lectures With Jaime
Attend (or watch asynchronously up until the next lecture) six LIVE foundational lectures. These lectures will occur on Wednesdays at 11 am PST (20:00 CEST) starting January 12, 2021. They will go on for about 90-minutes including homework assignment explanations and Q&A.
This is when you will learn directly from Jaime how to conduct the product strategy techniques for completing the homework assignments that will be critiqued in your group section the following week. The lectures will be recorded so that you can watch them at your convenience during the week.
This is the 6-week lecture schedule:
Week 1 (January 12) - Principles and Benefits of UX Strategy, Understanding the Problem Space + Homework Explanation of Assignment #1
Week 2 (January 19)– Conducting Customer Interviews for Validating a Customer Persona + Homework Explanation of Assignment #2
Week 3 (January 26) – Conducting Competitive Research for Informing the Product Strategy + Homework Explanation of Assignment #3
Week 4 (February 2)– Analyzing the Competition and Creating a Findings Brief + Homework Explanation of Assignment #4
Week 5 (February 9) – Designing Structured Experiments, Creating Rapid Prototypes, Storyboarding Value Propositions + Homework Explanation of Assignment #5
Week 6 (February 16) – Conducting Online User Research for Concept and Business Model Validation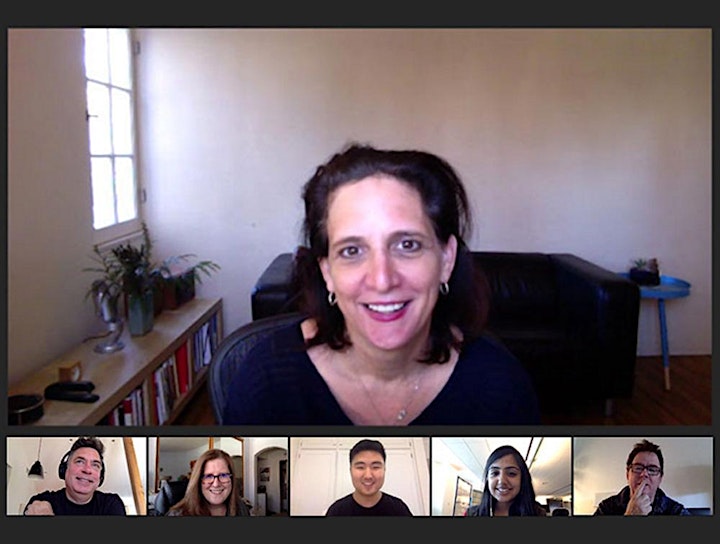 2. Attend 6 Weekly Group Homework Feedback Sessions With Jaime
Jaime meets with each group section(limited to five students) in weekly online sessions to give candid feedback on homework assignments. In these 1-hour sessions, you will be personally coached to correctly apply strategic techniques to craft and validate your innovative product vision. Be certain that watching other students present and hearing the feedback Jaime gives to them is extremely valuable because it will teach you how to apply the techniques to other types of products. 
The section that you register for is the only section you may attend so that everyone has equal time for getting feedback. Click the blue links to get to the other sections' Eventbrite pages.
Start times of the 6-week masterclass group feedback sections
The first group meeting will be an introduction to the master class and how it will flow concerning your individual class project (the output from your weekly homework assignments). It will also be an opportunity to meet your fellow students and discuss your product concept with Jaime before the first lecture.
3. Read the 2nd edition of Jaime's Best-Selling Book UX Strategy
Get the new 2021 second edition of Jaime's best-selling O'Reilly Media book that started it all. The hardcopy and kindle are available for purchase on Amazon. Each week you will be assigned chapters to read sequentially. (Reading the entire book before the class starts is highly recommended.)
After the final lecture, you will have up to one week to study for and take the optional asynchronous UX strategy certification test.
What you will learn
Why an empirical practice of user experience strategy is crucial for devising successful online products and services
How to define and validate your target users through provisional personas and customer discovery techniques
How to conduct competitive research and analysis to explore a crowded marketplace for an opportunity to create unique value
How to focus your team on the primary utility and business model of your product by using storyboards as blueprints for prototyping
How to plan and conduct cost-efficient, qualitative online research to quickly attain measurable feedback
Your masterclass instructor
Jaime Levy is a UX/product strategist, best-selling author, professor, and public speaker based in Los Angeles and Berlin. She helps business leaders and internal teams transform their product visions into innovative digital solutions that customers want. Jaime offers product strategy consulting, in-house training, conducts public/private workshops, and speaks at design and innovation conferences worldwide.
For more than 30 years, Jaime has been a pioneer in the creation of game-changing digital products and services. She currently runs her own strategy and design consultancy JaimeLevy.com based in Los Angeles and Berlin. Jaime has worked for Fortune 500 companies and award-winning agencies, leading the UX on projects in the entertainment, healthcare, finance, and technology sectors.
Jaime has taught product design and strategy courses and lectured at universities including the University of Southern California, New York University, Claremont Graduate University, Royal College of Art, University of Applied Sciences Potsdam, and the University of Oxford.
You can learn more about Jaime on Wikipedia or find her on LinkedIn or Twitter.
Too busy to do homework? Then sign-up for the lectures only ($600):
LECTURES ONLY - Wednesday, Jan 12 - Feb 16, from 11 am-12 pm PST = 2 -3 pm EST /19:00-20:00 BST (UK) /20:00-21:00 CEST (Europe)
UX Strategy masterclass completion badge
A high-resolution course completion badge is available to students who complete the course and pass the certification test (100-multiple choice questions; this test can be retaken once. This badge is a valuable credential for your professional growth and can be proudly displayed on your LinkedIn resume and professional profiles/portfolios.

Testimonials from past students
Jessica Osborne: "Thanks so much for a wonderful class! It was an honor to get to learn from you. I read the first edition of UX Strategy a couple of years ago to cope with a lengthy plane ride, and it became one of my go-to UX books that have absolutely served me well in crazy startup environments and when trying to push through some of my smaller projects. This class gave me the push and outside perspectives I needed to help nudge a personal product idea along a little further, and I'm grateful."
Dagmara Jagodzińska: "Thank you! It was an incredible journey for me to learn so much from you. Your feedback and the portfolio I've made through the whole process helped me get a new job today! I talked a lot about your strategy process, and I will work part-time as a product designer. So your masterclass actually transformed my life :)"
Kristine Howell: "Jaime Levy's UX Strategy Online Master Class is worth its weight in gold! Her course has invigorated and motivated me and as I leave this class with a set of valuable tools in my tool kit to use on product strategy within my organization. I am looking forward to using these newfound techniques in my day job and am confident that I will be able to elevate the user experience function in my organization because of the lessons learned in Jaime's course. I was able to apply her methodologies in a class project and get professional critiques on my work from the woman who wrote the book on UX Strategy!
Nick Comito: "Before I even finished Jaime's UX Strategy class I had given my company's sales team slide decks pitching the techniques I was learning, such as customer discovery, and competitive analysis. By taking Jaime's class I learned a lot more by practicing the techniques rather than simply reading about them in her book–and who better to practice the techniques with than from the author herself."
Gisella Famà: "I enjoyed the book, but LOVED the course! Trying to apply UX Strategy is always better than just reading about it"
Tobi Jo LeBron: "Jaime's UX Strategy course zeros in on the most essential discovery activities and ditches anything that's not clear, specific, and actionable. Plus, you get a lot of 1:1 feedback directly from Jaime—not an assistant."
Suzy Sharpe: "Jaime's class helped me get moving on my startup idea. In just six weeks, I researched my competition, conducted user research, designed a storyboard, and created an Unbounce landing page. The entire process - and Jaime's feedback in each class - was so informative and inspiring and gave me the traction I needed. I looked forward to the class every week, and miss it now that it's over. Thanks, Jaime!"
Refund policy
Tickets are non-refundable except in cases when life happens and you no longer can attend the course. Please let us know within 21 days before the start date so we can make your seat available. Eventbrite fees can't be refunded, unfortunately.
National/International holiday policy
Except for major international holidays, all sessions will be held each week.
Need an invoice for your company?
Please reply back once you get receive the Masterclass registration email with your company's information that needs to be included on the invoice and give us a few days!
Date and time
Location
Refund policy
Organizer of UX Strategy Online Masterclass With Jaime Levy | 6 Weeks Jan. 11 @ 9am PST
Jaime Levy is an author, university professor and a user experience strategist. For more than 30 years, Jaime has been a pioneer in the creation of innovative digital products and services. She  runs a design strategy firm, JaimeLevy.com, in Los Angeles, CA. Jaime also teaches a graduate-level course on UX design and strategy at USC's Viterbi School of Engineering.
In 2015, she published her best-selling O'Reilly Media book UX Strategy: How to Devise Innovative Digital Products that People Want. The book presents a solid framework on the practice, which lies at the intersection of UX design and business strategy. A series of online video courses that supplement the book are available online at O'Reilly Media.
Before the Internet, Jaime created the first electronic magazine on floppy disk in 1990. In 1993, she worked with EMI Records where she designed, animated, and programmed the first commercially released interactive press kit (IPK) for Billy Idol's Cyberpunk CD digipack. She also founded Silicon Alley-based start-up Electronic Hollywood, a company focused on web design, interactive advertising, and original content development.
Jaime has previously done work for companies like Razorfish, HUGE, Cisco Systems, Sony and many more. She is a frequent speaker at major design and innovation conferences worldwide, and conducts public workshops and in-house training courses.