UX Strategy Online Master Class With Jaime Levy (6 Weeks: Feb. 21 @ 7:30pm...
Description
Whether you are an entrepreneur, UX/UI designer or part of an intreprenuerial team, this master class taught by UX guru Jaime Levy offers an impactful way to quickly get up-to-speed on the practice of UX Strategy techniques for devising innovative digital products. Get personalized feedback from Jaime by taking this master class that meets for six weeks live via Skype. Graduate with a UX Strategy portfolio that demonstrates that you know how to methodically conduct product strategy techniques on a vision of your choosing.
These master classes are opening up for enrollment:
Section 1 - Wednesday, February 21 - March 28, from 11 am -12 pm PST = 2-3 pm EST / 7-8 pm BST (UK) / 8-9 pm CEST (Europe) / 10-11 pm IDT & MSK (Israel & Russia)
Section 2 - Wednesday, February 21 - March 28, from 7​:30 pm-​8​:30 pm PST = 10:30 pm-11:30 pm EST​ / 7:30 am-9:00 am IST (India + 1 day)​

This is how it works
Attend 6 Live Online Sessions With Jaime
Jaime meets with a group limited to five students in weekly Skype sessions to give candid feedback on homework assignments. In these sessions, you will be personally coached to correctly apply UX Strategy techniques to craft and validate your innovative product visions.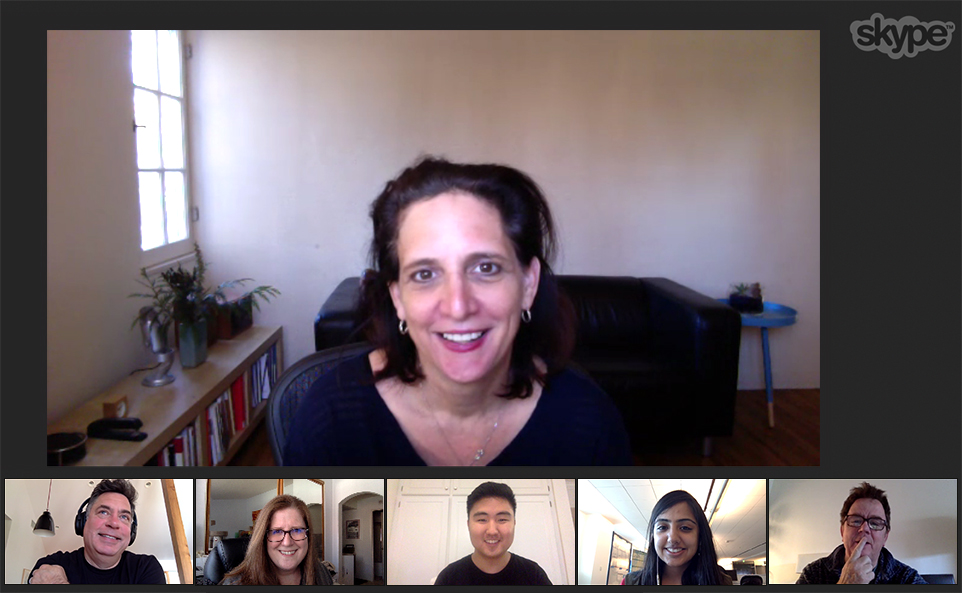 Watch 7 Hours of High-quality Video Lectures
In this exclusive O'Reilly Media/Safari UX Strategy linear video training series, Jaime teaches the UX Strategy methodology for creating innovative digital products that people want. Watch approximately 1.5 hours per week of these foundational lectures that thoroughly explain how to conduct the UX techniques in order to successfully complete the homework Jaime assigns in her live feedback sessions.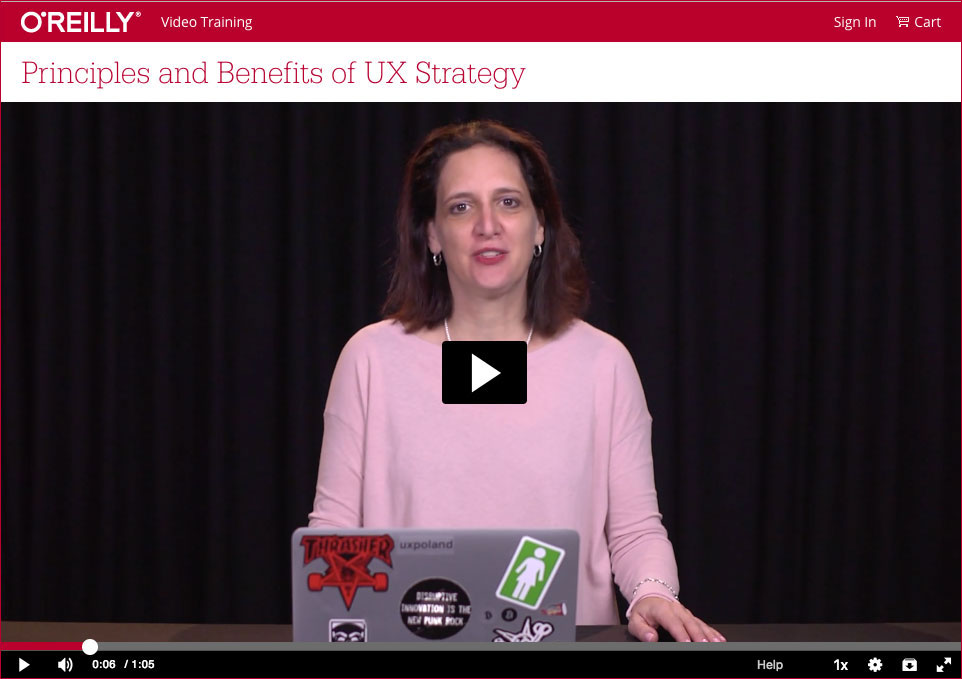 Read Jaime's Top-Selling Book (eBook included in course fee)
Get the O'Reilly Media book that started it all and is now #1 under "UX" on Amazon. "UX Strategy: How to Devise Innovative Digital Products that People Want" is a hands-on guide that complements the online master class. The English eBook is included in the course fee which you will receive access to upon sign-up. The hardcopy is available for purchase on Amazon. It can also be purchased in the following language translations: Polish, Russian, Japanese, Simplified Chinese, and Traditional Chinese.



How the virtual master class is structured
The first meeting of the live course will be an introduction to the master class and how it will work with respect to individual class projects (homework assignments), the corresponding videos to be watched, and chapters to be read in order to keep up with the class (reading the entire book before the class starts is highly recommended).

After each class meets, you will gain access to the following week's homework assignment along with examples to reference for developing your personal or professional vision. Each assignment builds on the last one so that they all add up to a cohesive UX Strategy final portfolio presentation. If you have questions between sessions, feedback can be provided via email. Please allow for at least 2-3 hours per week to do each of the five homework assignments. You will gain access to the first homework assignment upon sign-up so you can get a head start.

Classes start on time, and you will have up to 10 minutes to present your work to the group and get feedback. Be certain that watching other students present and hearing the feedback Jaime gives to them is extremely valuable because it will teach you how to apply the techniques to diverse solutions.

What you will learn
Why an empirical practice of user experience strategy is crucial for devising successful online products

How to define and validate your target users through provisional personas and customer discovery techniques

How to conduct competitive research and analysis to explore a crowded marketplace or an opportunity to create unique value

How to focus your team on the primary utility and business model of your product by using storyboards and rapid prototypes

How to plan and conduct cost-efficient, qualitative field research, aka Guerrilla User Research, and quickly analyze measurable feedback

How to create landing pages and run online ad campaigns for testing value propositions

Your master class instructor
Jaime Levy is an author, university professor (USC) and a user experience strategist. Her top-selling O'Reilly Media book is called UX Strategy: How to Devise Innovative Digital Products that People Want. The book presents a solid framework on the practice, which lies at the intersection of UX design and business strategy.
For more than 25 years, Jaime has been a pioneer in the creation of innovative digital products and services. She currently runs her own UX design and strategy consultancy JaimeLevy.com in Los Angeles. Jaime also teaches a graduate-level course on UX design and strategy at the University of Southern California's Viterbi School of Engineering.
Jaime speaks at design and innovation conferences worldwide and conducts public workshops and in-house training. You can read more about her on Wikipedia.
UX Strategy master class completion badge
A course completion badge is available to students who successfully complete the course. This badge is a valuable credential for your professional growth and can be proudly displayed on your LinkedIn resume and professional profiles/portfolios.

Testimononials from past student
Nick Comito: "Before I even finished Jaime's UX Strategy class I had given my company's sales team slide decks pitching the techniques I was learning, such as customer discovery, and competitive analysis. By taking Jaime's class I learned a lot more by practicing the techniques rather than simply reading about them in her book–and who better to practice the techniques with than from the author herself."

Gisella Famà: "I enjoyed the book, but LOVED the course! Trying to apply UX Strategy is always better than just reading about it"

TobiJo LeBron: "In a world full of fake news and fake design insights, Jaime's UX Strategy course zeros in on the most essential discovery activities and ditches anything that's not clear, specific, and actionable. Plus, you get a lot of 1:1 feedback directly from Jaime—not an assistant."

Suzy Sharpe: "Jaime's class helped me get moving on my startup idea. In just six weeks, I researched my competition, conducted user research, designed a storyboard, and created an unbounce landing page. The entire process - and Jaime's feedback in each class - was so informative and inspiring and gave me the traction I needed. I looked forward to the class every week, and miss it now that it's over. Thanks Jaime!"
Refund policy
All tickets are non-refundable, but are transferable. If possible, please email to let us know of the name change so we can update the contact information.


National/International holiday policy
If there happens to be a holiday on the day of one of your sessions, the session will be still be held. However, you are welcome to join in on one of the other Skype sessions happening that same week.
Date and Time
Refund Policy