Event Information
Refund policy
Refunds up to 1 day before event
Eventbrite's fee is nonrefundable.
This masterclass series proposes to delve into game-based UX strategy to offer compelling products. Part 2: Engagement & Ethics.
About this event
What lessons from fun and engaging video games such as Fortnite can be applied to offer a great user experience (UX) for any product? This 2nd part of this in-depth masterclass series proposes to explore engage-ability and ethics. While this session can be taken independently, it will oftentimes refer to the concepts seen in Part 1 (human brain limitations & usability), held on June 22.
This masterclass is tailored for product owners and anyone interested in "gamification" (for health tech, fintech, or to make any product more engaging) or "serious games" (educational environments) who are not familiar with game design. While we will use many examples coming from video games, it does not require any videogame knowledge. This masterclass is NOT tailored for game developers (please see my other masterclasses on my website if you're a game developer).
Part 2 is 3 hours total and is divided into 2 chapters: Engageability (2a) and Ethics (2b)
Chapter 2a: Engage-ability (approx. 2h30)
Engageability is about making a product or service engaging, which implies a deeper understanding of human motivation and emotion. This part will cover:
Motivation: extrinsic motivation (clear goals and rewards) & intrinsic motivation (self-determination theory)
Emotion in design
The concept of "flow"
Chapter 2b: Ethics and Inclusion (30 minutes)
Having a UX mindset implies to design for ethics and inclusion. In this section we will touch on biases and inclusion in design, and how to identify and avoid dark patterns (especially as regards to the so-called "attention economy").
This Masterclass Part 2 provides participants with a set of ingredients to make their own successful recipe (those "ingredients" are relevant to any type of product or platform).
(Not included: Part 1 about human brain limitations & usability, held on June 22).
Who is this for?
Anyone can benefit from knowing more about the brain, which is the underpinnings of user experience. This Masterclass will however benefit product owners even more.
This masterclass is NOT tailored for game developers, but is specifically tailored to professionals working outside the game industry who are interested in understanding how to foster the engaging power of video games in other products.
Main takeaways
- Engageability guidelines.
- Understand why humans do the things they do (motivation & engagement).
- Explore how to foster emotional experiences.
- Understand flow (especially how to efficiently onboard your users).
- Inclusive design, ethics, and avoidance of dark patterns.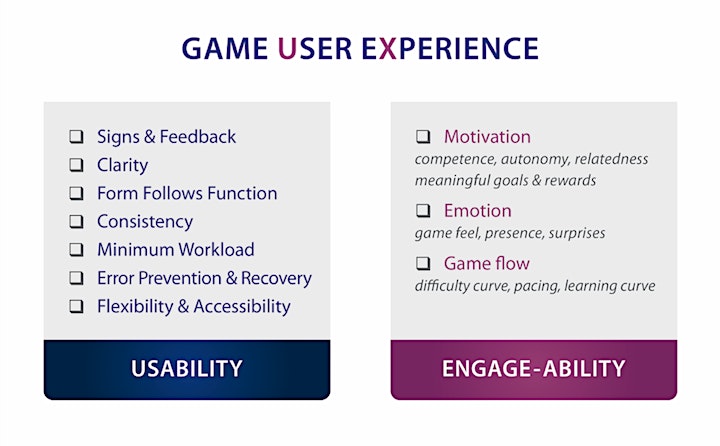 Date and time
Location
Refund policy
Refunds up to 1 day before event
Eventbrite's fee is nonrefundable.