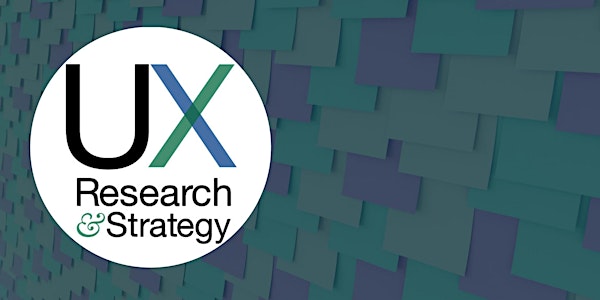 UX Research Repository Tips and Tricks: A Panel Discussion
Hear from professionals in the UX industry on what to consider when developing and using your team's research repository.
Refund Policy
Contact the organizer to request a refund.
Eventbrite's fee is nonrefundable.
About this event
Organizing and sharing insights gained from UX research is a valuable practice that supports the overall success of a project. But how do we organize, share, and promote the successful use of a repository within a company or team?
This discussion will include information on:
What is a UX research repository and why are they used?
How to choose a tool that fits your team's needs
How to share insights across teams and companies
Tips and advice from research professionals on how to set your repository up for success
After the panel, stick around for a couple rounds of Networking breakout rooms and meet others who have an interest in UX research, strategy and design.
Networking topic: What surprised or interested you about the panelists' experiences using research repositories?
Agenda
7:00-7:10 p.m. (Central time, similar to Chicago and Dallas, USA) - Introduction and announcements for UX Research and Strategy + Service Design Network
7:10-8:30 p.m. (Central time) - Panel Discussion + Q&A
8:30 -9:00 p.m.(Central time) - Networking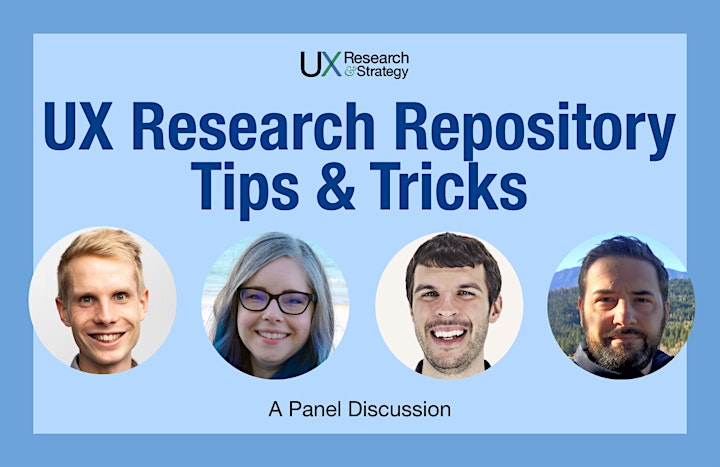 Panelists
Matthew Duignan, Principal Research Manager at Microsoft, leads the HITS team at Microsoft. HITS is Microsoft's Human Insight Tracking System, an internal research library that democratizes insight for researchers and product teams alike. His work on HITS is informed by his PhD research into music production interfaces, complex information visualization systems, and years of leading large UX research teams at Microsoft.
Lorie Whitaker started her professional life teaching kids and fellow teachers how to use badly designed software. This made her acutely aware of how bad design affected people's ability to achieve their goals. In an effort to reduce bad design decisions, she obtained a Masters Degree in Human Centered Design and Engineering from the University of Washington in Seattle and has been in UX Research for over 14 years. She is currently a Staff (Principal) Researcher at Okta where she splits her time between conducting generative research and mentors designers and Product Managers in user research best practices. In 2019, she co-founded UX Research and Strategy, a 501(c)3 nonprofit that is focused on educating people about UX research methods and ways to strategically use the results.
Outside of UX, she enjoys baking complicated desserts, gardening in the yard, walking her Scottish straight eared cat Fergus and traveling to new and familiar destinations (or at least planning trips).
Erik Olesund is a user experience researcher at Instagram. He focuses on understanding how to encourage creativity and expression, specifically related to short-form video production. Previously he was the Head of User Experience Research at Thumbtack, a local services marketplace that connects customers who need to get things done with local, skilled professionals who can help. At Thumbtack he led the effort to develop an internal research archive to help the team use yesterday's knowledge to answer today's questions. Erik is also affiliated with the Hasso Plattner Institute of Design (the d.school) at Stanford University, where he has been teaching and developing courses at the intersection of human-centered design and public policy. On a weekend you'll find him skiing, baking, or singing in improvised musicals.
Jared Forney is a Staff UX Researcher at Okta in San Francisco, CA and has a MS from Indiana University's Human Computer Interaction/Design program. Currently, he's focused on Research Ops: how to enable the product research team to collect timely, effective, and durable insights from their customers to build better experiences. Prior to Okta, he worked as a researcher in the fintech industry. Jared fundamentally believes design is a conversation, and that everyone should feel empowered to contribute to better design through an open dialogue.
This event is limited to the first 1,000 who enter the Zoom meeting.
We know these speakers are going to be awesome and high demand. So please consider whether you will actually be able to attend to make room for those who are eager to be there.
Due to recent Zoom interruptions, we have instated new protocols to protect our event attendees. Those who act inappropriately will be removed from the event and not permitted to re-enter. Additionally, if you choose to leave the event, these new Zoom restrictions will also apply to you and you will not be allowed to re-enter the event.
** Please Consider Donating **
A Donation Ticket to this webinar is the same as a regular admission ticket to the event. Plus, you are helping keep this event FREE for attendees around the world. Please consider getting a donation ticket as your admission ticket to help UX Research and Strategy provide events like this to the UX community.
Host: UX Research and Strategy
UX Research and Strategy is a registered 501c3 group devoted to teaching and exploring topics related to User Experience Research and Strategy. Started by three very talented ladies, Jen Blatz, Lorie Whitaker and Lauren Singer, who saw the need to address the gap in these topics in the local UX community. The hope for this group is to enrich and complement the UX Design community through knowledge sharing and partnership.
Whether you are a researcher, designer, product owner, strategist, content creator, project manager, developer, technologist, marketer, customer experience pro or any other discipline, please join us.
For more information:
Please note that by attending our events, you are granting us permission to potentially use a photograph including you on our social media channels and website. Don't worry, we will try our best to make you look good.
For online events, and for your privacy, if you do not want your name or image potentially appearing on a Zoom screen, please anonymize your name in Zoom and hide your video.
Please note, we are unable to refund donations.
A Zoom link to the webinar will be provided in your confirmation ticket. Scroll down through the email and you will see the zoom link to join.
UXRS a code of conduct. But getting a free or donation ticket to our events, you agree to read and abide by the conditions of this code of conduct. Failing to do so will result in immediate removal from our events and any social media channels. We expect you to be respectful of everyone on our UXRS community.
Thank you for your support!