Event Information
Location
Microsoft Malaysia Office, Level 26, Menara 3 Petronas, Persiaran KLCC
Kuala Lumpur, Federal Territory of Kuala Lumpur 50088
Malaysia
Description
Important Notice
It's happening! For all attendees, these are a few things you should know:
1. Conference Venue
Microsoft Malaysia Office
Level 26, Menara 3 Petronas,
Persiaran KLCC,
Kuala Lumpur City Centre,
50088 Kuala Lumpur, Malaysia
Phone:

+603 2179 6838
Fax:

+603 2026 8233
Where is it?
Tower 3 (or Menara 3) is near Mandarin Oriental Hotel, Aseana CafeBar, and besides
Marini's On 57
.
What do I do once I reach there?
Take the elevator to the Sky Lounge (SL) level, then head to the visitor counter for security registration.
Please bring along your I/C or Passport
for registration purpose. You will then get a visitor pass. Go further in and take the elevator meant for level 19-28, go to level 26.
Then what?
You should see the entrance to the conference. Prepare your EventBrite ticket (the QR code) and we will do the scanning. Once it's done, you will get your sticker badge and T-Shirt*. That's all!
*T-shirt sizes are limited, so it will be based on first-come-first-serve basis.
2. Workshop Tool Requirement
To ensure the best experience in these workshops, please be advised that the following items are recommended to bring along with you into the conference:
Laptop
Earphone
Notebook and Pen/Pencil
Important Note: Due to the limited capacity of the room for the workshop, the workshop availability will be based on first-come-first-serve basis. During the same period of time (2pm to 6pm), there will be networking session going on near the pantry area with free flow of awesome drinks, so no one will be left out!
3. Dress Code
It is advisable to attend the conference with smart casual attire; no flip flop and shorts allowed. The security department of the building reserved the right to refuse your entry and the organizer will not be responsible for that.
4. One very small rule
Strictly no food and drink in the main hall and rooms. All eating and drinking must be done in the pantry area (which is huge enough to cater for everyone!).
---------------------------------------------------
UX Malaysia 2013 is a One day of education, inspiration and skills development in the heart of the city. Bringing together some of the leading practitioners in usability, information architecture and user experience design, this conference will be a mix of inspirational talks and practical workshops.
UX Malaysia 2013 will equip attendees with the practical skills needed to do their jobs better, be they
budding IAs, experienced practitioners or UX managers. For the price of a single ticket, attendees
will get to see some of the industry movers and choose practical, hands-onworkshop sessions.
These will be spread across three tracks (UX Fundamentals, Advanced Skills, UX Strategy and
Management) and cover everything from the basics of web usability and form design,
through to advanced topics like Agile UXD, interactive wireframe creation and UX meeting facilitation.
UX Malaysia 2013 is primarily aimed at UX professionals in large corporations
or agencies.
However we also expect to see a range of other disciplines including product managers
looking to improve the experience of their applications, and existing designers interested
in progressing their careers in the UX field.

Attendees will largely be from the Malaysia, although we also anticipate a significant number
of International delegates, ASEAN region especially. The event capacity is 150 – 200 people and
tickets are expected to sell
out well in advance of the event.
Job titles will include:
• CTO (Chief Technical O?cer)
• CXO (Chief Experience O?cer)
• Head of Online
• UX Manager
• Product Manager
• Senior Information Architect
• Senior Analyst
• User Experience Architect
• Usability Consultant
• Interaction Designer
• Interface Designer
• User Experience Designer
• Business Developer
• Business Analyst
UX Malaysia 2013 has attracted speakers from local and international speakers from various area of expertise.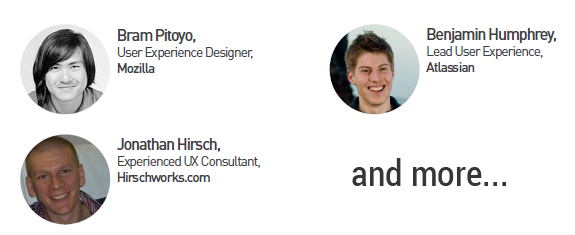 For more event information, visit UXMalaysia.com.
Date and time
Location
Microsoft Malaysia Office, Level 26, Menara 3 Petronas, Persiaran KLCC
Kuala Lumpur, Federal Territory of Kuala Lumpur 50088
Malaysia