Description

UX JOBS: HIRING + GETTING HIRED
Join Cory Lebson as he serves up the delicious secrets to success in the UX job market.
Cory has been researching the UX careers market in depth for more than two years as part of his forthcoming book, the UX Careers Handbook, and we're excited that he will be sharing what he has learned with us (tasty tidbits that made it into the book and many that didn't)!
So, if you're a job seeker, learn what it takes to succeed as a UX professional. Explore the multitude of career pathways available to you. Find out how you can frame yourself solidly as a UX-er through learning, personal branding and networking.
And if you're an employer or recruiter, learn how you can craft your job descriptions to find experienced UX-ers instead of elusive unicorns.
The kinds of topics Cory will be covering include:
What kinds of UX job are available
How to write/identify a good job description
How to successfully apply for a UX job
How to identify a good candidate and recognize a great UX portfolio
Understanding and become part of the UX community to find/advertise your talent
Help existing UX staff grow professionally
Agenda—please note this event is on WEDNESDAY May 25th
6:30pm—pizza + parlay
7:00pm—intro + housekeeping
7:15pm—Cory Lebson's presentation
8:15pm—Q&A
8:30pm—end
About the UX Careers Handbook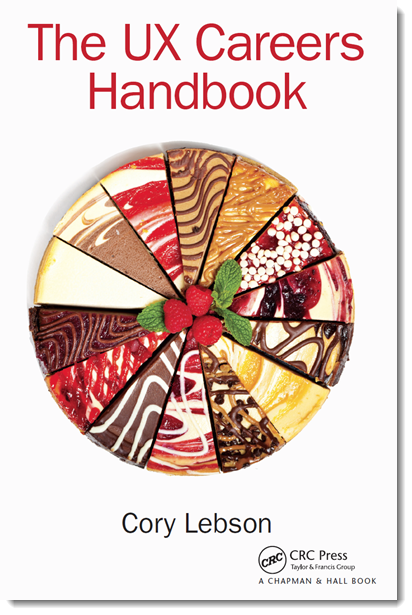 The UX Careers Handbook offers an insider's look at how to be a successful User Experience (UX) professional from comprehensive career pathway descriptions to learning, personal branding, networking skills, building of resumes and portfolios, and landing a UX job.
The book goes in-depth to explain what it takes to get into and succeed in a UX career, be it as a designer, information architect, strategist, user researcher, or a variety of other UX career specialties. It presents a wealth of resources designed to help readers develop and take control of their UX career success, including perspectives and advice from experts in the field.
Features interviews and personal stories from a range of industry-leading UX professionals to show readers how they broke into the industry, stayed with it, and evolved with it.
Accompanied by a companion website that provides readers with featured articles and updated resources covering new and changing information to help them stay on top of this fast-paced industry.
Provides worksheets and activities to help readers make decisions for their UX careers and build their soft business skills and portfolios.
About Cory Lebson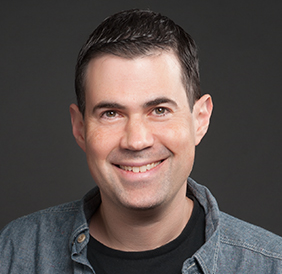 Cory Lebson has been a user experience consultant for nearly 20 years. He is the principal and owner of Lebsontech LLC, a successful small user experience consulting firm he established in 1997. Lebsontech focuses on user research and evaluation, user experience strategy, UX training, and mentoring.
Cory also greatly enjoys teaching topics related to user experience and technology. He regularly gives talks and workshops on topics related to UX career development, user experience, user research, information architecture, and accessibility. He has been featured on the radio and has published a number of articles in a variety of professional publications.
Cory has an MBA in marketing and technology management, as well as an MA in sociology and a BS in psychology. Cory is a past president of the User Experience Professionals Association (UXPA) International and is also a past president of the UXPA DC Chapter.
Parking Instructions
Parking is available in the covered garage behind the ITBD building on either Arch Street or Chestnut Street. Make your way to the Main Street exit on the 1st floor and walk through to the back of the ITBD building to the security desk.
Or park at on-street meters and enter through the Main Street entrance.
Then head up the elevator to the third floor conference center and lisstle for the giggles...
Organizer of UX Jobs: Hiring and Getting Hired
The Connecticut Chapter of the User Experience Professionals' Association (CTUXPA) is committed to the growth of the local user experience community and raising the public profile of the profession by providing networking and professional development opportunities for usability professionals, user experience designers and researchers, information architects, interaction designers, and other user experience professionals and students in and around Connecticut.
Sign up for our Slack workspace: https://tinyurl.com/ctuxpaslack2
Join us on Meetup for updates on events in your area: https://www.meetup.com/ct-ux-pa/
Here we are on LinkedIn: https://linkedin.com/groups/155770/