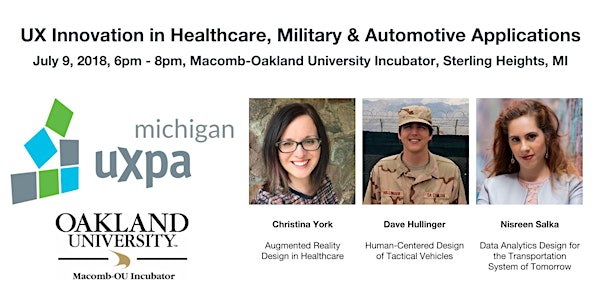 UX Innovation in Healthcare, Military & Automotive Applications
Date and time
Monday, July 9, 2018 · 6 - 8pm EDT
Location
The Velocity Collaboration Center at the Macomb-Oakland University Incubator 6633 Eighteen Mile Road Sterling Heights, MI 48314
Refund Policy
Refunds up to 1 day before event
Description
Enjoy an evening of industry case studies about innovation using human-centered design! The program will feature 3 case studies about local applications in healthcare, military, and automotive.
Augmented Reality Design in Healthcare
Christina York, CEO and Founder, SpellBound
Christina will share the story of SpellBound, a therapeutic tool that helps children cope and engage with medical treatment using immersive augmented reality technology. She will also share parts of her journey from a UX manager to a (female) CEO of a tech startup.
Christina York is an entrepreneur, experimenter, team builder, and technology visionary. She was the UX Manager at ITHAKA for 10 years before starting SpellBound. She creates magical 3D experiences that are used by child life specialists and therapists to distract, engage, and entertain pediatric patients. She is a Midwest Female Founder for Change.
Human-Centered Design of Tactical Vehicles
Dave Hullinger, Human Factors Engineer, United States Army Research Laboratory
We worked with users to evaluate a concept for a new model of tank. We will share some of our challenges that were unique to military applications, but also some that will be familair to UX professionals in other contexts. Examples: following established standards, getting access to end users, and consulting on specifications managed by a vendor.
Dave Hullinger got his start as a mechanical engineer in the automotive industry. He joined the Army Research Laboratory in 2010.
Data Analytics Design for the Transportation System of Tomorrow
Nisreen Salka, Lead Product Designer, Emerging Analytics, Ford Motor Company
As autonomous and connected vehicles join the streets, Ford Motor Company leverages the data they generate to help city officials prepare for this new world of transportation. In collaboration with the City of Tomorrow Challenge, we built a product team that paired data scientists and software developers. We reinvented the agile process and revitalized our approach to user experience research and design for our unique context.
Nisreen Salka recently completed her Masters in human-computer interaction from the University of Michigan School of Information. As the lead product designer for the Emerging Analytics department at Ford Motor Company, she collaborates with end users to design applications that leverage mobility data. Earlier this year, she presented at Ann Arbor World Information Architecture Day 2018 on dark patterns.
Schedule
6:00pm Doors open, check in, socialize, have pizza, salad, and soft drinks provided by our hosts, Mac-OU Inc
6:30pm: Welcoming, introductions, and other announcements
6:45pm: Case study presentations, Q&A
7:45pm: Closing and community announcements
8:00pm: End of event
About our hosts, Mac-OU Inc
The Macomb-Oakland University Incubator (Mac-OU Inc) was constructed to support economic development in SE Michigan by accelerating high-tech business, cultivating academic innovation and encouraging R&D in the region. Mac-OU Inc is directly affiliated with and supported by Oakland University, which provides collaborative access to its faculty, students and physical assets to assist entrepreneurs in many facets of their business formation and development. Mac-OU Inc is also a state of Michigan-designated SmartZone, which allows it to leverage a wide range of state resources to further attract, build, fund and deploy new businesses in and around Macomb County.