Description
In this 3 weeks intensive course we'll take your startup, app or website idea from the idea stage to a mocked up prototype that you can validate with customers, clients and potential investors at the end of it.
Whilst the course will focus on the User Experience (UX) tools that will help you the most, each session will also provide you with what-you-need-to-know knowledge around strategic thinking, mobile strategy, storytelling in design and what's required to turn a great idea into a well thought through product.

Places are limited to make sure that there's plenty of one-on-one time during the sessions.


WHAT YOU'LL LEARN
Coming out of the course you'll have received a crash course in UX and have hands on experience of going through a full UX process from idea to prototype.

At the end of the course you will have learnt about and worked through:
Identifying and defining your target audience and key user journeys for your website / app

Understanding the role of as well as having defined the landscape in which your website or app will live

Identifying and documenting the pages / views of your website / app

Defining and capturing content and functionality for your pages / views

Turning your sketches, wireframes or mockups into a prototype

Testing and validating your website / app prototype with users and clients

Knowing how to proceed from here to turn it from a prototype into a launched website / app

In addition to this you'll also learn about:
The role and basics of content strategy

What you need to know about apps, responsive design and designing for multiple devices

The role of storytelling in design and for startups

How to present your work
COURSE PLAN
The course starts on Thursday 29 September and runs with 2 weekly sessions on Thursdays and Sundays with the last session being held on Sunday the 16 October.
The first half of each session is focused on walk throughs and the second half on putting what you've learnt during the first part into practice, as well as for discussing and reviewing work.


THU 29 SEP, 12-7pm - SESSION 1: Introduction to UX & User Centred Design (UCD)
In this session, we'll look at the role of UX and UCD, the different disciplines that make up UX, as well as go through the UX toolbox. We'll cover when to use what tool, as well as briefly look at where UX sits in the project process and in relation to other disciplines like visual design and development. In preparation of the next session, we'll also look at user research and how to define your target audience.
Last but not least, we'll cover the fundamentals of what a good UXer should know and do as well as talk about the UX of UX and the fundamentals of visual and verbal presentation skills.


SUN 2 OCT, 11am-6pm - SESSION 2: Personas and Experience Planning
During the second session, we'll start out by exploring the role of personas and how to use them for your website / app project. We'll also look at the importance of understanding the bigger picture in which your website / app will live, as well as how to use different experience planning tools, like product life cycles and experience maps / customer journey maps to capture and communicate critical aspects and details that will help you define what you do, when and how. As part of this, we'll look at the importance of drivers and entry points and how search and social impacts a user's experience and what this means for your website / app.


THU 6 OCT, 12-7pm - SESSION 3: User Journeys, Information Architecture & Sitemaps
After having a thorough understanding of your target audience as well as the experience as a whole, in the third session, we'll start to work through the details of how to translate it into key journeys. With an understanding of the steps a user might take, we'll then work through what this means for the information architecture and structure of your website / app and look at how methods like card sorting can be used to help define your websites / apps information architecture and sitemap.


SUN 9 OCT, 11am-6pm - SESSION 4: Multi-Device Design, Sketching & Wireframing
With a clear understanding of the pages/ views your website/ app needs, the fourth session focuses on defining the content, functionality and interactions of these. Before getting hands-on with sketching and turning these into wireframes, we'll work through the basics of doing UX for big and small screens and different device types. We'll also cover the importance of modular design and content stacking strategy, as well as how to work with page / view templates and module libraries and the value these bring.


THU 13 OCT, 12-7pm - SESSION 5: Prototyping
During the fifth session, we'll cover what to think about when prototyping your website/ app and what to consider before you begin. We'll cover DOs and DON'Ts and walk through some of the key prototyping tools out there before getting stuck in to turn your website / app wireframes into a clickable prototype.


SUN 16 OCT, 11am-6pm - SESSION 6: Evaluating, Testing & Presenting
In the final session, we'll start out by looking at different approaches to internally evaluating your work, as well as validating it with potential users. We'll cover different approaches to user testing and walk through how to go about planning what to test and how to do it. After that, we'll look at how to put together a compelling story and presentation for potential investors and clients before finishing off by looking at next steps for turning your prototype into a launched website or app.

WHO IT'S FOR
This course is primarily aimed at startups and startup founders who want to make their idea a reality, but it's also suitable for those who want a crash course in UX with a case study to add to their portfolio afterwards. The course will also benefit junior UXers who are working in startups, as well as product owners who want to further their UX understanding and skills.
Note that this course is focused on user experience and the user experience tools described above. The course doesn't cover visual design, or how to build a basic prototype in code.


THE VENUE
We're back at Timberyard Seven Dials whose coffees, teas, and cakes we've sampled many a time. We can tell you one thing, they don't disappoint and we're not alone in thinking so.
TY have been awarded the Best Independent Coffee Shop in Europe in 2014 and received the UK Independent Coffee Shop of the Year Gold Award in 2015. Their aim is to "provide an inspiring environment for people to work more effectively and provide a space for creative people to come together" and it's certainly one they deliver on.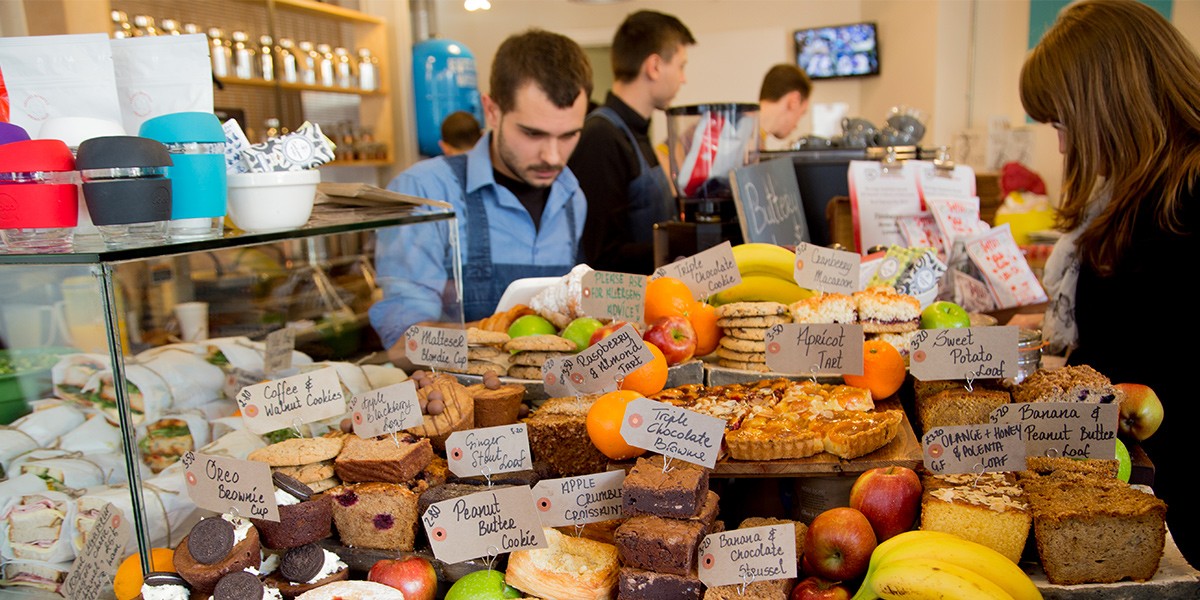 Image from the counter at Timberyard


WHAT'S INCLUDED
All the material that is used for this course will be sent to you after each session. You will also get a detailed reading list after each session to help you put what we've covered into practice and work through exercises before the next session.
A light lunch and an afternoon 'fika' - something to eat and drink - is included in each session. If you have any special dietary requirements, get in contact through the form below.
Should you want detailed feedback or help during the course, there's the option to get additional coaching sessions where the instructor can either review and feedback on your work in more detail, or work through a particular aspect of your website / app together with you. How coaching sessions are used is something we'll discuss and define based on your needs.


WHAT YOU NEED
Pens and papers are provided, but bring your laptop as you'll need it.
It's recommended that you work on your own project, but a fictive case will be provided for those of you who prefer that. We'll send an email before the workshop with a bit more information.

The course plan is structured with each session building on each other so that you are able to put what you learnt into practice straight away. There will be some homework between each session, which will form the basis for the practical exercises in the next session. You should count on minimum 4 hours of homework between each session. How much you put into the homework is up to you, but you'll get the most out of the course if you come prepared.
WHO RUNS THIS COURSE
This course is run by Anna Dahlström, a UX designer, speaker, writer and instructor for General Assembly with over 15 years experience working both in-house for the likes of BBC, agency side, with startups and individuals to help them develop their skills and progress their careers. Anna is also writing a book for O'Reilly about Storytelling in Design.
Image via Flickr user Juhan Sonin