Description
Join us at our mini UX conference and holiday party rolled into one on Saturday Dec. 3rd in DTLA.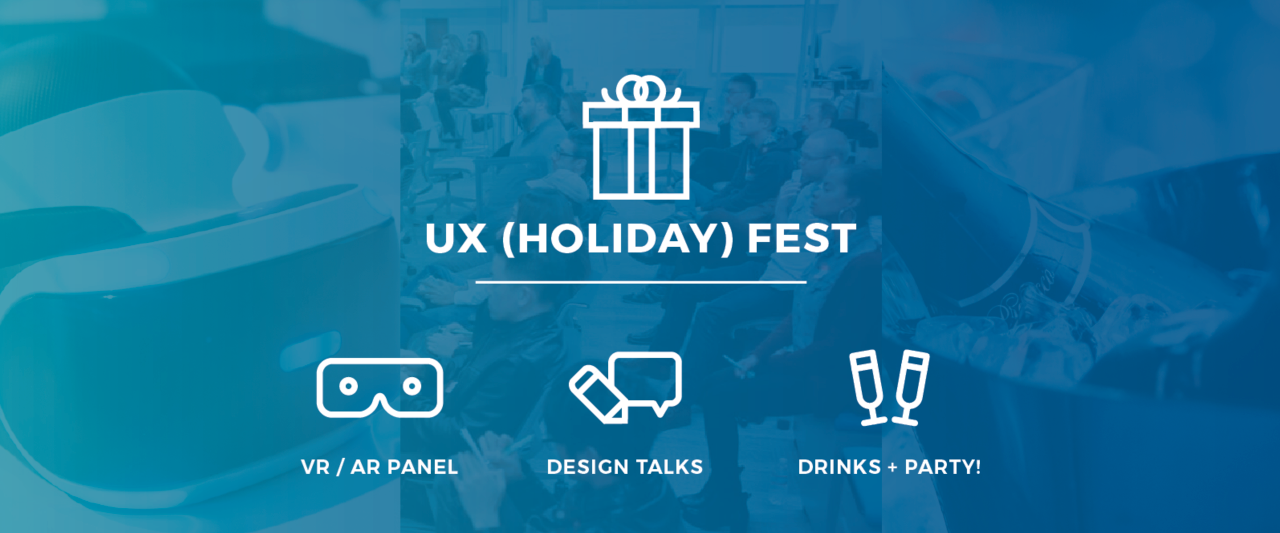 ---
Our headliner session is the Virtual Reality / Augmented Reality panel at 4 pm.
Want to get into VR/AR or get a taste of what's in store for UX designers in the next few years? We've assembled a team of panelists with decades of experience in VR/AR + entertainment. Take notes, and you'll have a cheat sheet ready later.
Our moderator and panelists include: John Root (founder of VRLA + work for Magic Leap + Digital Domain + ID software), Mack Reed (projects for Fox, Microsoft, Dell), Jimmy Johansson (projects for EA and Activision), Kat Harris (certified HoloLens evangelist) and Ed Moore (Amped UX).
(Reserved seating tickets inc. private chance to meet the panelists during party available - see ticket list)
Panel produced by: Ed Moore & David LaFontaine

---
Schedule of other Talks/Sessions during the day (Topics and time subject to change)
Apply UX to your Life by Raymond Soon at 1:30 pm to 2:30 pm
How can UX Design processes and methodologies make your life goals more achievable and... dare we say it…"happier"? Learn mindfulness exercises you can use for the rest of your life in this experiential, hands-on workshop. Raymond will help teach participants how to create "tiny habits" that can result in big changes. By understanding our behavior and habits, we can then use this insight to systematically design habits for users, creating better apps, products, and lives.
Adobe XD Overview by Jessica Brown at 3 pm to 3:30 pm
Learn more about Adobe's Experience Design program and what recent updates have been made to the program and will it ever be able to compete against Axure, Sketch, InVision, etc.?
Just added! Axure Overview by Shraddha Swaroop from 3:30 pm to 4:00 pm
Sketch Overview by Ramon Martinez at 4:00 to 4:30 pm
Ramon will provide a broad overview of the popular Sketch design app for beginners.
Three Way App Comparison 4:00 to 4:30 pm
At the end of the Sketch session, Shraddha, Ramon and Jessica will do an "Apples & Oranges" comparison between the three apps (Axure vs. Adobe XD vs. Sketch) to help you decide which one of the three is better suited for you.
Breaking into UX Research by Developing Empathy for Users Through Personas by Shri Jambhekar and David Nguyen at 4 pm (Limited to 10 seats)
Shri and David will help kick off our upcoming UX Research sub-group in 2017 by covering how to leverage the beginning of the UCD (user center design) process. Learn how to gather, analyze and get hands-on with creating personas.
VR/AR Panel with Ed Moore, Jimmy Johnansson, John Root, and Kat Harris from 4 to 5:30 pm
See details above.
UX Holiday Party 5:30 pm to 7 pm
We'll wrap up the day with a generous selection of adult beverages and appetizers. It's your chance to catch up with old friends and colleagues in the design community and celebrate the holidays together.

(Topics and time subject to change)