About this Event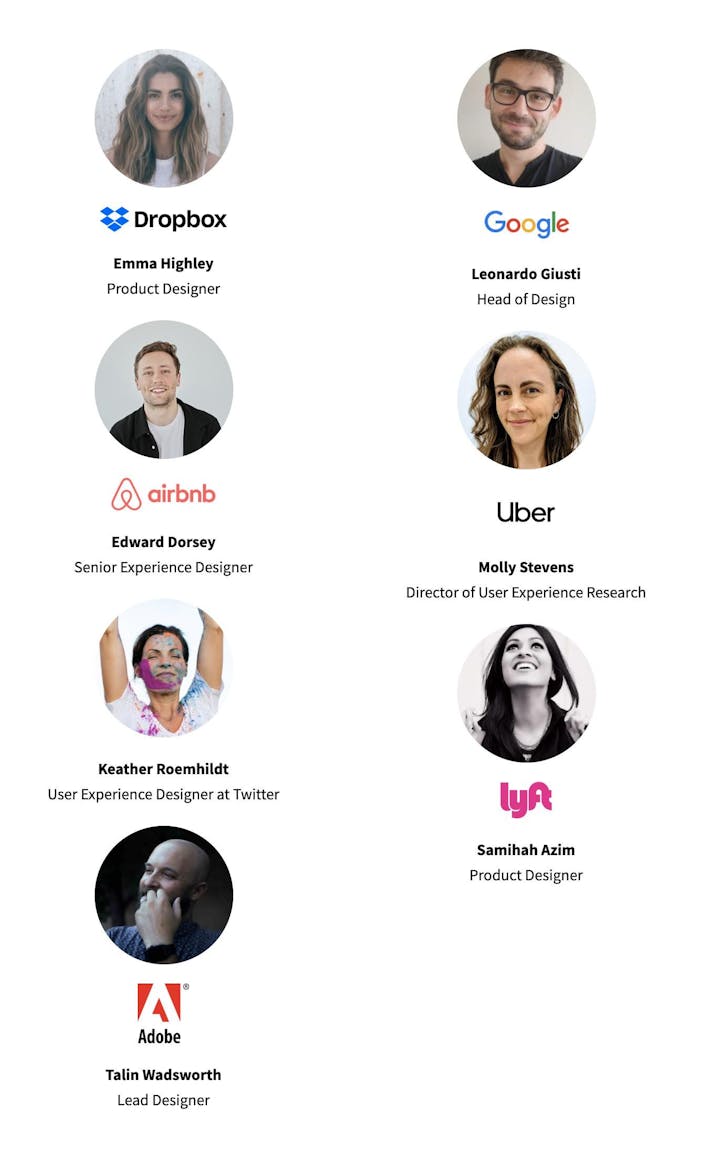 Why attend?
This is where the world's leading UX designers share practical advice on designing unforgettable user experiences and how to become great design leaders. Some of the most talented minds in the industry will come together and share case studies, tactics, strategies, and insights to give you a new perspective on UX design.
Schedule
9:30 AM
Registration
10:30 AM
Emma Highley, Dropbox
11:00 AM
Molly Stevens, Uber
Scaling UX Research - Scope & International. As a UX Researcher, we're often asked to cover multiple areas, domains or locations. How can you effectively scale your capabilities? Where should you focus your impact? Overview of some of the techniques that we've used at Uber.
11:30 AM
Leonardo Giusti, Google
12:00 PM
Lunch
1:30 PM
Keather Roemhildt, Twitter
Leveraging the bleeding edge to find innovation.
2:00 PM
Samihah Azim, Lyft
When designing products in a multi-sided marketplace, decisions made on one side may impact the other. The design decisions made often go beyond the confines of software and into real world human experiences. Join Samihah in this talk where she'll discuss the challenges and learnings of designing for the needs of many different users.
2:30 PM
Edward Dorsey, Airbnb
I'd like to talk about the shift of 'trust' in our culture and how designers need to be ambassadors and spokespeople for it. The way humans have trusted other entities has been essential for successful societies, but as trust levels fall in some of the word's largest and oldest institutions, its building in a new generation of companies. Why? And perhaps more importantly, why is that relevant and vital to design products that will be successful?
Fittingly - I work on the Trust team at Airbnb. Protecting and developing trust (which comes from safety) is really our key product and enables all that we do at Airbnb, but I believe that trust is going to become one of the key differentiators in a saturated market. An understanding of, and an appreciation for - trust - will be an essential tool in the design and production of the next generation of successful products.
3:00 PM
Coffee Break
3:30 PM
To be announced
4:00 PM
Talin Wadsworth, Adobe
4:30 PM
Reception
Are meals included in the ticket price?
Yes, delicious meals will be provided to you all day.
Can I change the name or other details on my tickets?
Yes, you are free to change your ticket details up to 7 days before the conference, including name, title, etc. Please do make sure these details are correct as they will be what we show on your badge. Just log in to eventbrite and make the changes, following these instructions.
Can I get a refund?
We offer a full refund up to 30 days before the conference. Simply log in to eventbrite and request the refund following these instructions.
Visit uxdesignsummit.com to learn more.