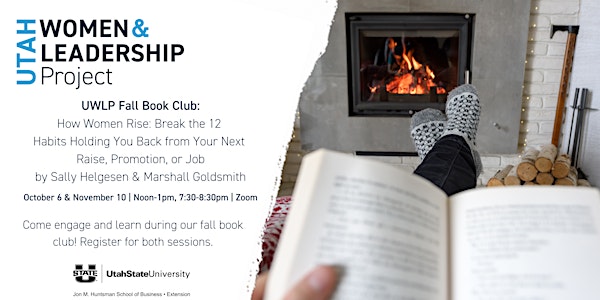 UWLP Book Club: How Women Rise By Sally Helgesen & Marshall Goldsmith
Join us for a 2-session book club discussing Helgesen and Goldsmith's book How Women Rise. Register for a time in both sessions 1 and 2.
About this event
Click "select a date." Then register separately for Session 1 and Session 2. You can get a ticket for both afternoon sessions, both evening sessions, or mix and match.
Dates & Times:
Session 1 Afternoon: Thu, Oct. 6, 2022, 12:00-1:00pm
Session 1 Evening: Thu, Oct. 6, 2022, 7:30-8:30pm
Session 2 Afternoon: Thu, Nov. 10, 2022, 12:00-1:00pm
Session 2 Evening: Thu, Nov. 10, 2022, 7:30-8:30pm
The Utah Women & Leadership Project invites you to join us for our fall book club. Across two sessions, we will discuss Helgesen and Goldsmith's book How Women Rise: Break the 12 Habits Holding You Back from Your Next Raise, Promotion, or Job.
Helgesen and Goldsmith "see that women face specific and often different roadblocks from men as they advance in the workplace." They identify 12 habits that may hold women back, such as reluctance to claim your achievements, and building rather than leveraging relationships. Helgesen and Goldsmith weave together research findings and stories to describe each habit and explain how to build new strategies. Whether you are in the workforce or not, these book club discussions will challenge your thinking and help you consider expanding your positive influence in Utah.
Beyond reading the book, you can also watch this discussion with Dr. Susan Madsen and Sally Helgesen to prepare for the book club sessions: https://www.usu.edu/uwlp/blog/2021/event-recap-how-women-rise.
Sponsors: Jon M. Huntsman School of Business & Extension at Utah State University
Hosts: Emily Darowski (afternoon sessions) & Angie Kleven (evening sessions)
If you are interested in moderating a discussion breakout room, please email Emily Darowski (emily.darowski@usu.edu) or Angie Kleven (angie.kleven@usu.edu).