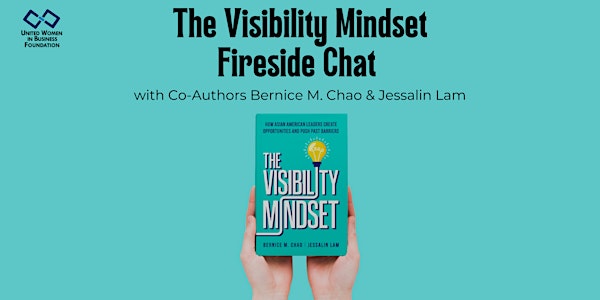 UWIB Presents: The Visibility Mindset Fireside Chat
The essential guide for the Asian American community and allies on overcoming barriers and finding success in the workplace today.
About this event
Join UWIB and the Co-Authors of The Visibility Mindset: How Asian American Leaders Create Opportunities and Push Past Barriers as they share their experiences and strategies.
Attendees will have the chance to win a copy of the book simply by joining! We will have 4 books to raffle off towards the end of the session
ABOUT THE BOOK:
Explore the challenges faced by Asian professionals and how to overcome them.
Find your voice, own your story, and elevate your professional life. In The Visibility Mindset: How Asian American Leaders Create Opportunities and Push Past Barriers, Chao and Lam deliver an engaging and enlightening treatment of how Asian American professional leaders have powered through the obstacles in their way. Exploring a variety of myths, stereotypes, and problems faced by Asian American professionals, this book will empower you to overcome many of these issues.
The Visibility Mindset offers straightforward exercises and strategies, alongside many real-life leadership examples from various industries, to help you succeed as you move forward in your careers. The book explores how to work with others effectively and how to handle microaggressions, how to leverage the power of networking, and how to manage and mentor others while seeking out mentorship for yourself. An indispensable resource for Asian professionals, The Visibility Mindset also deserves a place in the hands of allies of Asian American professionals seeking a deeper understanding of the challenges faced by their friends and colleagues.
WHAT YOU'LL GET:
Insights into the AAPI experience
Strategies to help you succeed and to serve as an ally
Fireside chat with the authors of the book
Q&A session with the authors
The opportunity to win a free copy of the book
AGENDA:
6:30pm - 6:35pm: Quick introductions
6:35pm - 7:05pm: Fireside Chat with the Co-Authors (Moderated by UWIB NYC Chapter President, Manisha Marberry)
7:05pm - 7:20pm: Q&A from virtual audience
7:20pm - 7:30pm : Book raffle & closing
MEET THE AUTHORS:
Bernice Chao is the Head of Integrated Creative, Zambezi; Co-Founder, Asians in Advertising. Bernice is helping to shape the AAPI community. She's one of the few female Asian American creative leaders in the industry and works at North America's largest female-owned advertising agency. She gives back to the world by fighting against xenophobia toward Asian-Americans and inspiring the next generation of talent through mentorship and scholarship programs. This year Bernice was inducted into the AAF Hall of Achievement.
Jessalin Lam is the VP of Diversity Equity & Inclusion at Digitas Health, she's a DEI champion, mentor, and people-oriented leader with over 10 years of combined experience across learning and development, diversity and inclusion, marketing, partnerships, business development, client management, and consulting. She's a connector who loves to cultivate learning cultures to allow others to thrive and seize their potential with a growth mindset. Jessalin graduated from Baruch College with a Bachelor of Business Administration degree in Marketing and Advertising.
About United Women in Business
The United Women in Business Foundation (UWIB) seeks to foster professional success through education among all women. Through educational programming, mentorship, and community service initiatives, our goal is to help members excel despite the challenges and inequalities that women face in today's business environment. 
We support and connect women with different experience levels ranging from undergraduate and graduate students, to young professionals, female executives, and thought leaders.
Getting Involved with United Women in Business: If you are interested in UWIB and would like to receive invites to future events, please fill out our free, 5-minute sign-up form here. You can also follow us on Instagram to keep the conversation going, and like us on Facebook while checking out event photos!  
By registering for a United Women in Business Foundation event, you are giving permission for UWIB to use any virtual photos of you from this event for UWIB promotional purposes.