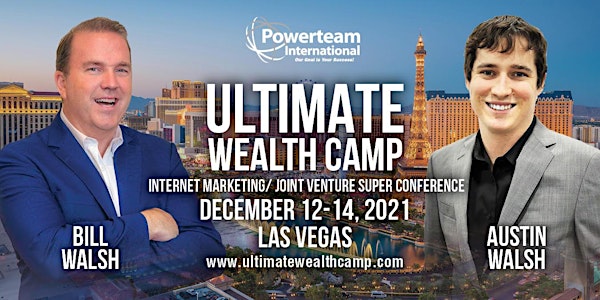 UWC - Internet Marketing/Joint Venture Conference Las Vegas, NV
The Ultimate Wealth Camp is a very powerful 2 Day Super conference focused on Internet Marketing , Joint Ventures & New Ways to Make Money!
When and where
Location
Paris Hotel 3655 S Las Vegas Blvd Las Vegas, NV 89109
About this event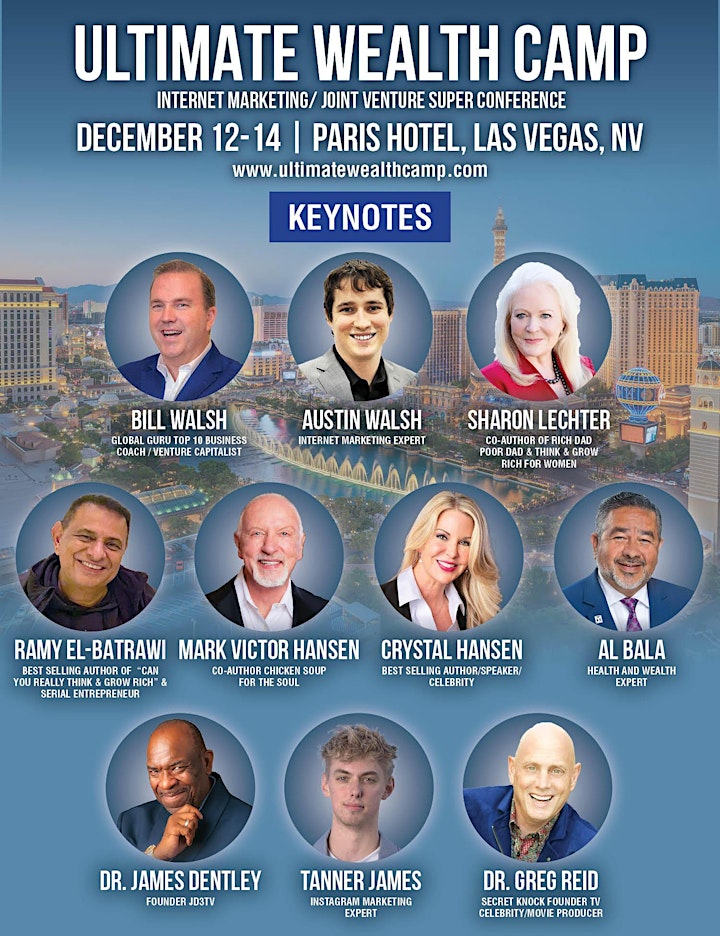 Ultimate Wealth Camp
Come learn how you can substantially impact your financial future by connecting with mega successful entrepreneurs and learning how to make money on the internet through the power of local to global marketing partnerships!
You will learn about new ways to make money as well as be able to share your great ideas with some of the top marketers in the world! Now it is up to you to take action and take control of your success plan.
If You are ready to be one of the lucky few who take advantage of this rare opportunity, register and plan to be in Las Vegas  for the UWC Internet Marketing & Joint Venture Super Conference.
About The Event:
The Ultimate Wealth Camp kicks off with our amazing Mega-Success Party where you can mingle with successful and brilliant entrepreneurs and build relationships with people who can take your business to the next level. The event is full of leaders, business owners and wealthy individuals just like you, with whom you can connect and build strategic partnerships.
The party is followed by two full days of our intense Ultimate Wealth Camp Sessions - this is an interactive learning environment, where we bring you expert speakers and leaders - plus some of our best partners and customers - to teach you high-level strategies you can immediately implement in your business.
You'll have the opportunity to pitch your concepts and ideas to some of the best marketers on the planet. Think about it; the people who have done what you're trying to do will be at your fingertips to give you step-by-step strategies. Just one nugget of information can skyrocket your business growth.
Meet your Event Host
Mr. Bill Walsh
Bill Walsh® is the CEO/Founder of Business Coaching/Venture Capital firm Powerteam International. Bill hosts and speaks at events all over the world! His passion is to empower entrepreneurs and business owners to create massive success. He loves to help people to understand specifically what it takes to build successful companies. He is an accomplished author, speaker, radio personality and movie celebrity, He has a very successful background in finance and marketing. He has spent two decades working with start-ups to major global brands increasing sales, productivity and overall success. He is an innovator with a remarkable ability to determine and dictate success strategy to seize global market opportunities.
Meet a few our additional amazing Keynote Speakers:
Dr. Greg Reid
Award-Winning Author | Keynote Speaker | Film ProducerGreg is an entrepreneur known for his giving spirit and a knack for translating complicated situations into simple, digestible concepts. As an action taking phenomenon, strategy turns into results fast and furious, and relationships are deep and rich in the space he orbits. A firm believer in the role of win-win partnerships and making a difference in others to succeed. He can be found having a great time brewing up inspiration, occasionally breaking into song and dance, and being of service to those around him.
Mark Victor Hansen
Mark Victor Hansen is an American inspirational and motivational speaker, trainer and author. He is best known as the founder and co-creator of the Chicken Soup for the Soul book series.
Crystal Dwyer-Hansen
Crystal Dwyer Hansen is an international speaker, researcher, corporate consultant, author, and entrepreneur. Her expertise is in the field of human potential. Through her years spent as a Transformational Life Coach, and Wellness/Nutrition Expert, she has seen people experience profound and lasting transformation in relationships, career, health & wellness, by tapping into their own inner resources. Having personally guided people from seemingly impossible states of depression, anxiety, and hopelessness—to triumph, freedom, and happiness, is what drives Crystal's conviction that all people have unlimited potential for greatness if they only understand how to access those resources.
Sharon Lechter
Sharon L. Lechter is an American accountant, author, and businesswoman. She is the co-author of Rich Dad Poor Dad, and the founder and CEO of Pay Your Family First, a financial education organization.
Austin Walsh
Austin Walsh is the managing partner in the Powerteam Media Group. He is also an extremely talented speaker & trainer in the area of Internet Marketing & Mobile Marketing.