UVREIA Night Meeting - February 21, 2019 with Derek Smart & Michael Jorgens...
Description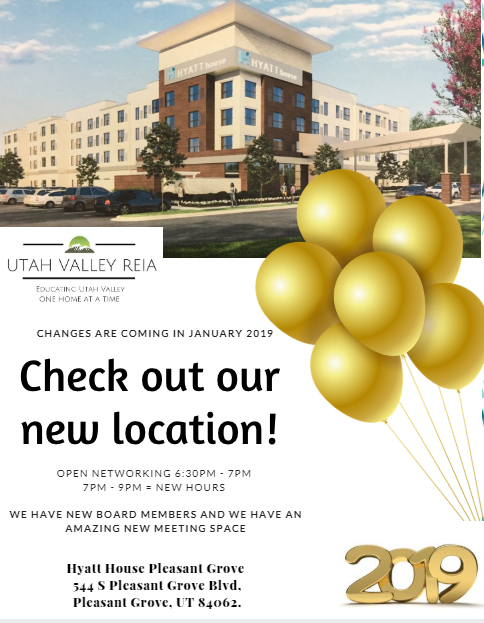 First on deck we have Derek Smart (Our New Vice President) - "How to run the numbers for a deal in 2019".
Derek is fortunate to have been involved with real estate from the day he was born.
From the time of his childhood, his family has been farming raw ground, holding the land while it increases in value, and developing it into its highest and best use.
Although he enjoyed rising early to work with his hands on machinery and livestock, he chose to pursue a university education and received scholarships from both Snow College and Utah State University.
While finishing his business degree at Utah State, he read the book "Rich Dad Poor Dad" and became more excited about real estate and investing personally. This helped him realize the importance of cash flow, owning assets, and tax planning which led him and his wife to purchase investment properties.
Derek enjoys helping others through real estate financing as a mortgage loan officer with Intercap Lending.
Second up is Michael Jorgensen - with "What is the process an appraiser uses to determine a home value".
Have you ever been stuck scratching your head after receiving an appraisal report going "What was this guy thinking?!?". How about having a realtor or client get angry because the value didn't match up to what they were expecting? This discussion will helps better explain the appraisal process, and why it sometimes conflicts with other valuation perspectives in the industry. We hope to give you the knowledge to better explain, defend, or even dispute your appraisal reports. We also hope to give you the tools to better set up your appraisers for success, leading to better overall communication, and a smoother appraisal process.
Michael is the founder & CEO of Home Base Appraisal Management, a nation AMC that provides appraisals and valuation products. with a network of over 6,000 appraisers across the US, Home Base has been providing real estate appraisals to lenders for over 9 years. They have been recognized twice by Mountain West Capital Network as one of Utah's fastest growing companies, and four time INC 5000 fastest growing companies in America.
Michael was recognized by Utah Business magazine as one of Utah's 20 in their 20's, and has been on the front lines of new & innovative valuation products, custom software, and mending the communication divide between lenders and appraisers. He has worked hard to establish a "we care" attitude that not only rings true for his team, but all the lenders and appraisers Home Base comes in contact with. They are headquartered in Sandy, Utah.
We start at 6:30PM and go till 9PM. Bring your cards and a note pad to take some notes and get inspired.
See you there!