Description

IMPORANT UPDATE
**Race check-in, shirt pick-up, and registration will now take place in the INDOOR TURF & TENNIS MULTIPURPOSE FACILITY (reference the image and directions below)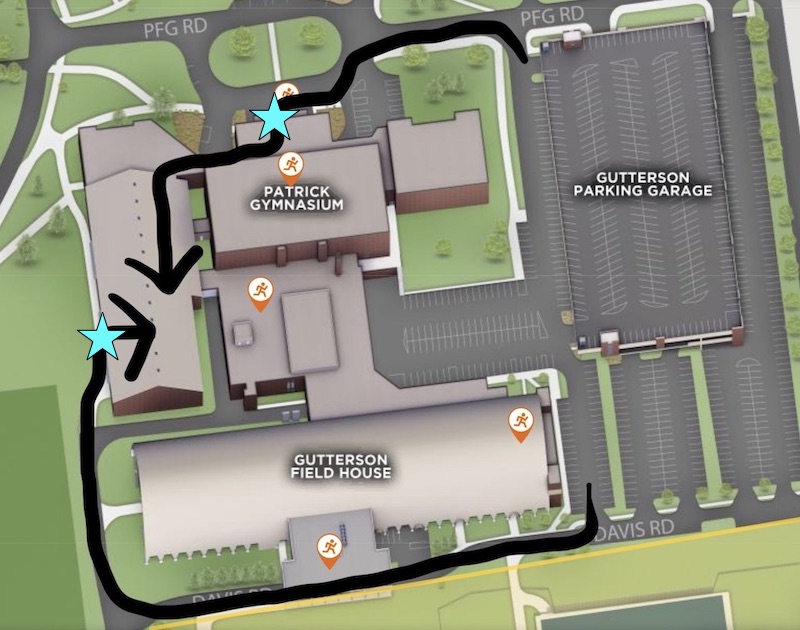 DIRECTIONS TO THE INDOOR TURF & TENNIS MULTIPURPOSE FACILITY FROM THE MAIN ENTRANCE TO PATRICK GYMNASIUM
Upon entering the Patrick Gym Lobby, turn right and head through set of doors

Continue straight through second lobby and head through second set of doors

Turn left and enter the Indoor Turf & Tennis Multipurpose Facility
**You may enter the Indoor Turf & Tennis Multipurpose Facility directly from the path along the West side of the Athletic Facility
IMPORTANT RACE-DAY INFORMATION
Parking

If you are a UVM student or faculty/staff member, please park in your normal work-day parking locations, as parking across campus is limited

Free parking will be available in the Gutterson Fieldhouse Garage, the Jeffords Parking Lot, and the Given/Rowell Parking Lot on Saturday, April 20th

Access the UVM Parking and Transportation map here

Check-In

Check-in will begin at 2:30pm in the Indoor Turf & Tennis Multipurpose Facility

Check-in will conclude at 4:00pm

Shirt Pick Up

If you were able to select your shirt size upon registration, you were one of the first 1,000 registrants and are eligible to receive a long-sleeve race shirt on race day - congratulations!

Please check-in by 3:45pm to ensure you receive your preferred shirt size

If you were unable to select a shirt size upon registration, extra shirts will be available on a first-come, first-served basis (sizes and availability will vary)

Same-Day/On-Site Registration

On-site registration will be available from 2:30-4:00pm in the Indoor Turf & Tennis Multipurpose Facility

Race shirts will be available on a first-come, first-served basis for race-day registrants

Race Start

The race will start near the entrance to the Archie Post Athletic Complex on Davis Road

Please be lined up by 4:15pm - race will start at 4:20pm sharp

Race Course

The race will begin at the Archie Post Athletic Complex and loop counter clockwise around the Patrick Gymnasium and Gutterson Fieldhouse prior to heading south on the Rec Path that runs parallel to Spear Street

Racers will turn around in the parking lot of the George D. Aiken Forestry Science Laboratory on Spear Street before returning north on the Rec Path toward the Archie Post Athletic Complex

Check-out this year's race course below!

Food & Raffle Tickets

Upon finishing the race, all participants will receive 2 food tickets to be redeemed at the food trucks and 2 raffle tickets to be entered in the post-race raffle

Each food ticket can be redeemed for 1 menu item from our food truck vendors

Each raffle ticket can be used on 1 raffle item

Food Trucks

We are excited to announce that we will have 8 food trucks present at our post-race festivities including, Caja Madera, Shy Guy Gelato, and Pingala Cafe's Carrot Cart!
The UVM WE 4.20 5K for Wellness is a cost-free and substance-free 5K fun run/walk that is open to all. This is a family-friendly and dog-friendly event, that will start and finish on UVM's Athletic Campus. The fourth-annual race will take place at 4:20pm on Saturday, April 20, 2019.
Historically, April 20th is a day that is celebrated with unhealthy choices, particularly among college students. Our aim is to provide an alternative activity and create an exciting environment that celebrates and incentivizes healthy choices for all of our community members.
Be sure to join us for our FREE pre-race and post-race festivities, which will include food trucks, music, raffle give-aways, and more!
Follow us on Twitter and Instagram for all the latest news!

Check out scenes from the first annual event!