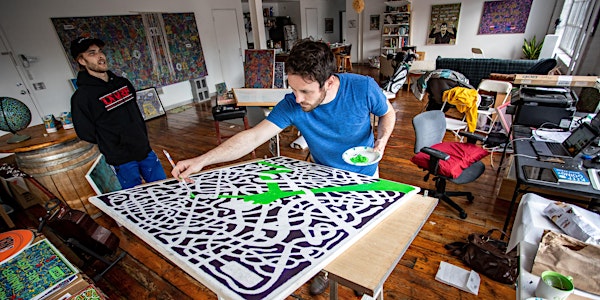 UVA Club of Washington DC: RevArt - Maze Art Workshop
RevArt: Maze Art Workshop with Bernie McCabe
By UVA Club of Washington DC
Date and time
Tuesday, November 30, 2021 · 3 - 4pm PST
About this event
Are you a maze fan? Do you want to learn pop art and create your own maze? Alumni, friends, and family are invited to join artist Bernie McCabe to create a bubble maze! Artist Bernie McCabe will host this a Mazing workshop to teach you to create maze art.
Bernie's hope is that his playful and interactive artwork serves as encouragement for people to solve their own maze and get where they want to be, regardless of how many dead ends they run into along the way. We will discuss techniques, color palettes, and ways to create art. This session will include an interactive demonstration of Bernie's recent solo exhibition and follow up with a Q & A session.
Art enthusiast Patti Pan (DAR '20) is the CEO and founder of RevArt. Patti supports and curates experiences for local artist to showcase their work and provide unique experiences for the community. Artists include Bernie McCabe, a proponent of the complexities and visual designs fused in pop art.
The Zoom link will be e-mailed prior to the event.
If you can't join us due to celebrating Chanukah, we hope you'll join us for a future UVA Club of Washington, DC event.
For more information on this event, please contact Kim Edwards (SEHD '09, '11) at uvaarts@dchoos.org.
Have the best experience:
• Recording: These events are being recorded by audio, video, and photographic means. By participating, you grant the University of Virginia the right to use your voice/likeness in any depiction of these events, including sharing on social media. Video is not required to participate in this event.
• Accessibility: The Office of Engagement is committed to providing universal access to all of our events. Please contact uvaclubs@virginia.edu to request disability-related accommodations. Advance notice is necessary to arrange for some accommodations. Please contact us at least seven days prior to the start of this event and include the following information in your request: Full Name, Contact Information, Date of Event, Accommodation Requested.
• Zoom settings: Zoom regularly provides new versions of the Zoom desktop client and mobile app. To have the best experience during our online event, we recommend upgrading to Zoom's most recent version. Learn more on how to update to the latest version of Zoom.
This event is #open to alumni, friends, and families