Description
Our most popular event is back! Gujarati Society of Southern California will host Uttarayan 2019 - Kite Flying Festival on Sunday, January 13, 2019 from 10:00 am - 3:00 pm.
Because we ran out of kites last year, we are pre-selling kites - this is the best way to reserve your kite and thread! Otherwise, it will be first-come, first-serve and if last year was any indication, we'll definitely run out!
Questions? Contact info@gujaratisocal.org for more information.
What you need to know about this weekend's Uttarayan Kite Flying Festival!
1. Will there be food provided?
No, there will be no food provided. Unfortunately, this venue doesn't allow for food vendors. Similar to last year, please feel free to set up blankets, chairs and bring your own picnic basket of snacks and beverages.
2. Is parking free?
Yes, parking at the Cerritos Sports Complex is free.
3. Where will we meet exactly?
If you are one of the first to arrive, look for signs Fields 5 & 6 (picture below). If you arrive later, still look for the signs, but likely you will see all of the kites in the sky and hundreds of people on the field!
Information desk and kite pick-up for those who reserved online will be near the batting cages.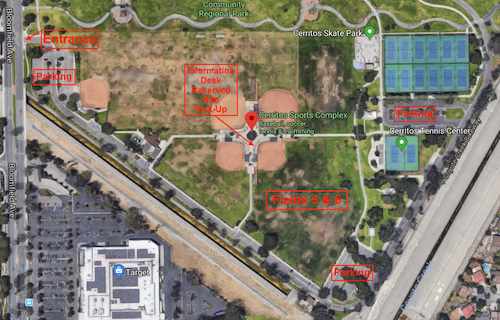 4. There is rain in the forecast. Will the event go on?
The Gujarati Society of Southern California will monitor the weather this week. By Friday, we will decide whether to continue with the event on Sunday, or whether to postpone to another weekend in January. Currently, there is only a 10% chance of rain, so likely the event will go on! We are hoping for no rain, but of course can't predict what will happen!
5. I purchased a kite set. Will I get a refund if the event is postponed?
Unfortunately, we have already pre-paid for the kites and will not be able to give a refund. If the event is postponed, and you are not able to make it on the new date, we will arrange a time for you to pick-up your kite set for future use.
6. Do I have to bring my printed ticket to the event?
If you bought a kite set, please have your ticket either printed, or available to show from your mobile device. For free admission tickets, there is no need to bring any printed tickets or show your ticket on your phone.
7. What else should I bring to the event?
In addition to your own food and beverages, we suggest bringing portable chairs, blankets, a jacket, Bluetooth speaker to play music, and anything else that will make you feel comfortable when flying your kite!
8. Can I buy kites/firki on the day-of?
We have a VERY LIMITED supply of kite sets to sell on Sunday, that is, if we don't sell out of them from our online purchases! We only bought 150 sets, so if you haven't bought it online yet, we highly recommend you do.