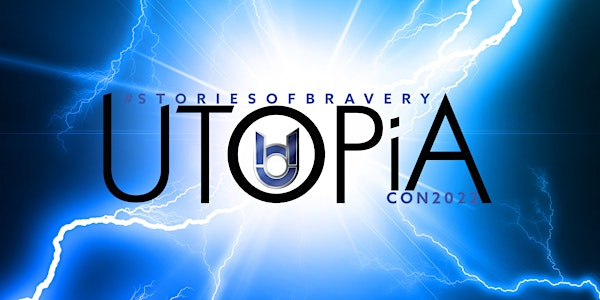 UTOPiAcon 2022 Book Signing Event + The 11th Annual UTOPiA Awards + Party
Welcome back writers, readers, and book world friends! It's the UTOPiAcon 2022 Book Signing Event + The 11th Annual UTOPiA Awards & Party!
When and where
Location
Nashville Marriott at Vanderbilt University 2555 West End Avenue Nashville, TN 37203
About this event
JOIN your favorite fiction authors for an unforgettable day of book signing, giveaways, the 11th Annual UTOPiA Awards, a dance party, and a few surprises!
***
The 10-year UTOPiAcon reunion was supposed to be June 2021, but I made the call to move it to 2022 for travel and safety reasons.
Before there was Covid-19, before there was a pandemic, and quarantine, and mandatory masks, and virtual school, and the year that changed us all, the theme, superheroes, was voted on by UTOPiAns back in 2017.
Little did we know that only a few years later, the real masked heroes would be the ones on the front lines helping to save lives and keep us all safe.
I wondered: should we change our theme? After discussion and consideration, we decided to stick with the theme. Here's why:
Every day, creative entrepreneurs -- like authors and the service providers who support the book community -- battle their own villains, their own demons.
Over the past 11 years, we have seen first-time authors go on to 6-figure careers. We have seen others battle hardship we can't even imagine. We have seen cycles of indie acceptance and we have seen strides toward more inclusion and representation. Something I am still working on in my own programming.The tagline, #StoriesofBravery was chosen back in 2017, too.
We started planning our first event in 2011 after reading 100s of indie author books. The first event took place the first week of July in 2012. The hottest week of the year on top of a holiday week. But we did it anyway. 80 people came. The event made no money, but we made new friends and knew that there was more to be said and done for the indie community of writers who, at that time, weren't welcomed by the "established" author and book events out there. The next year, we doubled in size, and in four years UTOPiAcon grew 10 times the size.
I knew that for our reunion event, I wanted to hear about the journeys those authors took over the past decade+. So, #StoriesofBravery isn't just about the heroes that live in the books. It's about the authors, the indie service providers, the book cover models, the book event creators, the readers, and more, who have grown, who have had ups and downs, who have persevered over the past decade. We've lost some close to us, and we've welcomed a new generation of writers.
The book community has evolved. Independent and hybrid authors have literally hundreds of events to choose from now to connect with fans. June 25, 2022 will be the final farewell event for UTOPiAcon. I'll still be hosting my Next Chapter Retreats for authors looking for experiential events that include opportunities for upleveling their careers, and I will still manage client book events, but I feel completely satisfied that UTOPiAcon has fulfilled its purpose.
We hope you readers, friends, family, and fans will join us in Nashville, TN for one last signing event, awards ceremony, and afterparty. If you're new to UTOPiAcon, and consider yourself a stranger....you won't be by the time you leave. All of the authors joining us (please see the website for the full list of signing authors) welcome you, and we look forward to seeing you all, both old friends and new!
SIGNING EVENT:
There will be 2 ticketed signing times due to capacity restrictions:
9 am - 12 pm
1 pm - 3 pm
Your ticket only gets you into ONE of those time slots, but all authors will be signing at both times.
You can also purchase a ticket to the 11th Annual UTOPiA Awards and post-awards dance party: the Awards begin at 7 pm and the dance party follows immediately afterward until 11 pm. Music, dancing, and cash bar. Must be 21+ with picture I.D. to purchase alcohol.
REFUND POLICY: No refunds.
HERO ACADEMY
If you're looking for a deeper dive into writing and creative career blocks, join us for the HERO ACADEMY RETREAT June 22-24, 2022, right before UTOPiAcon in Nashville, TN. Only 12 spaces available. That event can be found here: https://heroacademy.eventbrite.com