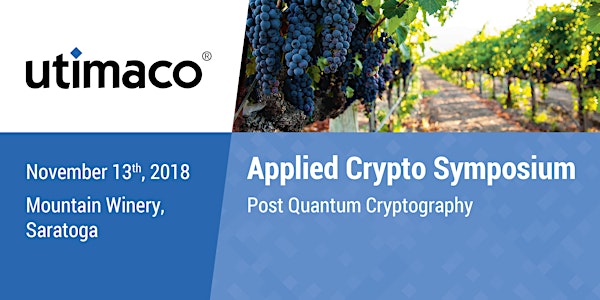 UTIMACO APPLIED CRYPTO SYMPOSIUM SILICON VALLEY 2018
When and where
Location
Mountain Winery 14831 Pierce Road Saratoga, CA 95070
Description
Quantum computers will revolutionize many industries and will be powerful enough to break all commonly used public key cryptographic algorithms.
It is not a question of if your business will be affected, but when and how will quantum computers impact your day-to-day operations and product architecture.
We are thrilled to announce the third edition of our Applied Crypto Symposium, which welcomes thought leaders, academics and industry experts from around the globe to discuss:
The state of affairs in post-quantum research.
How organizations around the world are planning and preparing for a post-quantum society.
Challenges with post-quantum cryptography implementation.
The latest innovations sparked by the race to be quantum-safe in payments, automotive and blockchain applications.
Methodologies for making legacy systems quantum safe.
In the heart of Silicon Valley, spend the day at the iconic Mountain Winery with post-quantum experts to learn how to stay ahead of the curve (elliptic or otherwise). Hear from leading industry voices including Brian LaMacchia (Microsoft), Michele Mosca (Institute for Quantum Computing), Harsh Kupwade Patil and Marcos Simplicio (LG Electronics Mobile Research), Alan Panezic (ISARA), Sandy Carielli (Entrust Datacard), Louis Parks (SecureRF), as they explore the implementation of potential quantum safe algorithms and what the future holds for cybersecurity.
Will these new ciphers come to the rescue when the quantum computer falls into the hands of the wrong people?
AGENDA
8:00 AM | Breakfast
9:00 AM | Opening Remarks and Introductions | Dr. Thorsten Groetker, Chief Technology Officer, Utimaco
9:15 AM | Post-Quantum Crypto and Blockchain | Dr. Michele Mosca, Founder of the Institute for Quantum Computing, University of Waterloo
10:00 AM | Post-Quantum Crypto and Microsoft | Dr. Brian LaMacchia, Distinguished Engineer, Microsoft
10:45 AM | Post-Quantum Crypto and Automotive | Dr. Harsh Kupwade-Patil, Sr. Staff Research Engineer (IoT Security), LG Electronics Mobile Research | Prof. Marcos Simplicio Jr., Researcher, LARC Laboratory of Computer Network and Architecture
11:30 AM | Certificate Authorities in the Post-Quantum Transition: Managing Uncertainty | Sandy Carielli, Director of Security Technologies, Entrust Datacard

12:15 PM | Lunch + Wine and Beer
1:15 PM | Quantum Safe PKI Transitions | Alan Panezic, Vice President of Strategic Partnerships, ISARA
2:00 PM | Challenges in securing the IoT in a Post-Quantum World | Louis Parks, Chief Executive Officer/Chairman, SecureRF
2:45 PM | Post-Quantum Crypto and Utimaco | Dr. Thorsten Groetker, Chief Technology Officer, Utimaco
3:15 PM | Post-Quantum Crypto Panel and Closing Remarks | Moderator: Dr. Thorsten Groetker with participation from all attendees
Detailed information about the presentations is available on the Utimaco website.
Please note that we have a limited number of complimentary spaces available. Once we receive your registration we will confirm your attendance via email.
We look forward to welcoming you at the Utimaco Applied Crypto Symposium in Saratoga!
Your UTIMACO Team
---
FAQs
What are my parking options for the event?
Free parking available at the venue.

How can I contact the organizer with any questions?
Please contact hsm@utimaco.com with any questions, concerns or remarks you may have.

What is the attire for the event?
Business casual.