Description
Winning The Startup Race In The Digital Business Era With The State Of The Art End-to-end Innovation Management
Agenda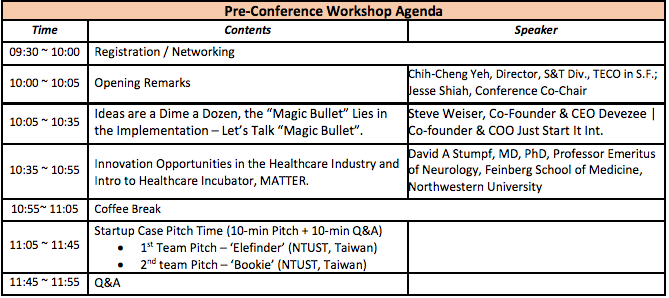 Speaker Intro
Ideas are a Dime a Dozen, the "Magic Bullet" Lies in the Implementation – Let's Talk "Magic Bullet".
Steve Weiser
Co-Founder & CEO Devezee | Co-founder & COO Just Start It Int.
We have all heard statistics such as 80%, 90% or 95% of Startups FAIL. However, the success stories coming out of the top Accelerators have inspired the creation of a whole new industry. The Incubator/Accelerator industry was created to mimic the successes of Y-Combinator. Over the past few years over 7,500 Accelerators have sprung up around the world… most of them FAIL.
A recent article in the Harvard Business News stated that it is harder to get into one of the top Accelerators than the top University in the world… Why is that?... What "Magic Bullet" do these Accelerators have?
Let's talk "Magic Bullet"!!!
My corporate career included a 12-year stint at Ernst & Young and then KPMG consulting. My ability to identify & solve problems was well utilised in the areas of Strategy, Risk and Process related work. These same skills have allowed me to enjoy the past 25 years working in the Innovation & Startup space, where I work with Investors, Innovators and other stakeholders within the Innovation Ecosystem around the world.
----
Innovation Opportunities in the Healthcare Industry and Intro to Healthcare Incubator, MATTER.
David A Stumpf, MD, PhD
Professor Emeritus of Neurology, Feinberg School of Medicine, Northwestern University
David A Stumpf, MD, PhD is board certified in neurologist, pediatrics and clinical informatics. He is Professor Emeritus at Northwestern University and a mentor at MATTER, a Chicago health care incubator. Previously he was an executive at UnitedHealth Group, working at the corporate level with its subsidiary companies: United Healthcare (payer) and Optum (data, analytics and disease management). Additional information: http://woodstockhit.com/stumpf_resume.html
Abstract
The National Quality Form model for coordination of care provides an ecosystem framework focused on patients and priorities of value based care. Patient characteristics derived from multiple sources are rendered into workflows with accountable entities, anticipated outcomes and event managers. Model driven, no-code platforms enable curation by clinical experts and configuration by technology teams. Democratized data inputs and outputs from direct clinical care can be seamlessly repurposed for process improvement, care analytics, reimbursement and other functions. Medical knowledge management innovation will involve library repositories and technical choreography. Big data methods for population management must be accompanied by small data strategies for individual patient planning and ongoing care. Complexity theory has implications. Predictive analytics have limited value for individuals, while event detection and individualized responses are impactful. Healthcare is ripe for disruption and filled with opportunities for entrepreneurs and their partners in the innovation ecosystem.