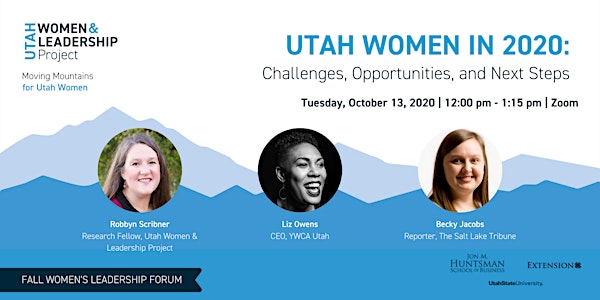 Utah Women in 2020: Challenges, Opportunities, and Next Steps
Join us for a lively discussion with experts on Utah women's issues to gain deeper insights into where we have been and where we are going.
About this event
The Utah Women & Leadership Project invites you to join us for our third Women's Leadership Forum of the academic year.
For decades, Utah has been behind the nation in women's economic empowerment, professional achievement, political representation, and the presence of women in leadership in all sectors. Yet we have been near the top of the nation's rankings in areas like domestic violence, sexual assault, and cosmetic surgery. The Utah Women & Leadership Project, Salt Lake Tribune, and YWCA Utah have collected data that show where Utah women have ranked in the past and documents women's own perceptions and experiences as well. This engaging panel discussion will unpack current research findings and focus on top-of-mind issues for Utah women in 2020: What are our most pressing challenges and promising opportunities? How is our rapidly changing world affecting women and girls in the state? And finally, what might be the next steps to strengthen the impact of women in Utah in all sectors, including home, church, business, schools, universities, and beyond? Join us for a lively discussion with experts on Utah women's issues to gain deeper insights into where we have been, where we are going, and how you can personally engage in this important work.
Sponsors: Jon M Huntsman School of Business, Utah State University & the Utah Education Network (UEN)
Panelists
Becky Jacobs is a reporter at The Salt Lake Tribune who covers women's issues and the status of women in Utah. She started at the paper in June 2019 through Report for America, an organization focused on eliminating the country's news deserts. She wrote a series of articles from a first-of-its-kind poll of Utah women conducted by The Salt Lake Tribune and Suffolk University, examining how women in the state view themselves and what they perceive to be their biggest challenges. In the past year, she's spotlighted 139 new female voices in The Tribune. Becky previously reported on crime and courts for The Post-Tribune, a suburb paper of The Chicago Tribune in Northwest Indiana, and for The Grand Forks Herald in North Dakota.
Liz Owens is a womanist, feminist, multi-racial, multi-cultural woman of color from Utah. She serves as a community educator, gender justice and racial justice activist. Her multi-issue work is firmly rooted within a human rights and social justice framework with a focus on the intersections of power and privilege. Liz has experience working on issues that disproportionately impact women and with historically underrepresented individuals and communities including: women of color, transgender folks and their loved ones; refugees and immigrants, queer youth; and women involved in the criminal justice system, gangs and/or drugs, drug trafficking, sex-work and prostitution, and survivors of domestic and sexual violence, among many others. She currently serves as CEO of YWCA Utah where she leads the organization in meeting their mission of "eliminating racism, empowering women and promoting peace, justice, freedom and dignity for all." Liz grew up in Provo, Utah and once walked the last 100 kilometers of the Camino de Santiago in Spain. Liz and her partner Brad are the proud and devoted parents to a little human named Fox and pet-parents to two doggies, Flynn & Fia.
Robbyn Scribner is a Research Fellow for the Utah Women & Leadership Project at Utah State University. She has been the team lead for the Utah Women Stats Research Snapshots series, where she co-authored sixteen snapshots on various topics of interest to Utah women, including poverty, labor force participation, domestic violence, and the gender wage gap. During her time with the UWLP she has contributed to dozens of other reports and articles focused on supporting and advancing women and girls. Robbyn is active in community outreach, frequently speaking and presenting on women's issues in various settings. She holds a master's degree in English with an emphasis in composition and rhetoric from Brigham Young University, and a bachelor's degree (also from BYU) in European Studies. She has a special interest in women's labor force participation, highlighting the challenges women face in trying to balance work and family responsibilities while advocating for creative solutions to advance women's professional wellbeing.
This event is eligible for AICP CM credit through the American Planning Association Utah Chapter (APAUT).