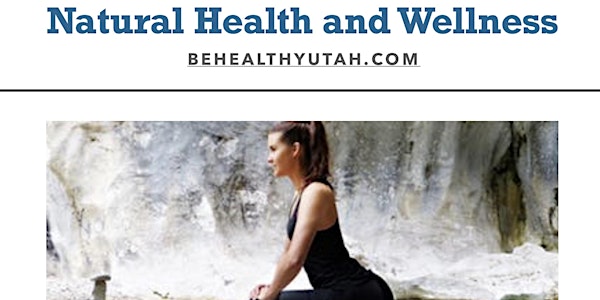 Utah Natural Health and Wellness Conference
2 day live event with Doctors and Experts presenting how to increase your Health Naturally over 45 Booths offering Products and Services
When and where
Location
Salt Palace Convention Center 100 South West Temple Salt Lake City, UT 84101
About this event
Behealthyutah.com
Building Connections to Increase our Health Through Natural Solutions
Functional Medicine Doctors, Practitioners, and Educators will be gathered to present to you their knowledge and information on how to take back your health with a natural approach.
Speaker List:
Kirk Dunkan Mindset Master. Key Note Speaker speaking on becoming a Master of your Mind to create a healthy life
Dr. Benjamin Bikman is a diabetes and obesity scientist. He is a Key Note Speaker and will be speaking on Insulin
Robyn Openshaw, also known as "The Green Smoothy Girl", will be speaking on Detoxification. She is a Key Note speaker
Karen Urbanek is an extremely entertaining, science-based educator. She is a Key Note speaker and will be speaking on Cannabis and Chronic Disease
Dr. Rob Sinnott is the Chief Scientific Officer at USANA. He specializes in the science of the body. He is a Key Note speaker and will be talking about Gut Health and the microbiome and how it is the cornerstone to our health.
Dr. Trevor Cates, also known as the "The Spa Dr.", will be speaking on Natural Skin Care.
Dr. Jason Smith is a Diplomate of the American Board of Chiropractic Neurology. He will be speaking on the Gut/Brain Connection.
Dr. Robert Jones specializes in female and male hormones. He will be speaking on Female Hormones and how to take back your health.
Dr Amy Killen and Dr Harry Adelson are international speakers on stem cells and sexual health. They will be speaking on Stem Cell and PRP.
..and more! See their Full Bios, list of Speakers, and Schedule here: https://www.elevatedlearningevents.com/speakers
Conference will be held May 10th and 11th at the Salt Palace Convention Center in room #355 (3rd floor North West part of convention center). You can park underneath the Salt Lake Convention Center or surrounding areas.
Check-in : Friday 11:00 - 1:00
Saturday 8:00 - 9:00 (only for those who did not check-in on Friday)
Conference : Friday 12:30 - 9:00
Saturday 9:00 - 7:00
This is a Live and Online event. If you purchase Online event, either singly or with a combo, speaker presentations will be available 5-10 days after symposium. Look for additional emails on how to access the event online.
Conference rooms can be cold so dress appropriately. Water stations are available outside the restrooms.
What an incredible experience to be part of grassroots movement as we all learn to take back our health.
Behealthyutah.com