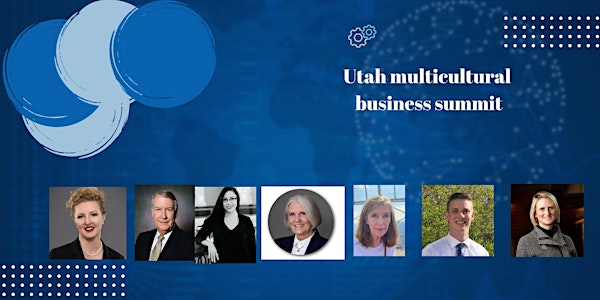 Utah multicultural business summit
Bring Business and Community together A networking event for small business owners. A bridge between businesses and community members
When and where
Location
500 S Main St 500 South Main Street Salt Lake City, UT 84101
Refund Policy
Contact the organizer to request a refund.
Eventbrite's fee is nonrefundable.
About this event
https://www.utmcbs.com/
Ccontact: 8018003340
UtahChinese2021@gmail.com
2022 Utah Multicultural Business Summit
Booth Set Up
7:00 AM - 8:00 AM
Registration
8:00AM - 9:00 AM
Booth Exhibit
9:00AM - 12:30 PM
Session A (Ball Room A)
Utah Trade & manufacture 101
9:00 AM - 9:50 AM
Topic 1: Introduce the Utah export product and export steps,
Speaker: Wing Hoe Yee, WTC Utah
Topic 2: Export to China, introduce the China economy of 2022, and how to export Utah goods to China.
Speaker: Kuang Li, Ph.D, Business Owner
Utah State Tax Benefit
10:00AM- 10:45 AM
Topic: Introduce Utah State Tax Benefit
Speaker: Commissioner John L. Valentine
Utah Future Business Picture
11:00 AM- 12:00 PM
Topic 1: Introduce Utah macroeconomics, predict Utah's economic increase
Speaker: Phil Dean,Chief economist and public finance senior research fellow at the Gardner Institute
Topic 2: Utah Asian Population increase and economic impact
Speaker: Gerritt Vander Linden, Edcutah
Session C (Ball Room C)
Civic Engagement and Education environment
9:00 AM- 9:45 AM
Spaker1: Elizabeth Weight, Utah House of Representatives
Spaker2: Laurie Stringham, Chair, At-Large A, Salt Lake County
New Immigrant Resource and Job Opportunity
10:15 AM- 11:00 AM
Speaker: NATALIE EL-DAIRY, Director of Immigration & New American Integration 
Wellness for your employees (Health) 11:15 AM to 12:00 PM
Topic 1, Eat Well Utah "A healthy food culture: Eat Well Utah."
Speaker: Liz Armour-Roth, Director of Clinical Operations at the University of Utah Health Plans, specializes in population health.
Topic 2, Wellness for Employees and the Community
Speaker: Laura Holtrop Kohl, Public Health Dietitian in the Utah Department of Health & Human Services.
Workshop
9 AM to 9:45 AM
Chase Combe
Financial professional/Real Estate Investor & Agent
Akuna Tavake
Financial Professional, Business Owner & Agent
10 AM to 10:45 AM
Windy Aphayrath, Director of Utah Department of Government Operations
Division of Purchasing
11 AM to 12 PM
Business owner and Community leader discussion
Lunch Session: Keynote speaker & Award ceremony
12:30 pm to 1:30 pm
Keynote speaker: Nubia Peña, Senior Advisor on Equity and Opportunity, Director of the Utah Division of Multicultural Affairs
Special Speaker: Theresa Foxley, EDCUtah's President and CEO.
Awardee: Rosie Rivera, Sheriff of Salt Lake County.
Music & Art 1:30 PM-2:10 PM Performance team : Utah Chinese Association