Utah Symphony to preform free to the public on Saturday, September 11th at 7:00 pm, to mark the 20th anniversary of 9/11
About this event
UTAH SYMPHONY TO PERFORM AT 20th ANNIVERSARY UTAH HEALING FIELD®
Sandy City Hall - 10000 South Centennial Parkway, Sandy, UT
The public is encouraged to visit the Healing Field® flag display on the grounds of Sandy City Promenade, September 8th through 12th, 2021. Visitors can safely walk among the flags or drive around the Promenade to observe the display.
A special program, free to the public, will take place on Saturday, September 11th at 7:00 pm, to mark the 20th anniversary of the 2001 attacks. To commemorate this solemn anniversary, the renowned Utah Symphony will perform patriotic music overlooking the powerful sea of red, white, and blue. The performance will be in conjunction with the annual "Honoring the Fallen" ceremony. This program honors each branch of the United States Military, including all fallen soldiers and first responders from the state of Utah. The patriotic observance will include the national anthem, a flyover performed by the US Air Force, presentation of colors, 21- gun salute, a bugle performance of Taps, and a performance by The Utah Pipe Band.
Volunteers will post over 3,000 U.S. full sized flags south of the Sandy City Hall on Wednesday, the 8th of September, beginning at 5:30 PM. Those who have taken part in the setup of flags eagerly return year after year to take an active part in the event. Many speak of a shared respect and reverence felt when placing the flags.
This event is organized by the non-profit Colonial Flag Foundation. Without the generous support of sponsors, this event would not be possible. Your generous donations make this memorable and inspiring gift to our State possible.
Thank you for your support!
"Remember the Day We Lost So Many….and Stood Together".
*Flags sponsored for display are retained by sponsors who purchased them.
*Seating is limited, please bring blankets or chairs*
A special thank you to our sponsors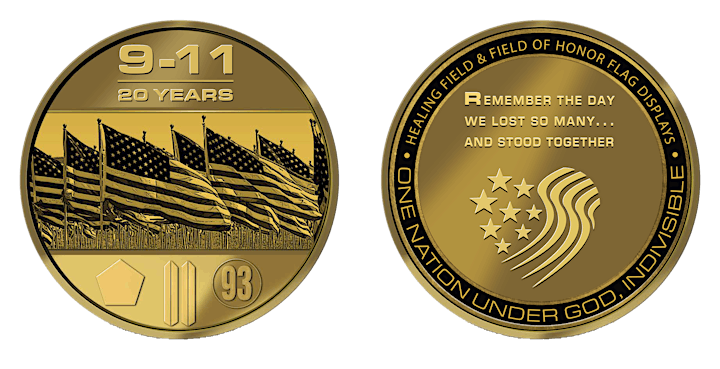 Organizer of Utah Healing Field® 20th Anniversary 2021
Colonial Flag Foundation was organized in 2003 shortly after the first Healing Field® display was orchestrated by Paul Swenson, president of Colonial Flag in Sandy, Utah. Read Paul's story. That first event was organized as a way to visualize the sheer enormity of human loss that occurred in the terrorist attacks of September 11, 2001. But, as hundreds of volunteers gathered to help, it soon became evident that something much more was emerging. It became a personal gesture of support, a tangible expression of mourning, and a very real healing experience.
Colonial Flag Foundation provides the resources and support to help you gain exposure and raise funds for your cause. By associating with our nationally-recognized, respected brand, and following our program, you will enjoy a successful event, reach your goals and make a positive impact in your community.
The "Healing Field®" and "Field of Honor®" are trademarked Programs of the Colonial Flag Foundation. Our unique Programs are designed to launch your fundraising abilities, increase awareness for your club, charities and causes while also fostering love of our country and communities with our spectacular displays, moving tributes and educational opportunities. To date we have raised over 40 million dollars and media analysis estimates over 50 million in media value. If you would like to learn more about our Programs please contact sawn@healingfield.org.or visit www.healingfield.org
If you would like to learn more about our programs please call 866-375-3524 or email sawn@healingfield.org.