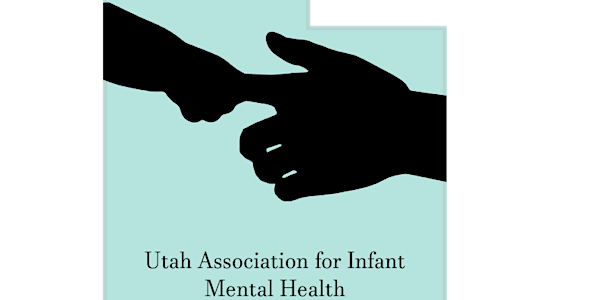 Utah Association for Infant Mental Health Annual Conference 2023
Families under stress: Fostering self-compassion and decreasing shame and suffering
Refund Policy
Contact the organizer to request a refund.
About this event
1 day 4 hours

Mobile eTicket
Dates
This conference will take place over the course of two days:
1. Thursday, February 3rd, 2022 (8:30AM - 12:30PM)
2. Friday, February 4th, 2022 (8:30AM - 12:30PM)
Registration is for both days. The conference will be held online. You will receive a link to join shortly before the event.
CEU Opportunities:
There will be opportunities for CEUs for the conference for Psychology, Social Work, and Nursing.
Conference Program
Join us for the 2023 UAIMH Annual conference – "Families under stress: fostering self-compassion and decreasing shame and suffering"! This year, three nationally recognized speakers will focus on how to support providers in the important work of serving infants, young, children, and their caregivers, especially under challenging circumstances or during stressful experiences. Participants will learn how to foster healthy relationships and how this relates back to how to utilize reflective supervision (RS) and reflective practice (RP) to better sit with and work through the discomfort and difficulty that can arise during work with young children and families. More specifically, our presenters will discuss how to utilize RS and RP to better understand and think about young children's behaviors and promote equity to improve Infant and Early Childhood Mental Health (IECMH).
Meet the Presenters
Julie Poehlmann, PhD is a Professor of Human Development and Family Studies at the University of Wisconsin-Madison. She is an internationally recognized scholar and presenter on children with incarcerated caregivers. Dr. Poehlmann designs and evaluates theory-based interventions for children and their parents, including interdisciplinary multimodal interventions that can be used in the criminal justice system and contemplative practices aimed at decreasing stress and increasing well-being in children and families. Dr. Poehlmann has also served as an advisor to Sesame Street, and serves on the leadership teams of the International Coalition for Children with Incarcerated Parents and the Wisconsin Alliance for Infant Mental Health. Learn more on her website!
Mercedes Samudio, LCSW is bestselling author, parent coach, and speaker who helps parents develop into the best parents they can be. She particularly focuses on Shame-Proof Parenting, to help reduce the shame parents frequently experience. To help parents raise healthy children, Mercedes also helps parents heal from their past traumas that can influence the ways they interact with their children. Mercedes is also the founder of the Diversity in Parenting Conference, was featured on The Huffington Post, CBS LA, and Kids in the House and in U.S. News & Report, Woman's Day, and L.A. Parent Magazine. Learn more on her website!
Jennifer Mitchell, PhD, BCBA-D, is a licensed clinical psychologist, Infant Mental Health specialist, and Board Certified Behavior Analyst. She is Vice President, Clinical Strategy and Innovation, at The Children's Center Utah, Board member and Past President of the Utah Association for Infant Mental Health, and Zero To Three Fellow. She serves on the Early Childhood Advisory Council, the Utah Registry for Autism and Developmental Disorders Oversight Committee, the Early Childhood Mental Health Working Group, and numerous other community groups aimed at supporting young children and their families. Dr. Mitchell has extensive expertise in working with children who have experienced trauma, and children diagnosed with Autism Spectrum Disorder. For UAIMH, she has been Chair of the Endorsement Committee, which has been working on bringing the Competencies and Endorsement system by the Alliance for the Advancement of Infant Mental Health (AAIMH) to Utah.
Day 1: Thursday, February 2 (8:30am-12:30pm)
Dr. Julie Poehlmann will open the conference by guiding us through a discussion surrounding the scope of parental incarceration in the United States. More specifically, Dr. Poehlmann will discuss the risks young children face when a caregiver is incarcerated and when they witness a caregiver's arrest. She will guide us through strategies for preventing trauma in young children who have experienced these stressors, discuss factors associated with their resilience, and help us to understand the benefits of positive parent-child communication. Families with incarcerated caregiver experience stigma and shame. Dr. Poehlmann will provide evidence-based strategies for professionals who come in contact with these families that they can use to foster positive parent-child interactions, decrease stigma, and increase compassion within these families and within communities towards these families.
Day 2: Friday, February 3 (8:30am-12:30pm)
On the second day, Mercedes Samudio, LCSW, will demonstrate how to utilize her "Shame-Proof Parenting" approach to foster healthier parenting identities. Mercedes will present her model of parental identity development and guide participants through the six parental defense mechanisms she has identified. She will also explain how parental shame impacts families, and use her Shame-Proof Parenting framework to help professionals understand how to support a parent's identity development. Finally, she will address how to manage common family system challenges to promote successful healing. Participants will will come away with an understanding of how to support families in shame-proof parenting.
Reflective Practice Review & Discussion
Each day, the Keynote presentation will be followed by a presentation by Dr. Jennifer Mitchell. Dr. Mitchell will demonstrate how to utilize Reflective Practice to work through our own feelings when encountering challenging situations, and thus discover our own strengths. What is Reflective Practice? This question will be answered on Day 1, when Dr. Mitchell will also explain why Reflective Practice plays such a critical role in providing effective services for infants, young children, and their caregivers. On Day 2, Dr. Mitchell will explore how Reflective Practice influences providers' own experience of how to provide services, as well as the role that Reflective Practice can play in providers' professional quality of life. The presentations by Dr. Mitchell will clarify why Reflective Practice is essential for supporting providers, and the infants, toddlers, and families they work with.
Following Dr. Mitchell's presentation each day, we will have "round table" discussions. Within Breakout rooms, you will have a chance to consider how the information from the presentations applies to your own work. We will end each day with a Q&A with the presenters of the day, followed by concluding remarks.
All in all, we aim to offer you tools to take back into your everyday work with the youngest members of our society and their caregivers. Our presenters are each highly esteemed experts in their fields, and they are excited to bring their work to you!
Scholarship Information:
UAIMH is excited to offer scholarships again this year to offset the cost of the conference for eligible attendees. These scholarships are intended to increase accessibility for attendees who are interested and engaged in work related to infant mental health but for whom the financial cost of registration would be a barrier to attending the annual conference. Please email uaimh.info@gmail.com if you are interested and include in the subject "UAIMH Scholarship Interest" with an answer to the question, "How would a scholarship to this conference support you in your professional goals?" We will then send you what you need to complete registration.
Students: (other than Roseman University nursing students)
Again this year we are offering discounted tickets for students who wish to attend our conference. If you are a student and interested in purchasing a ticket for a discounted rate of $25.00, please send your name, the university you are attending, and a picture of your student ID card to uaimh.info@gmail.com. You will receive directions at that time for how to purchase a ticket. Please include "UAIMH Student Interest" in the subject of your email.
We hope you will enjoy the conference!
Website: www.uaimh.org
Facebook: https://www.facebook.com/UtahIMH
Instagram: uaimh_