Utah AGD Fall CE, 16 hours! Only $350, save $50 now! Only 14 seats remain!...
Event Information
Refund Policy
Refunds up to 7 days before event
Description
Utah AGD Fall CE, 16 hours! Only $350, save $50 now! Only a few seats remain!
Advanced Restorative and Cosmetic Dentistry! (Nov 3, 2017 - Nov 4, 2017) Must be a licensed dentist to register.
We are excited to have Dr. Chris Stevens, from Sun Prairie, WI, as our guest lecturer. Dr. Stevens speaks and lectures both nationally and internationally, and we are lucky to have him join us for this 2 days course. It will cover 16 hours of CE credit, for those tracking their Fellow or Mastership it will apply to CE Code 780 Esthetics.
You may also mail a check made out to Utah AGD for $350, to Scott Tracy, DDS, MAGD, 321 E 300 N, Americans Fork, UT 84003
Course Overview:
Successfully implementing Advanced Restorative Procedures can be done without depending on "hope dentistry." Knowing where you are going and how to get there is critical to patient success. Discover essential steps for simplifying and implementing Indiscernible Dentistry into your practice.
Objectives:
Implement a system to identify patients who will respond favorably to care
Review records needed to partner with your lab for predictable results
Use reliable bite registrations when centric occlusion is not desirable
Learn smile design for anterior restorative cases
Learn laser tissue framing and laser tissue retraction techniques
Employ rapid seating of indirect adhesive restorations
See how segmented full mouth restoration is safe and successful
Discover new digital occlusal technologies
See methods to treat mixed natural tooth and implant restoration cases
Find out how to create esthetic tissue profiles in anterior implant restorations
Day 1
7:30 - 8:00 Registration
8:00 - 10:15 Introduction to course materials
Assessing Patient Readiness
Why do patients say yes to comprehensive/ cosmetic cases
Obtaining cosmetic records for successful case delivery
10:15 - 10:30 Morning Break
10:30 - 12:00 Protocols of Success
Photography
Smile Design
Tissue Framing
12:00 - 1:00 Lunch
1:00 - 2:30 Protocols of Success (continued)
Preparation for Aesthetics
Closed Bite Registration
Dazzling Provisionals
Rapid Cementation
2:30 - 2:45 Afternoon Break
2:45 - 3:45 Hands On Session – Quality Impressions
3:45 - 4:45 Full Mouth Restoration through Segmented Care
4:45 – 5:00 Q & A and Wrap up
Day 2
7:30- 8:00 Breakfast and Registration
8:00- 10:00 Advancements in Technology
Soft tissue protocols using the Deka C02 Laser

Balancing restorative/ implant occlusion with the TScan Occlusal Management System
10:00 -10:15 Morning Break
10:15 - 12:00 Advancements in Technology (continued)
12:00 - 12:45 Lunch
12:45 - 2:00 Case Studies
Single Implant Tooth Replacement
Mixed Anterior Veneers and Implants
Tissue Development for Esthetic Zone Implant Restorations
Full Mouth Restoration with Mixed Natural Teeth and Implants
Techniques for Cementation of Implant Restorations
2:00 - 2:15 Afternoon Break
2:15 - 3:45 Case Studies (continued)
3:45 - 4:15 Q & A / Where to go from here
Dr. Chris Stevens, a graduate of Marquette School of Dentistry, is an international speaker on the subjects of smile enhancement, principles of occlusion, full mouth restoration and diagnosis and treatment of temporomandibular disorders. He has been an active lecturer for more than two decades and has spoken to thousands of care providers including dentists, physicians, chiropractors and physical therapists across the country and abroad. Since 1991, he has been instructing doctors and their staff on the use of computer enhanced electro-diagnostic equipment in dentistry. Widely accepted applications for these instruments have been found in diagnosis and treatment of TMD, 3-D mandibular repositioning, principles of occlusion and occlusal management processes. He co-founded the Multi-Disciplinary Pain Clinic at the Medical College of Wisconsin. He currently lectures throughout the U.S. and Europe while maintaining a teaching center, the Center for Advanced Studies of Functional and Restorative Esthetics and a general dental practice in Sun Prairie, WI.
Approved PACE Program Provider FAGD/MAGD Credit Approval does not imply acceptance by a state or provincial board of dentistry or AGD endorsement 06/01/2017 to 05/31/2019 Provider ID# 219329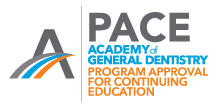 Date and Time
Location
Refund Policy
Refunds up to 7 days before event