USVAA and Onward Press present Emmy-winner Kira Snyder and Timothy Wurtz in conversation as part of our regular Veteran Writers Workshops
About this Event
ABOUT KIRA SNYDER
Kira Snyder is an Emmy and WGA Award-winning writer-producer. She is the Executive Producer-Show Runner of HBO's Demimonde.
She was the Co-Executive Producer of Handmaid's Tale.
Other work includes the movie Pacific Rim: Uprising. For television, The 100, Incursion, Eureka, Alphas and Moonlight. Kira has written pilot scripts for Hulu, FX and Amazon. She is a graduate of the WGA Showrunner Training Program and the Warner Bros. Television Writers' Workshop. The Parish Mail eBooks, her interactive Young Adult supernatural mystery series, are available from Kindle and other outlets. Kira began her career as a computer game designer. She created games for Microsoft, MIT, and Electronic Arts, including the seminal alternate reality game Majestic. Kira is a graduate of Stanford and is proud to be a Navy Brat.
ABOUT TIMOTHY WURTZ
Timothy Wurtz is a screenwriter, producer, and the Publisher of Onward Press. _____________________________________________________________________________________________
This event is free of charge and open to the public. Please visit USVAA.org for more information about our mission.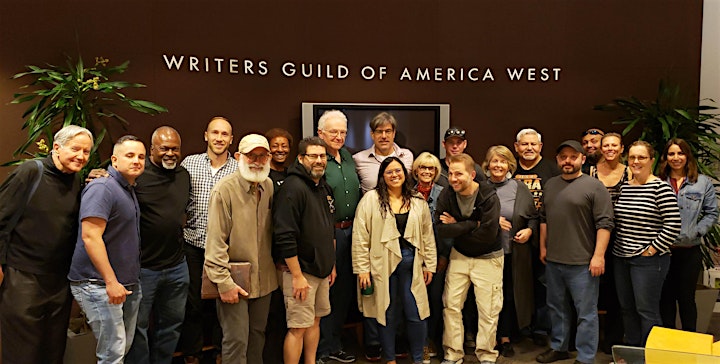 A meeting of the USVAA Veteran Writers Workshop in September 2019 at the Writers Guild Library. We can't wait to get back to in-person workshops, with a virtual capability as well for all our guests across the United States and around the world.