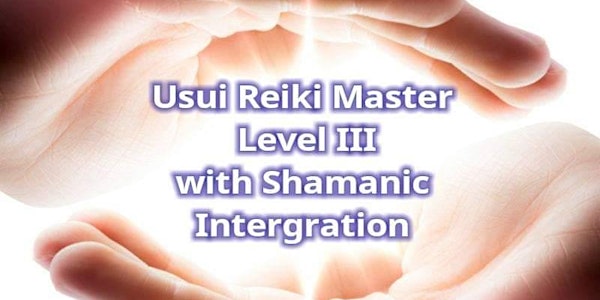 Usui Reiki Master Teacher Certification Course w/Shamanic Integration
Usui Master Reiki with Shamanic Intergration
Refund Policy
Contact the organizer to request a refund.
Eventbrite's fee is nonrefundable.
About this event
Continuing from my Usui Reiki Level 1, 2 Shamanic Intergrations
2 consecutive Saturdays Course. August 27th and September 3rd.
Payment links are below Please ONLY pay through the PayPal.me Link posted below
Usui Reiki Master Teacher Certification Training: & Shamanic Integration
Master Reiki Teacher Teachings and Attunement.
Learn everything there is to be a Usui Master Reiki Healer and a Master Reiki Teacher plus Shamanic Intergrations
Who can learn Reiki?
-Anyone who wants to practice radical self-care
-Anyone who experiences a lot of stress, anxiety, chronic pain, physical ailments/illness, spiritual blocks, or is around intense/negative energy
-Those who want to help heal animals
What makes this course different than other Reiki Trainings?
*We allow more time to learn the information, practice, and integrate the knowledge and adjust to the new vibration of energy. Many Reiki Second Degree courses are taught all at once in one weekend, individually, or in 3 1-hour sessions, leaving minimal time to process the new information, ask questions, or receive guidance and additional feedback. This course is spread out over 2 weeks, and equals a total of 4 plus hours of training, so that at the end of the training all the training practitioners feel confident in their ability to use Reiki energy to heal themselves and others.
* Students receive hours of experience in class and material is given to practice at home.
*You will receive support in integrating this new vibration of energy. Receiving an attunement can bring up mild physical, emotional, mental, or spiritual shifts, that can at times feel uncomfortable or overwhelming. This is happening because your vibration is increasing, and you are releasing old habits and patterns that no longer resonate with your new vibration. The attunement is given after the last class, so that students have support built into the class as they adjust to the new energy. Attunement will be given in person by Shamanic Reiki Master Jeannie
*Additional support from an experienced healer/private practice provider. Jeannie integrates additional skills and knowledge from her years as a Shamanic Reiki Master, running a private practice, and from her experience as a practicing psychic/medium and Shamanic Reiki Practitioner/Master.
*Additional Resources for Spiritual Development & Reiki Healing. Jeannie emphasizes spiritual growth and Reiki healing as a life-long pursuit, and provides many additional handouts, websites, organizations, and other resources for students to access along the way. Jeannie also provides individual feedback and guidance throughout the training program.
Upon completing this training, you will have been trained in Traditional Usui Reiki Master Teacher, and receive your Usui Reiki Master Teacher Certificate. Attendance to each session is required to receive Certificate and Shamanic Attunement
After completion of this course, you will not only be a Certified Master Reiki Healer but also be trained as a Master Reiki Teacher! Have have a strong foundation in Reiki healing and and Shamanism.
Cost for this course is $111 .1
Paypal payment link is below.
Paypal.me/jeanniereikihealer/55.55
Paypal.me/jeanniereikihealer/111.11