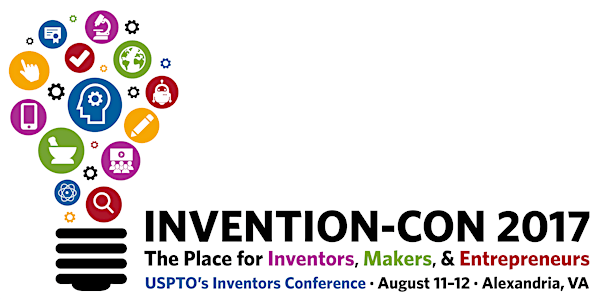 USPTO's Invention-Con 2017: The Place for Inventors, Makers, & Entrepreneur...
Location
600 Dulany St
600 Dulany Street
Alexandria, VA 22314
Description
Join us for Invention-Con 2017, USPTO's Independent Inventors Conference. During this two day conference, attendees can attend plenary talks, participate in topic specific small-group breakout sessions, and hear from USPTO officials and experts who will present information on patents, trademarks, and other intellectual property (IP) matters and topics of interest to small businesses.

Who Should Attend?
If you are an independent inventor, entrepreneur, small business owner, or an IP professional who works with them, this conference is for you. Attendees will have an opportunity to:
1. Learn from successful business owners and inventors who will relate their personal experiences of bringing their ideas to market
2. Attend a variety of breakout sessions and workshops designed to cover a range of information from IP basics to detailed explanations on how to prepare and file a patent or trademark application
3. Network with other attendees and presenters who will share ideas and provide useful advice.