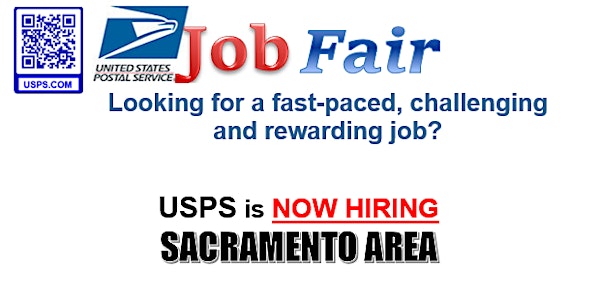 USPS Job Fair/ Sacramento
Location
United States Postal Service
2000 Royal Oaks Drive
Sacramento, CA 95813
Please join the Sacramento Postmaster at the USPS Job Fair!
About this event
• City Carrier Assistant and Rural Carrier Associate: Would you like to work outdoors in a job that'll maintain your active fitness level? Work independently? Our carriers provide a vital service to our communities.
***REGISTRATION IS REQUIRED*** seating and computers will be limited so register now and get your ticket before all spots are taken. We will have sessions at 10 a.m., 11:30 a.m., 1 p.m., and 2 p.m. We will accept walk-ins on a first come-first service basis.
ELIGIBLITY:
• High School Graduate or Equivalent
• 18 yrs old at the time of appointment (or 16 yrs old if you've already graduated/GED)
• U.S. Citizen OR Citizen of a U.S. territory OR Permanent Resident Status
• You must have been living in the U.S. for the last 5 years to be able to complete the background investigation (there are very few exceptions to this rule)
• must pass background investigation
• must pass the job assessment
• driving positions require valid California Driver License and 2-year driving history
• Men must be registered with Selective Service if applicable (men born in the U.S.A. and men who immigrated and lived in the U.S.A. Citizen during the age of 18-26)
Job fair will be located at the Royal Oaks Post Office conference room from 11:00AM - 3:00PM. Please make sure to bring Photo ID and Drivers License. Use the QR code or go to www.usps.com/careers to create your profile before attending. Hiring NOW!