Event Information
Location
Gunness Student Center in Marcus Hall
Description
United States Postal Service is recruiting for fulltime & internship positions!
Seeking IE, EE, ME sophomores, juniors, seniors and MS
Positions will go "live" on Friday (10/21/2016 and will only remain open for 1 week.)
Here's why you should attend tonight's event:
1) The recruiters will give you all the details about the positions and what it's like to work for the government
2) They will give you INSIDE TIPS about how to apply to government jobs! (not an easy or obvious task)
3) This is a great opportunity to get in on some newly-created positions within the postal service
4) If you were a 2016 graduate and are still looking for a position, this would be a great opportunity—some of these positions begin in January!
5) If you are looking for internships, this is a great opportunity to meet the engineers and HR folks and develop some meaningful contacts
(Must be US Citizen or Permanent Resident)
.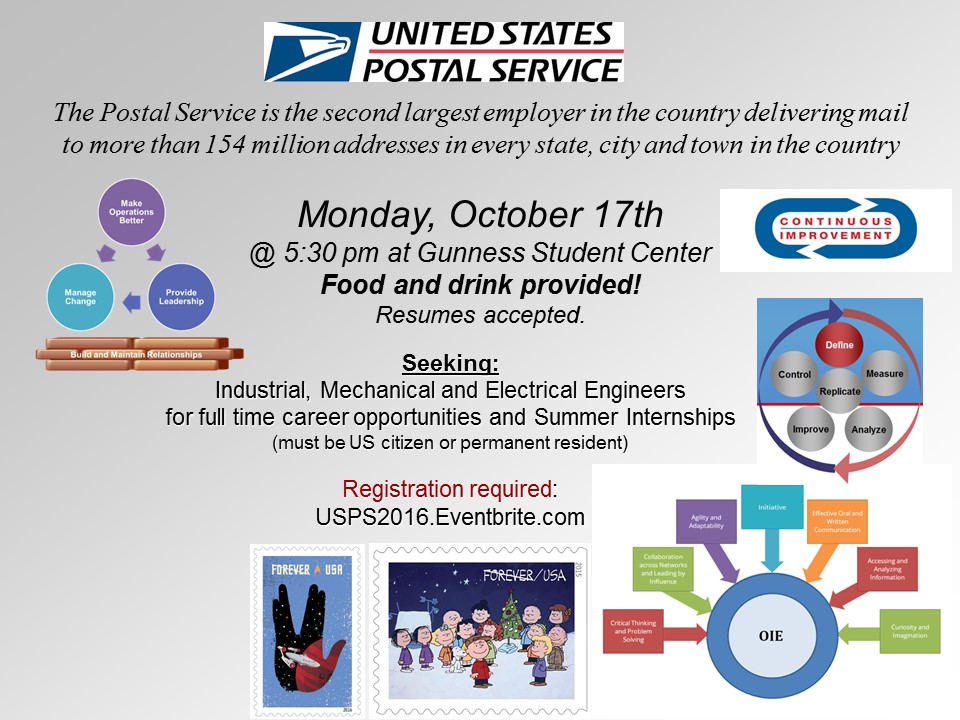 REGISTRATION REQUIRED: USPS2016.eventbrite.com
Date and Time
Location
Gunness Student Center in Marcus Hall