USNC-UN Women SF Annual Community Meeting & Celebration
Description
Please join the Board of Directors of the US National Committee for UN Women San Francisco Bay Area for our most inspiring Annual Community Meeting & Celebration ever!
We are thrilled to have a VERY special speaker and honoree, TIME Magazine "Silence Breaker" Adama Iwu, who will receive our first-ever Activist Award. We will also present our first-ever #ShesGotHerBack Award to the woman who has had our back the most, our Strategic Advisor Kathryn Johnson, Co-founder of Collective Impact Partners.
Artist Lara Myers will showcase her current project, Things Guys Actually Said to Me (And What I Did About It). Lara makes custom necklaces using selected text from personal stories of sexual harassment, discrimination, exploitation or assault that individuals choose to share with her. She gives one necklace to them and makes a copy for her art installation project. (Stories are anonymous.) The first 20 of our members to register for one of Lara's custom necklaces receives it for FREE as a gift from Lara and USNC-UN Women SF! Additional necklaces may be ordered for $40, half of which is donated to USNC-UN Women SF. That's a win for everyone!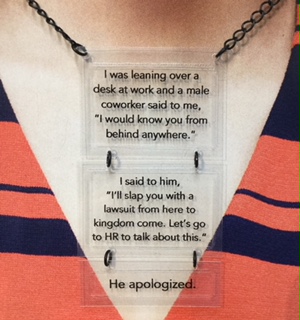 Come network with other members and friends, and learn about all we've been up to for the past year and how you can get involved in our forthcoming events as a volunteer or even join our Board and put on your own event!
Please join us for an inspiring evening!