Description
This 101 level workshop will introduce participants to the essential use of visual tools in designing and facilitating collaborative group work, and will include a mix of theory and practical application. This course is appropriate for anyone who wants to improve their understanding of the following:
Deep listening and an attunement to group/system dynamics

Visual capture strategies and techniques

Visual tools to support collaborative work

Process design and facilitation skills


WHAT PAST PARTICIPANTS ARE SAYING
"This workshop was about deep listening, relationship building and collaboration through graphics. It was incredible."
Liz Subin, Director, Pennywise Foundation
------------
"It was hands-on learning at its finest...Exceptionally well done."
Sao Yang
Instructional Designer & Academic Technologist at University of Minnesota - Carlson School of Management
------------
"This workshop taps into our natural ability as humans to communicate–and think–using visuals. The activities are highly interactive, thought-provoking, and energizing. Not to mention a lot of fun!"
Lee Thomas
Associate Director & Instructor, Carlson Analytics Lab, University of Minnesota
------------
"Challenging, inspiring, generous."
Hayley Wood, Easthampton Council on Aging
------------
"This workshop has had more impact on my work than any other learning I've done."
Amy Sparks, Graphic Facilitator
------------
"This workshop taught me: 1. How to visually record and synthesize live meetings or conversations to help concretely and memorably convey information 2.It helped me think through the use of visuals in great meeting facilitation and how to enhance my practice... I can't imagine going back to not having meetings scribed."
Hannah Pickard
Supervisor, Education Programs at New England Aquarium
------------
"This workshop revealed to me the profound potential that graphic recording and facilitation holds in relationship to me as an artist and community advocate and the socio-political challenges and injustices of our here and now."
Pasqualina Azzarello
City Arts Coordinator at Easthampton City Arts in Easthampton, Massachusetts
Part-time Faculty, Parsons, The New School in New York City
------------
"My exact words to friends and family as I describe it is that it was "life altering" and here's the reason...I am seeing through new eyes. When I look around me now, I see opportunities and a need to use deep listening/visuals/scribing EVERYWHERE!"
Elin Weeman, Founder & Director of Urban Explorers
---
WORKSHOP LEADS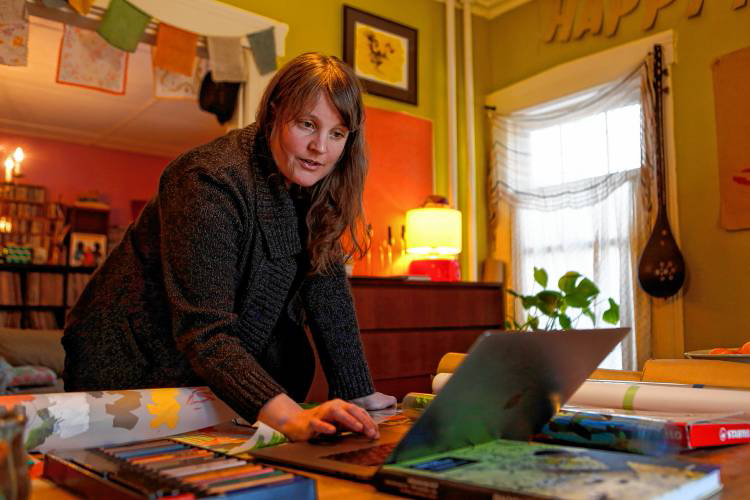 Sita Magnuson
Sita is an entrepreneur, community builder and futurist with two decades experience in the fields of process design, facilitation and visualization. Her work is focused on the development of adaptive capacity in individuals, groups and communities.
In practice, this takes form in workshops and trainings, facilitated community dialogues and events, large-scale visual art and immersive installations.
As a graphic facilitator, she has a highly developed capacity for translating complexity into visual form in the service of individual and collective understanding and action. In her role as a community catalyst, convener, and entrepreneur, she engages in the practice of slow, relational weaving—in service of social understanding and collaborative action.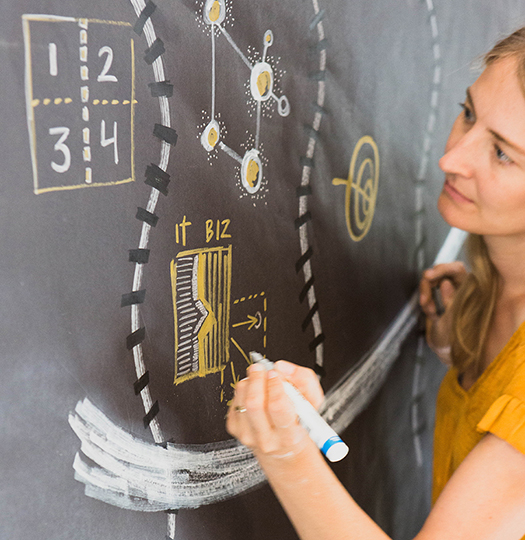 Marsha Dunn
For the past 18-years, Marsha has worked as a designer, graphic recorder, and 
facilitator of both deep, reflective conversations and strategic, action-oriented 
workshops. She utilizes visuals, design thinking and deep listening skills to facilitate productive dialogue, clarity of purpose, effective communication and engaged learning. 
 

Marsha has enjoyed working with organizations ranging from global 
companies and international foundations to academic institutions and 
local nonprofits. She has had the privilege of teaming with top organizations working in the space of creative, collaborative facilitation and has partnered with them in the development of thought leadership in the field. 
 

In addition to her experience in the field, Marsha's perspective has been shaped 
by her undergraduate training in Art Semiotics and Modern Culture and 
Media at Brown University, her Masters in Social Work training at Boston 
University, and her work as founder and designer of Seguin Tree Dwellings in Maine.
---


AGENDA OVERVIEW
Please note: all of our workshops are tailored to the learning goals of participants. Workshop fee includes a 30 minute interview prior to each workshop, and a 30 minute personal learning consultation post-workshop.
Wednesday, October 2nd: Informal group dinner and welcome
Thursday, October 3rd: Explore the building blocks of drawing, symbols and modeling, learn about the physiology of listening and hone your listening skills, explore models and frameworks for integrating visuals into the design of collaborative work
Friday, October 4th: Learn to work with (and visualize) group dynamics, explore and apply visual models and structures, explore materials and applications, applied learning and peer coaching. On Friday evening, we will visit Kelvy Bird's gallery for the opening exhibition on graphic facilitation with works from practitioners from around the world. Note: Participants are invited to extend their stay through Sunday if they are interested in attending a 3 hour workshop with Kelvy Bird in Somerville. Reach out if you would like more information about Kelvy's offerings.
Saturday, October 5th: Land your learning, develop opportunities for practical application, establish peer-accountability and learning protocols for the future
Please note that all of our workshops have built in studio time to support the practical application and processing.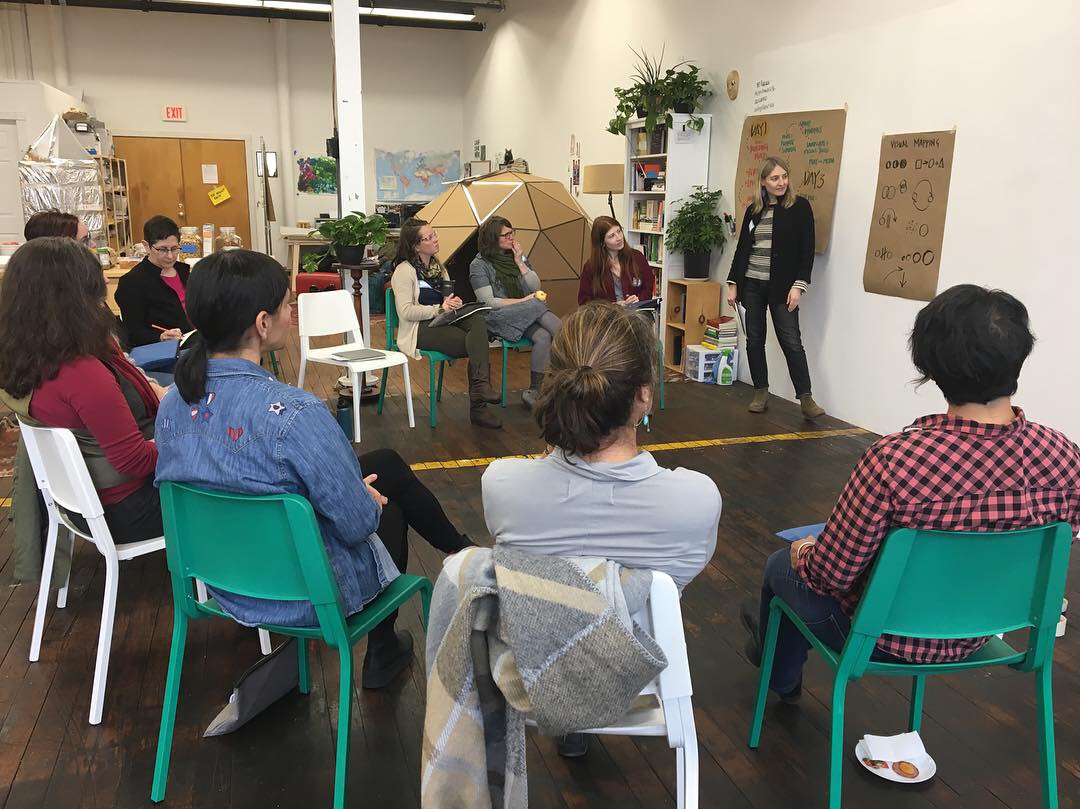 FORMAT AND METHOD
Our workshops balance large-group conceptual learning with practical application, small group work, and one-on-one coaching and mentorship. We believe there is a lot we can learn from one another, and we design our workshops to weave together the experience of the practitioners in the room. We allow space for emergence in our design and we value creativity, play, rigor, and good food.
WHAT IS INCLUDED
The workshop fee includes breakfast, lunch and an incredible toolkit of markers and supplies (valued at over $100) to help you continue your learning when you get back home.
Accommodations and dinner are NOT included in the fee. We are more than happy to help you find accommodations and will do our utmost to ensure you have a wonderful experience. Please let us know how we can be of service.
---
SCHOLARSHIP

Dpict, LLC is a sponsored project of Fractured Atlas. We welcome any donations to our scholarship fund here.
If you are interested in applying for scholarship funding please reach out directly to sita@dpict.info, and include the amount of support you are looking for. Please keep in mind that we have a limited pool of funding available to support scholarship at this time, though we plan to increase our offerings in the future.
---
We hope you'll join us!! Please don't hesitate to reach out to Sita (sita@dpict.info) or Marsha (marsha@dpict.info) with any questions.