Sales Have Ended
Registrations are closed
If you're seeing this message now, you've either been timed out or ticket sales have now ended/we're fully booked. Feel free to book for an alternative upcoming workshop. View them here:https://www.eventbrite.com/o/quest4success-8877252808
Sales Have Ended
Registrations are closed
If you're seeing this message now, you've either been timed out or ticket sales have now ended/we're fully booked. Feel free to book for an alternative upcoming workshop. View them here:https://www.eventbrite.com/o/quest4success-8877252808
Description
Visual Goal Setting:
Bored off writing, ticking or carrying forward lists? Start to bring energy & alignment around the things you want in your life, and begin to create & manifest your heart's desires using visual representations.
Vision Boards are a GREAT way to set goals. Getting started is usually the hardest thing for most people when thinking about creating their Vision Boards. This Vision Board talk is all about understanding how to intentionally manifest your dreams!
There are MANY ways to create vision boards, from cutting and sticking images from magazines to a board, to using apps to create online vision boards. Here, we talk through the different ways you can create boards in a fun way.
A vision board is any sort of board on which you display images that represent whatever you want to be, do or have in your life. Vision boards create remarkable synergy & alignment around what you want. They are fantastic tools to assist you with creating and manifesting your heart's desire.
Why should you create a Vision Board?
The purpose of your vision board is to bring everything on it to life. Vision Boards are a fun way to create the life you want for yourself. Some people find it hard to write down goals, long term or short term. Creating a visual board is an alternative version to writing a list of goals.
Strategically, you can use the Vision Boarding process as a tool to help clarify, concentrate and maintain focus with an outline of your future life, which then helps you map out each specific life goal.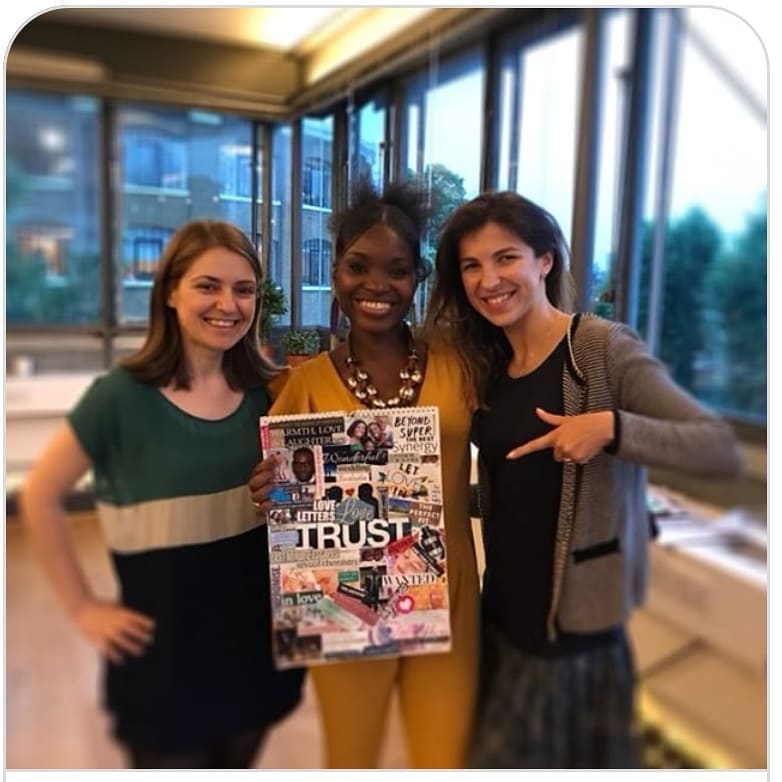 Who else does vision boards?
Oprah, Jim Carey, Ellen DeGeneres, Soldier Boy, Katy Perry, John Assaraf + Lisa Nichols (both from the Secret), Me, you (if not now, hopefully SOON!) + many more
About the facilitator:
Tendai is a serial Entrepreneur, assisting others to discover, follow and showcase their purpose and dreams. With a 15 year career spanning Business Travel, Property, Radio and Recruitment, she left the rat race in 2014 setting up her own company, teaching others how to market themselves effectively. This was finally started after the success of her DJ career, having been discovered by the BBC, and winning a pitching competition with Natwest bank, showcasing her 1st business alongside KPMG, BT and Microsoft.
As well as obtaining dream DJ bookings on The Thames, Festivals, Law Schools, Hotels, Bars & Clubs, Tendai has been invited to Downing Street to speak to the Prime Minister's Business Advisor about DJ teaching and empowering people with positive thinking and has been featured on BBC News, speaking about DJing in London.
She has taught entrepreneurs and businesses how to use social media effectively at London Southbank University and various organisations across London and she discovered that mindset and believing in ones self and vision, was blocking the majority of people in achieving their dreams (and happiness). Her personal experience of manifesting everything from Bitcoin to Mentors affords her the expertise to motivate and empower organisations and individuals to realise and manifest their soul goals – transforming people's mindset from passive to positive.
Tendai is a Transformational Coach and DJ Teacher who has been practising the Law of Attraction and vision boards for over 20 years since discovering Susan Jeffers book "Feel the Fear and do it anyway". A true believer in positive thinking and manifesting in abundance, Tendai has created over a dozen different boards in as many ways and recently manifested:
Bitcoin

Business Programs

Mentors

Funding

Holidays

Free Laptop

Manifesting Parties

Ideal clients & customers and testimonials from them

10 Downing Street invite + visit to speak about my business

32+ FREE Office Spaces across London incl The Shard

DJ Bookings (see image below) + more

A broken leg (YES you can manifest positive + negative experiences)

Super quick recovery from injury (see above)

Prior to this - found £100s in cash machines, won TV game shows, all incl. holidays + more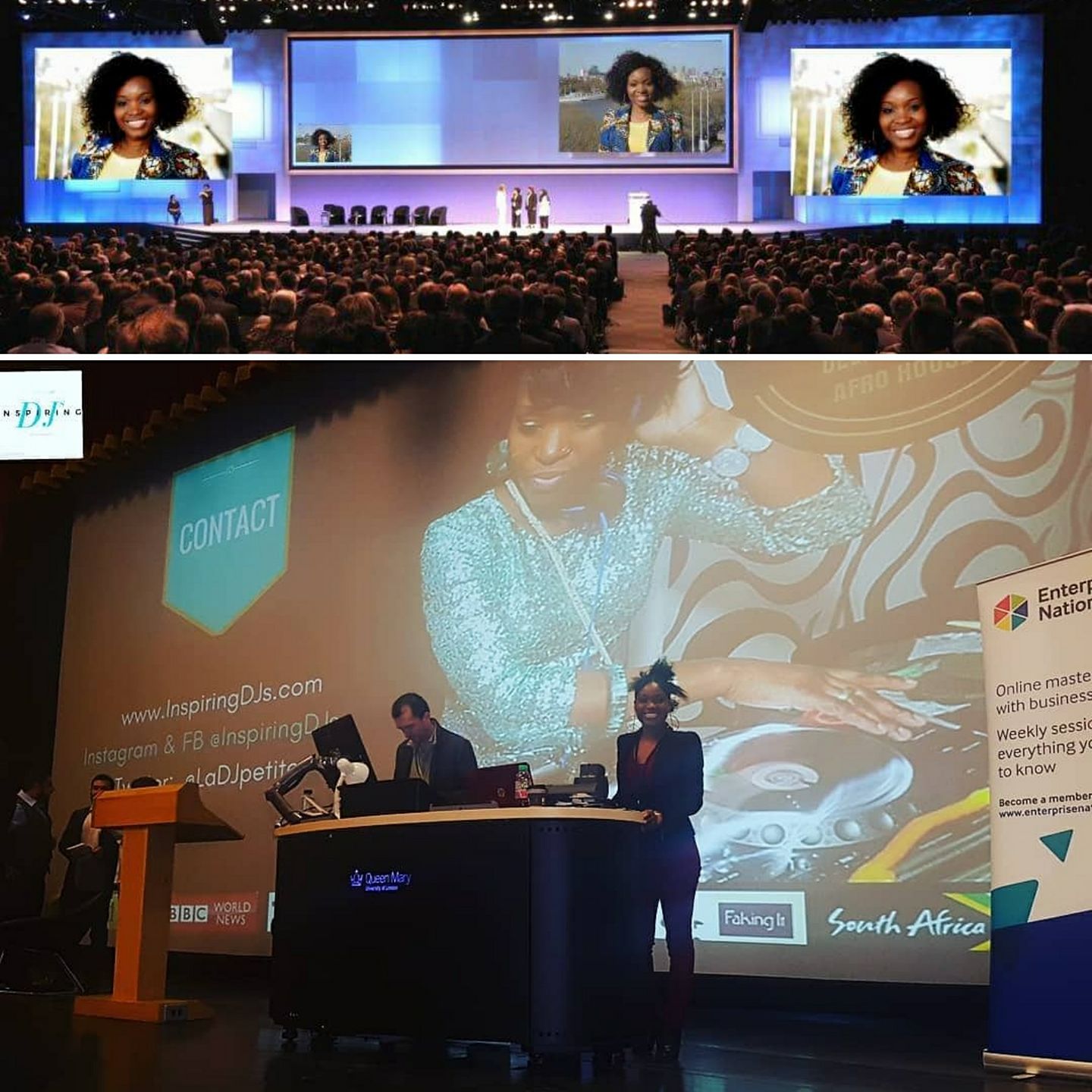 The image on top is one I put on my last 2 vision boards and the image at the bottom is me at Queen Mary University at an event for Enterprise Nation in January 2018. Imagine my delight when I saw myself on the big screen - manifested by my PR Guru Amanda Ruiz. I only made the association a week after the event but yes, happily manifested myself on to this 500" screen after plastering myself on to my vision board on several small screens.
Vision2Reality
Begin to think of some of the things that you say you have always wanted to do, create, build, design and then let's make them your reality. The more detailed and specific the better!
I am excited to share my manifesting techniques with you and how to create digital boards and physical journals.
I'll share how I am able to visualise things, create images to put on to my vision board and then manifest.
Bring a sandwich along and come and join me on Weds 26th Sept from 12.30pm.
If you're also keen on booking for the intimate (max 3 people) vision board workshop, book your tkt here. Early bird tkts avail also, but be quick.....
https://www.eventbrite.com/o/quest4success-8877252808