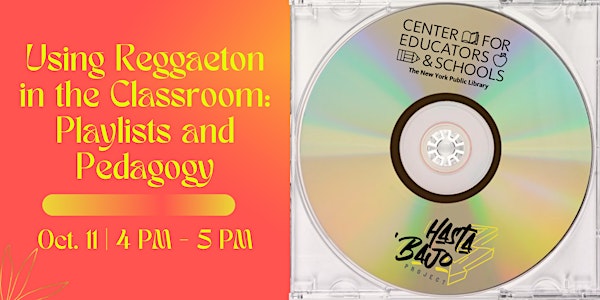 Using Reggaeton in the Classroom: Playlists and Pedagogy
Join NYPL Center for Educators & Schools and Hasta 'Bajo Project (HBP) to learn how to use reggaeton in your classroom!
About this event
Reggaeton has taken the music scene by storm and has catapulted Puerto Rican, Caribbean, and Latinx rhythms to the forefront of pop culture. Join NYPL Center for Educators & Schools in partnership with Hasta 'Bajo Project (HBP) in a conversation about utilizing reggaeton in the classroom.
In this virtual educator workshop participants will examine primary documents from the HBP archives to discuss the ways in which reggaeton can teach students about history, migration, identity, and music. We will discuss reggaeton's transatlantic origins, contemporary trends, and its educational value. Whether you're a well-versed connoisseur of the genre or want to learn more about the hype, everyone is welcomed.
This workshop is open to all educators but is especially recommended for those working with middle and high school students. Eligible NY state teachers will receive 1 hour or CTLE credit for their participation.
Hasta 'Bajo Project is dedicated to collecting and sharing reggaeton histories and material culture to educate the public about the genre's socio-historical significance. To learn more about HBP, listen to curated playlists, or stay connected visit hastabajoproject.com.
For more information about the New York Public Library's Center for Educators and Schools you can visit us at nypl.org/ces or subscribe to our monthly newsletter here! If you have any questions feel free to reach out to educators@nypl.org. To stay updated follow us on Twitter, Instagram, or Facebook.