Using LinkedIn to Generate a Steady Stream of Sales Prospects

Wednesday, August 21, 2013 from 5:00 PM to 7:30 PM (CDT)
Event Details
              _
Are you a sales professional who is actively using LinkedIn but still looking for more ways to use it to generate quality leads and close more deals?
Then let LinkedIn Guru Wayne Breitbarth help you move beyond the basics and show you how to:
Find prospects that lead to sales
Drive traffic to your profile and website
Build credibility in your marketplace
Discover insider information about your prospects
Develop an overall strategy to accomplish your most ambitious goals 
Join the 40,000+ people who have learned how to effectively use the world's most popular professional networking site, LinkedIn, from Wayne Breitbarth, a nationally recognized speaker, author and consultant. 
Using a practical yet humorous approach, Wayne shares specific examples, stories, and illustrations that are the direct result of thirty years' experience in business consulting and business ownership.    
Wayne is the author of "The Power Formula for LinkedIn Success: Kick-start Your Business, Brand and Job Search."  
In this fast-paced 2 ½ hour session, you will:
Receive a BONUS PACKET of sales resources
Learn how top producers are using LinkedIn
Find out how to track your customers and potential customers 
Share your best ideas and LinkedIn success stories

 
Don't miss this chance to develop the LinkedIn skills that will help you generate a steady stream of sales leads that you can turn into sales dollars!
Register early as seating is limited.
Praise for Wayne's seminars...
"Wayne is a LinkedIn Guru!! I recently took one of Wayne's classes called "Using LinkedIn to Generate a Steady Stream of Sales Prospects," which is an intermediate/advanced class. I am very well versed in LinkedIn and thought I knew most everything on LinkedIn; however, I was widely surprised at the information Wayne brought to the table. He is very knowledgeable, intelligent, and an excellent teacher. The information he presented has enhanced my professional career, as well as shaped a new strategy for my company. Thank you, Wayne, for your expertise!!"
"As a past participant of this class, I would highly recommend it to anyone looking to use LinkedIn to generate meaningful leads. Wayne shared a great deal of information in a concise, convenient class. I was able to incorporate several of his teachings into my daily prospecting tasks immediately. I am looking forward to participating in more of Wayne's classes in the future. VERY VALUABLE!"
"Although I have been a LinkedIn user for a few years already, Wayne still offers classes that help me maximize the business potential of my LinkedIn contacts. He is the specialist, and his well-targeted training sessions bring me up-to-date with all the new features. I don't need to take time to explore what's new, Wayne does it for me and explains it clearly. This is time well spent and I highly recommend his classes!"
"I'm fairly new to LinkedIn and Wayne's classes have helped me immensely. His insights and experience are terrific. He is entertaining yet very informative. Wayne has a deep understanding of how LinkedIn works and is excited to show you."
"He is the LinkedIn master.  He explains the WHY and STRATEGY behind using LinkedIn to truly be effective. Finally, it really doesn't hurt that Wayne is an incredibly talented and entertaining presenter. If you haven't seen him yet, you need to!" 
"I highly recommend him because of his thorough knowledge, professionalism, and infectious attitude. If you get the chance to work with him or learn from him, I would jump at the opportunity!" 
"Insightful, focused, bright, energetic, talented, entrepreneurial, upbeat, generous, community-minded. There aren't enough words to describe Wayne Breitbarth."            
"He engages the audience and keeps them wanting more. His anecdotal stories are so sound and so enjoyable. He is an expert on LinkedIn on how to use it as a timely networking tool."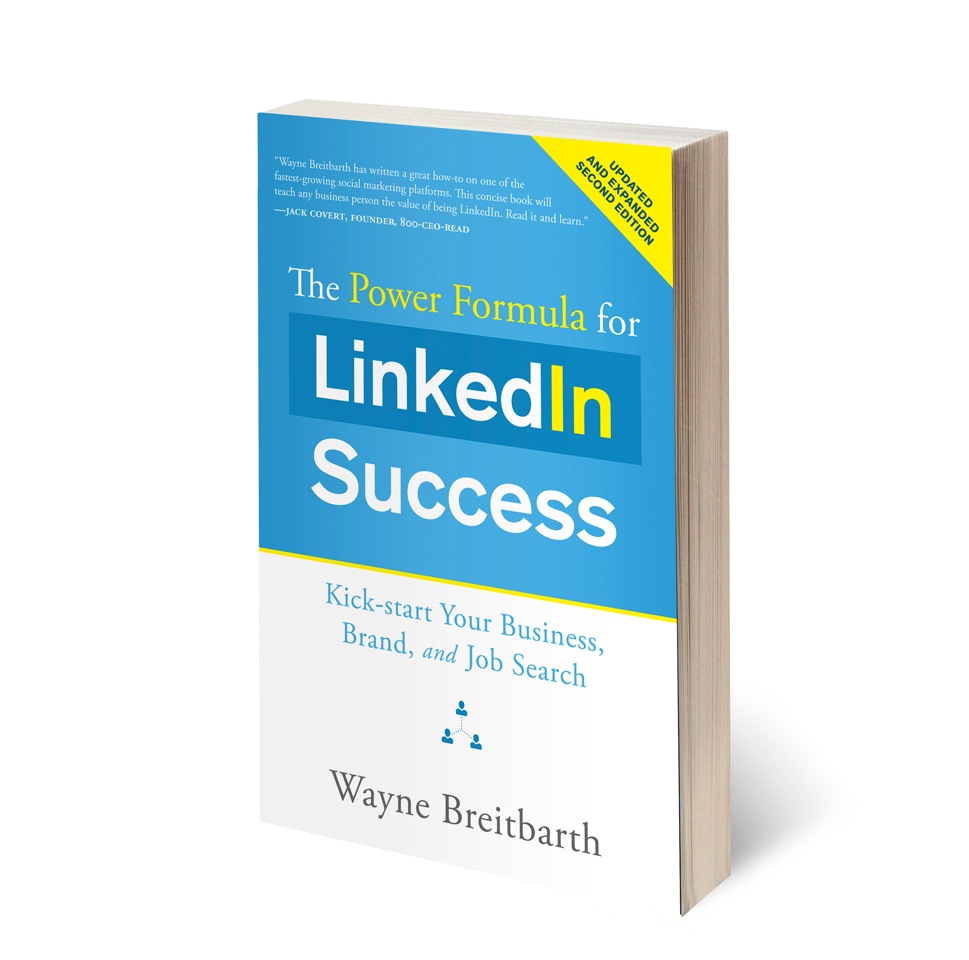 When & Where

M&M Office Interiors Boardroom
W233 N2833 Roundy Circle West
Suite 100
Pewaukee, 53072


Wednesday, August 21, 2013 from 5:00 PM to 7:30 PM (CDT)
Add to my calendar
Organizer
Wayne Breitbarth, one of the world's foremost LinkedIn experts, is an industry leader in LinkedIn training and marketing. He has trained over 80,000 businesspeople—from entry level to CEO—on how to effectively use LinkedIn for their companies and careers.
Wayne helps companies develop a comprehensive strategy for using LinkedIn to grow their business and build their brand. He then trains their team on how to use LinkedIn to meet their objectives. 
Wayne is also the author of the critically acclaimed book "The Power Formula for LinkedIn Success: Kick Start Your Business, Brand and Job Search," now in its 3rd edition.