| | |
| --- | --- |
| Using An Aggregator to Get Distribution + Hollywood Sound Museum @ LAPPG | |
Event Details
Come join us for our July LAPPG meeting featuring two special presentations:


DISTRIBBER - USING AN AGGREGATOR TO GET DISTRIBUTION

 
Come and learn about the ever-changing landscape of distribution and


where the industry stands now. As an aggregator, Distribber is one of
only a few preferred companies from whom major platforms (like iTunes,
Hulu, Amazon, VuDu, Netflix, FandangoNow and others) acquire content.

Come ask questions and get an overview of platform strategy, marketing
tactics, and best practices that pave the way to profitability for
today's savviest producers.


STEVE LEE - THE HOLLYWOOD SOUND MUSEUM

Steve Lee is in the process of establishing The Hollywood Sound Museum – the first museum dedicated exclusively to the craft of entertainment audio!

Steve is a Hollywood Sound Effects Wrangler/Designer/Editor whose career spans over 25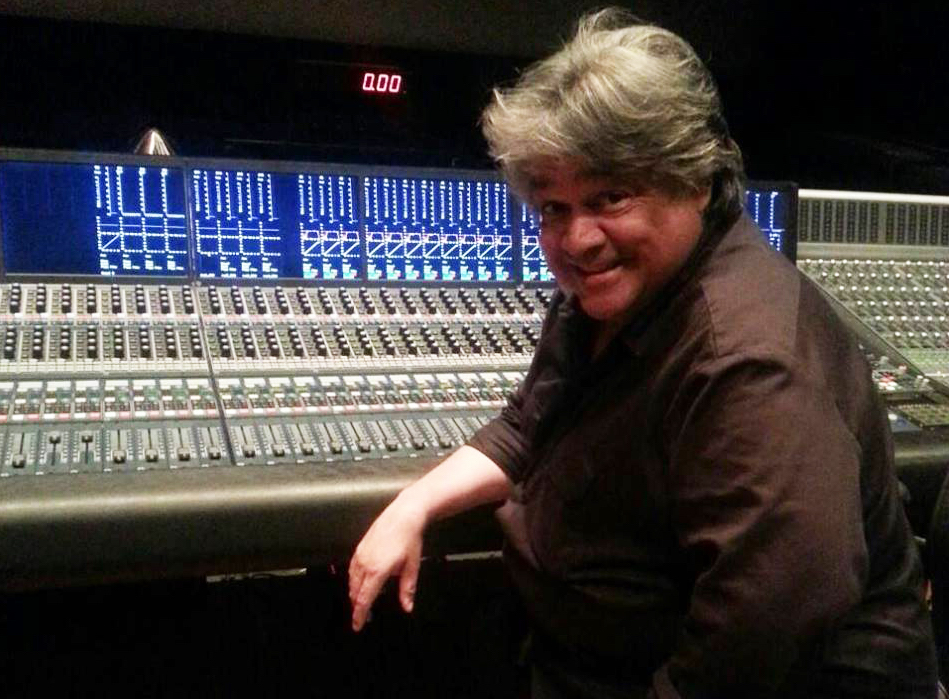 years and has contributed sounds to many films such as – "The Nightmare Before Christmas," "The Lion King," "Speed," "Apollo 13," and "Looney Tunes: Back in Action" and many others. He has also performed voices and creature sounds for various projects, including the voice of Coca-Cola Polar Bear in several commercials. Steve is not only cataloging the sound library of Oscar-winning Sound Editor Kay Rose, (Mother to LAPPG's presenter, Victoria Rose Sampson! – Jan 2017) but he is also currently finishing a book on his "Adventures in Sound" for publication next year.
Steve will be discussing the plans to form The Hollywood Sound Museum, as well as his long career in sound, and he'll be sharing some classic sounds and their history!
***As always there will be plenty of time to network, enjoy some coffee and participate in our great giveaway which includes thousands of dollars of amazing prizes from our generous partners!

$5.00 cash kindly requested at the door will include 1 giveaway ticket.
Location:

Roth Hall

1714 21st Street

Santa Monica, CA 90404
Click for a map here.
***Street parking is available as well as a Crossroads parking lot on 22nd Street.

---
LAST MONTH'S MEETING RECAP
It was wonderful seeing so many new and old members at our 9th Anniversary on June 22nd, 2017. We began the evening with an inspiring presentation from Indie Film Hustle's Alex Ferrari who shared with us why he chose to edit his recently film with Blackmagic Design's DaVinci Resolve. We then had a visit from long time friends Marcelo Lewin and Ricardo Silva who have teamed up and created Essential GFX. They showed us how to create simple Motion Graphics Templates inside of After Effects and then publish those templates using the Essential Graphics Panel to the Adobe CC library so that Adobe Premiere Pro users can easily use them inside their project. There was plenty of great networking, as usual, and the room was filled with good wishes and tons of cake as we threw our diets out the window and sampled our huge anniversary cake and Jeffrey Stansfield's amazing gluten-free chocolate cake. Here's to year #9!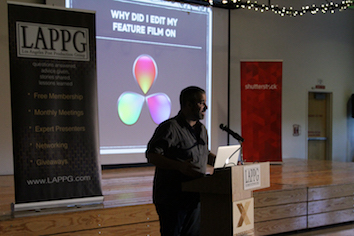 Indie Film Hustle's Alex Ferrari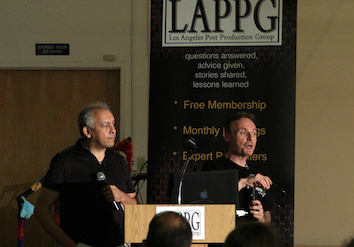 Essential GFX's Ricardo Silva and Marcelo Lewin 

Click here to view our June Meeting's photo album on Facebook
---
A BIG THANK YOU TO SHUTTERSTOCK AND OWC FOR RENEWING THEIR SUPPORT



Platinum Partner - Shutterstock

We're thrilled to continue partnering with our friends at Shutterstock through 2018 to help support LA's post production and filmmaking community. If you haven't seen it yet, Shutterstock produced a stellar Creative Trends Infographic, highlighting trends in video, design, music, and social media.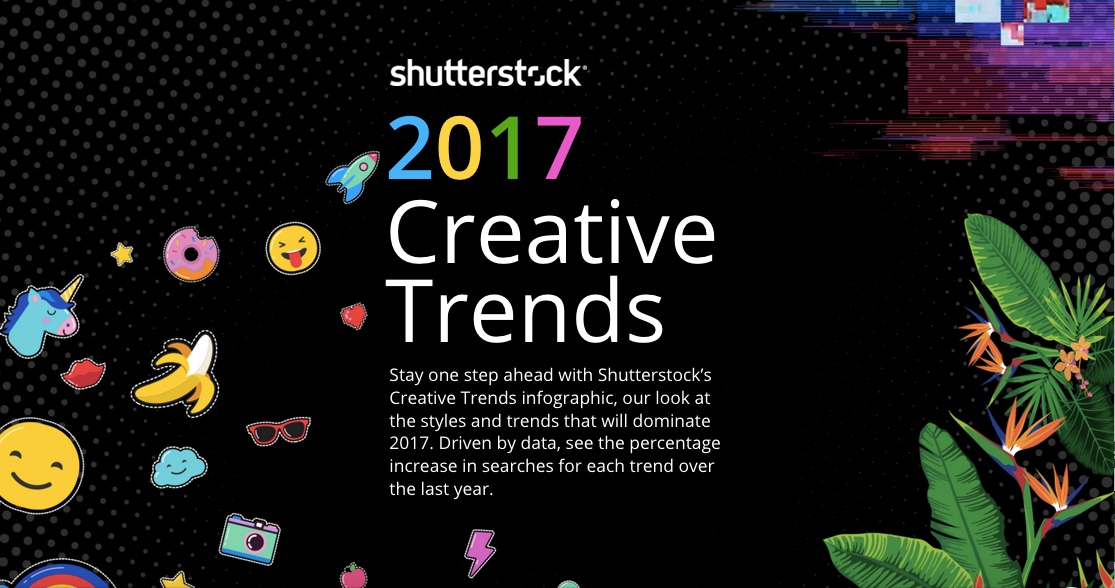 Silver Partner - OWC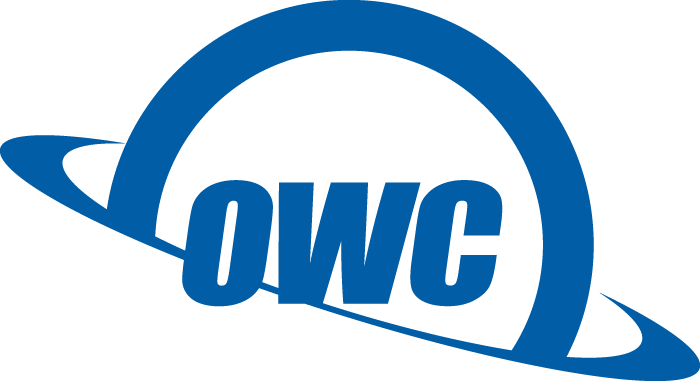 For more than 27 years, OWCDigital has focused on providing creative, innovative solutions that enable you to get the most from your technology.  Today the company is the leading US-based producer of storage and expansion products for creative content professionals.  Their goal is to provide you  with technology that frees you to know everything is possible.  From production-grade SSDs and external hard drives to expansion products and enterprise storage OWCDigital delivers the best solutions and support for your project workflow.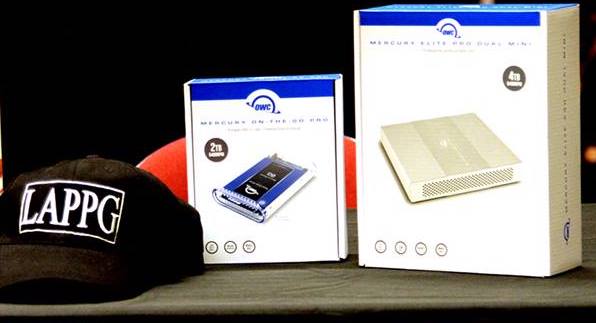 ---
ADOBE VIDEO WORLD DISCOUNT LAPPG MEMBERS

 
Join us at Adobe Video World in Los Angeles, CA on August 23-25, 2017. Meet the Adobe product team, learn about the latest in Adobe Premiere Pro and Adobe After Effects, and connect with top industry experts.

As a member of the Adobe community, you can save $100 on your AVW Full Pass with code ADOBE17.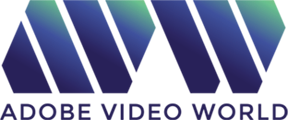 This year's program includes tracks for Core and Advanced skills for Adobe Premiere Pro and Adobe After Effects, as well as designated tracks on VR and Adobe Collaboration. Here are a few session titles:
 

Compositing. Blending Modes Masks in Adobe Premiere Pro

Foundations of VR

Working with 360 in Premiere Pro

Advanced Path Animations

Mastering the Adobe Premiere Pro Timeline

Don't Fear the Freelance



Other Event Highlights:

Hear from Team Adobe – August 24

Adobe engineers will join us again on-site this year to share platform insights and hear from users like you. Team Adobe is working on a series of Group Breakouts that will take place on the second day of the event. Stay tuned for details.


AVW Expo Night – August 24

This is a night of networking with peers and companies that create solutions for your industry. A great chance to hear directly from them and test their products.
---
CREATE A FILM FOR THE 2017 NFMLA ON LOCATION: LOS ANGELES VIDEO PROJECT!
 
NewFilmmakers Los Angeles is excited to invite you to create a short film that highlights the very best of Los Angeles!
 
On Location: The Los Angeles Video Project is a community outreach multimedia program that celebrates and enlists LA's remarkable pool of filmmakers. These short films CREATED BY YOU will celebrate LA and answer the question "What is your LA?"
 
This competition is an excellent opportunity for you to showcase your filmmaking skills and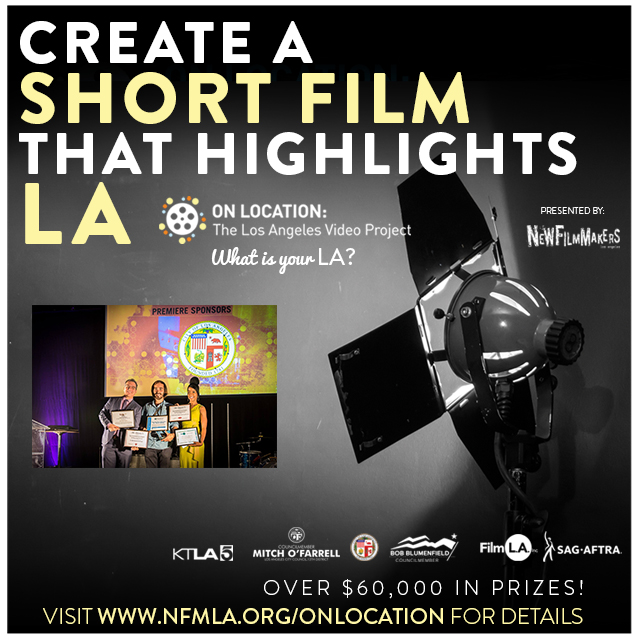 promises to highlight finalist entries with a red carpet premiere screening event, an industry judging panel with press interviews, and over $60,000 in prizes!

For this years On Location program, NFMLA has partnered with KTLA, LA City Councilmember Bob Blumenfield, Alternative Camera Rentals, Fox Studios, SAG-AFTRA, Cinelease, FilmLA, Entertainment Partners, FilmLA, Sony Pictures Entertainment, Comcast | NBC Universal, DreamWorks, LA City Councilmember Mitch O'Farrell, and more.
 

To learn more about creating a film, please visit: www.NFMLA.org/onlocation
 
---
SAVE THE DATES FOR THESE UPCOMING MEETINGS

LAPPG July Meeting – Wednesday, July 12th, 2017 – Roth Hall
LAPPG August Meeting – Wednesday, August 16th, 2017 – Roth Hall
LAPPG September Meeting – Wednesday, September 13th, 2017 – Roth Hall
LAPPG October Meeting – Wednesday, October 11th, 2017 – Roth Hall
---
GET YOUR COPY OF THIS YEAR'S CREATIVE HANDBOOK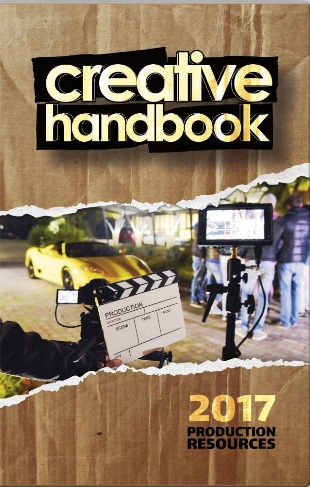 At our next meeting be sure to pick up your (FREE) copy of Creative Handbook 2017, the premiere Entertainment industry production resources.   (Available while supplies last.)


Also, visit creativehandbook.com's online directory featuring Event Production Rentals, Stage Rentals, Sound Stages, Prop Makers, Post Production & much more!
---
DIVULGE DANCERS' FILM FESTIVAL (DF2) - CALL FOR ENTRIES


Divulge Dancers' Film Festival (DF2) is a 2 day high energy event that will showcase dance
videos, music videos and dance related films with live performances from some of the best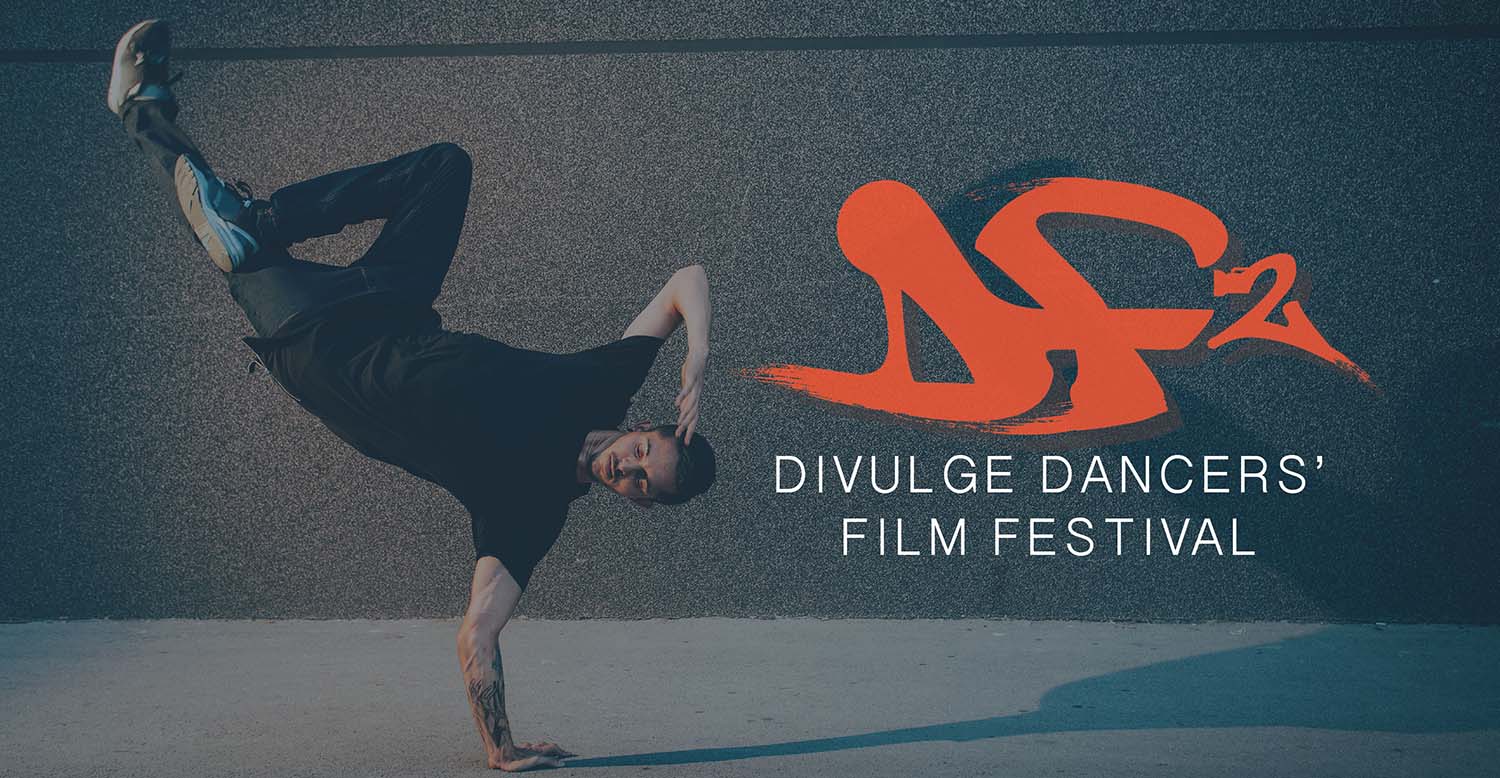 dance crews around the globe. The festival will be held September 2-3, 2017 at GWC Theatre, Huntington Beach CA.


DF2 is a social event that aims to unite accomplished and emerging filmmakers, choreographers and dancers to share their passionate, creative, and captivating work. DF2 is poised to feature short and feature-length films, dance videos, music videos, and dance promo trailers.

 Visit them at: www.divulgedancersfilmfestival.com
---
We thank the following partners for their generosity and support of our monthly meetings. Please visit them:
Adobe, Advantage Video Systems, Art of the Guillotine, Blackmagic Design, BorisFX, Creative Handbook, Digieffects, Digital Rebellion, GoPro Entertainment, HDSLR Shooter, Imagineer Systems, Intelligent Assistance, iZotope, Lacie, Mercury Production Report, Other World Computing, Pro Sound Effects, Pro Video Coalition, ProductionHUB, Shutterstock, Sound & Picture, Vimeo.

We look forward to seeing you on Wednesday, July 12th!
Sincerely,

Los Angeles Post Production Group
Please visit www.lappg.com for discount offers, job listings, industry news and more.
When & Where

Crossroads School for Arts & Sciences
Roth Hall
1714 21st Street
Santa Monica, CA 90404


Organizer
The Los Angeles Post Production Group is a professional organization for people with a passion for film, video and the digital media finishing process.

The LAPPG discusses all aspects of post production, from picture and sound editing to color correction, visual effects, codecs, storage and post workflows.

Expert presenters and leading companies come to our monthly meetings and share new technologies, techniques, tools, products and best practices to aid us in telling great stories.
We also provide our members with great offers and discounts as well as opportunities to network and make industry connections.
Membership is free and you need not live in Los Angeles to take advantage of this great resource.
To become a member please email your name and information about yourself to membership@lappg.com.