USGBC Wisconsin 2017 Transformation Reception Sponsorships

Thursday, June 8, 2017 from 11:00 AM to 1:30 PM (CDT)
Event Details

Celebrating leaders in the built environment.
This is your opportunity to support USGBC Wisconsin's efforts to publicly recognize the individuals and organizations who are leading the way towards a brighter and more sustainable future.
The Transformation Awards Reception is a premier awards reception to honor the individuals, groups and organizations championing sustainable practices and driving market transformation within Wisconsin's built environment.  
We will be recognizing leadership in the following critical categories:
Innovative Design, New Construction

Building Performance, Operations and Maintenance

Most Successful Community Engagement
Event sponsorships allow you to:
M

ake a strategic investment in the Wisconsin Community

Connect and gain visibility with sustainability leaders

Grow your brand among an engaged audience

Build the market for green building products and services.
Sponsorship of the Transformation Awards Reception lends a unique opportunity to showcase your organization in a way that creates prestige and attention.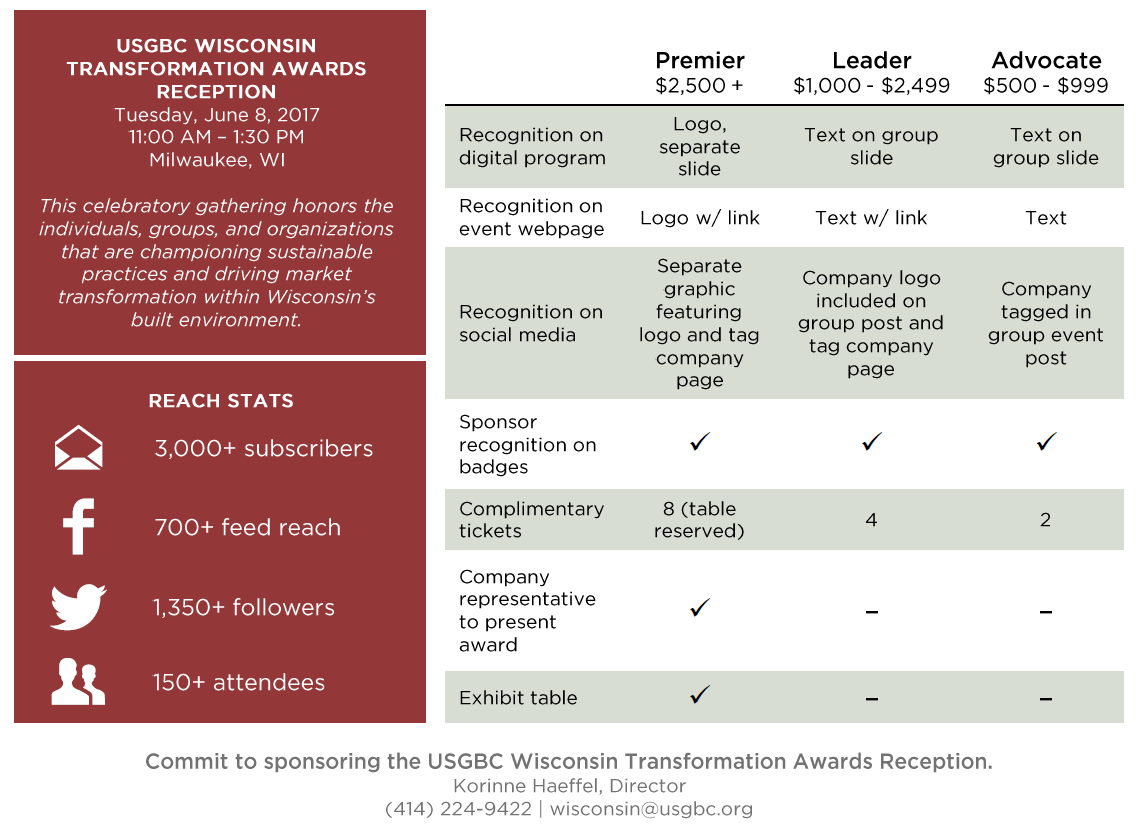 ***Sponsorships and donations are not required, and they do not effect outcome of award recipients.  Donations are separate from the sponsorship program, and they do not include benefits.***
---
 FAQs
How can I avoid the additional fees associated with the sponsorship levels?
Online purchases using a credit card have processing fees associated with them.  If you wish to avoid the fees, you may pay by cash or check, rather than using this eventbrite site.  Checks should be made out to USGBC, and be mailed to: USGBC Wisconsin, 2123 W. Michigan Street #101, Milwaukee, WI 53233.  Please include a cover letter that includes the following information:
Contact person's full name
Organization
Email address
Phone number
Mailing address
Sponsorship level you desire
Sponsorship benefits will begin once the payment has been processed.
How can I contact the organizer with any questions?
You can call 414-224-9422 or email Wisconsin@usgbc.org.
Where can I learn more about the 2017 Transformation Awards Reception? 
Full details about the event can be found on the USGBC Wisconsin 2017 Transformation Awards Reception page.  Contact wisconsin@usgbc.org or 414-224-9422 to speak with organizers.
Where can I learn more about the USGBC Wisconsin 2017 Leader Award categories?
Applications will be accepted until 11:45pm CST, Wednesday, April 26, 2017 TUESDAY, MAY 9, 2017.  More information can be found here: USGBC Wisconsin 2017 Leader Awards Application  
I'm an award reception sponsor. Do I get a discount on reception tickets?
Each event sponsor may register individuals at a the discount rate noted in the benefits list of their chosen event sponsorship level. These discounts are taken off the posted ticket pricing by using the provided promo code while purchasing tickets on the USGBC Wisconsin 2017 Transformation Awards Reception page.  Contact wisconsin@usgbc.org if you have not recieved your promo code for discounted registration.
How do I use my promo code to take advantage of discounted reception tickets?
Event sponsors, award nominees, event volunteers, and some annual sponsors are eligible for discounts on tickets.  Contact wisconsin@usgbc.org if you have not recieved your promo code.
Click on the "buy tickets" button on the event page.
Click on the small link in the upper right hand side of the pop-up window titled "Enter Promotional Code" and click "Apply"
Enter number of tickets you wish to purchase at that rate. Note: Based on your role (sponsor, volunteer, nominee, etc.) there will be a limited number of discounted tickets available to you and the discount rate will vary.
Proceed entering requested information for the individuals tied to each ticket as directed.
What's the cancellation policy?
Any sponsor cancellations will not be refunded unless the event is cancelled by USGBC staff.
What are my transportation/parking options for getting to and from the event?
Driving Directions
Follow I-94 or I-43 downtown to I-794 East. Exit at Exit 1F, the Lakefront exit.
Take Lincoln Memorial Drive north through the stoplights at East Michigan Street. Pass under the Mason Street bridge; the turn for the parking lot will come up quickly on your right.

Parking Information
Parking is available in the surface lot on the North side of the War Memorial Center. Regular parking rates are $6/day per car. (no re-entry) During certain events (such as Summerfest) special event parking rates may apply. Monthly parking passes are available for $70.00 (unlimited in/out) see parking attendant for details. Find additional parking options at www.parkmilwaukee.com. 
Public Transportation
Refer to Milwaukee Public Transportation Service's website for bus routes and schedules. https://www.ridemcts.com
When & Where

Milwaukee County War Memorial Center
750 North Lincoln Memorial Drive
Milwaukee, WI 53202


Thursday, June 8, 2017 from 11:00 AM to 1:30 PM (CDT)
Add to my calendar
USGBC Wisconsin 2017 Transformation Reception Sponsorships