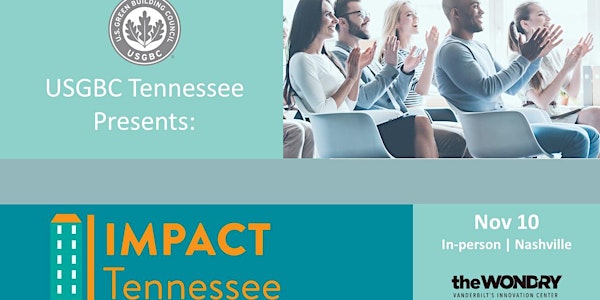 USGBC Tennessee Presents: IMPACT Tennessee
Impact Tennessee is back in person! Come help us celebrate the best in green buildings around Tennessee.
When and where
Location
The Wond'ry 2414 Highland Avenue #Suite 102 Nashville, TN 37212
About this event
Join building professionals and sustainability advocates from across the state to learn from the extraordinary projects and people contributing to a more sustainable built environment in Tennessee and across the South.
DESCRIPTION:
Green building leadership is not marked by a single moment in time but rather an ongoing and evolving commitment to performance. Impact Tennessee's program offers attendees an exclusive insight into where we've been and where we're going in the world of sustainability, including a keynote presentation from Z. Smith, two GBCI-approved education sessions, an awards ceremony and networking + social hour.
After the keynote, join fellow sustainability professionals from across Tennessee for a networking reception with drinks and heavy hors d'oeuvres.
Come help us celebrate the best in green buildings around Tennessee! Proceeds from the event support USGBC's local education, advocacy and volunteer program
KEYNOTE :
Our keynote speaker is Z. Smith, Principal and Director of Sustainability and Building Performance at Eskew Dumez Ripple. His built work includes academic, laboratory, and residential buildings, including winners of the RAIC Green Building Award and the AIA COTE Top Ten Award. Z will present insights and real-world examples of how the market has transformed and where the market is going.
Z. Smith, Principal and Director of Sustainability and Building Performance at Eskew Dumez Ripple - Bio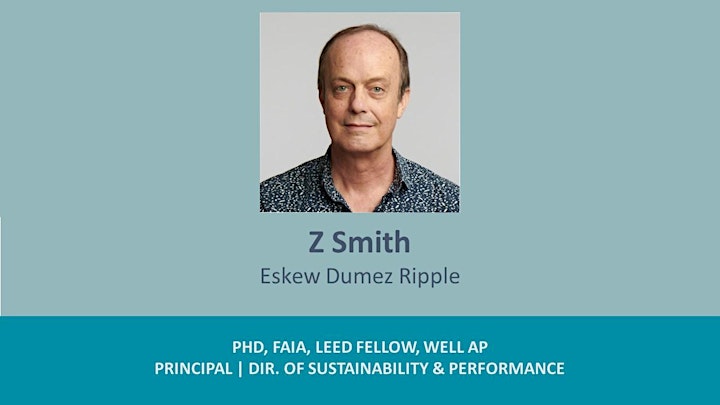 Panel #1: Beyond the Buzzwords
"Sustainability" can mean many things to many people. Depending on your life experiences and professional experiences in the built environment, "sustainability" could be defined by energy or water savings, occupant well-being, or the whole view of what is best for the environment. In this rapid pace panel discussion, we will share common terms that people frequently use in support of sustainability within the built environment, as to level set on their definitions and show case study examples to illustrate. Terms such as "resiliency," "decarbonization," and "healthy" are often used to describe project features, and this session will share how to support the use of those terms.
Erica Weeks, Associate Principal and Director of Sustainability for Hastings Architecture Bio
Learning Objectives:
1. Define terms that are commonly used to support sustainability in the built environment.
2. Describe the steps or metrics required to support the use of the terms.
3. Explain how to source definitions or use reference standards to support the terms.
4. Recite case study examples of commonly used sustainability terms.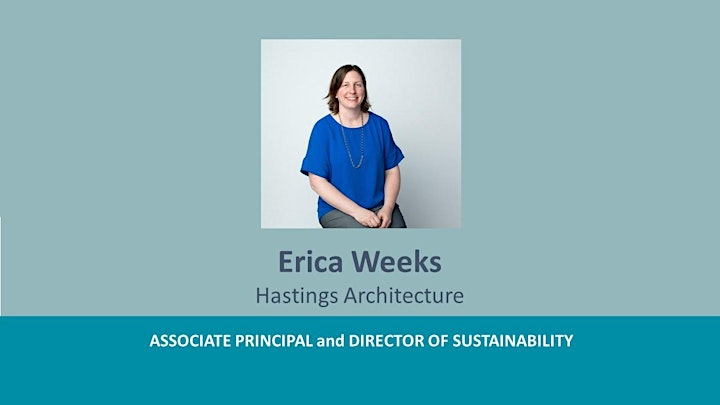 Panel #2: Vanderbilt University: An in-depth discussion on the FutureVU Sustainability program
In 2019, the university set a goal to power its campus entirely through renewable energy and achieve carbon neutrality by 2050. During the past 13 years, Vanderbilt has become home to 22 LEED-certified buildings, WELL and Living Building Challenge PETAL projects. While the university's sustainability and medical center departments have traditionally worked in separate realms, there has been progress to change that. Learn about how VMU and VU are working together. Attendees will also learn about other efforts on campus and in the Nashville community around sustainability, including on-site clean energy, decreased carbon footprint from vehicles, more green spaces on campus, reduced waste consumption and investments in sustainable infrastructure. This will be a moderated panel to start and will conclude with an open Q&A with the audience, so come ready with questions!
Panel: Coming Soon
Moderator: Coming soon
FEATURES:
• A keynote presentation from Z. Smith, Principal and Director of Sustainability and Building Performance at Eskew Dumez Ripple.
• GBCI approved education sessions highlighting sustainability leadership in public and private sectors and advances in green building design through the LEED rating system.
• The 2022 USGBC Tennessee Leadership Recognition Ceremony, celebrating LEED projects and green building leaders.
• Exclusive networking reception with drinks and hors d'oeuvres with sustainability professionals
CONTINUING EDUCATION:
• Anticipated: 4 CE GBCI , AIA LU – HSW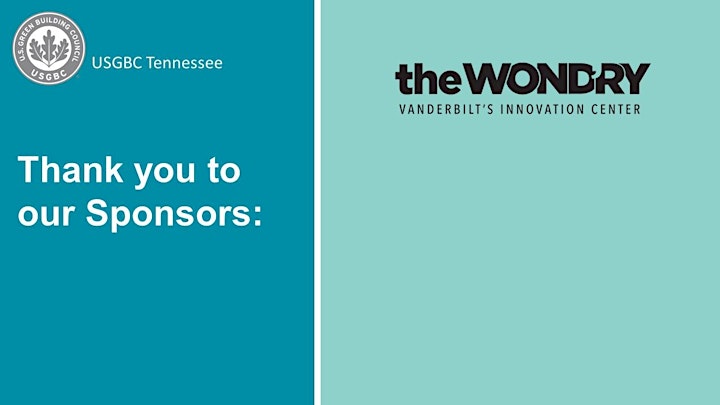 THANK YOU OUR SPONSORS!
USGBC thanks our generous support from our sponsors.
Premier Sponsor: the Wond'ry
HEALTH & SAFETY:
The safety and well-being of our community is our top priority. All in-person attendees of USGBC in-person events must be vaccinated in advance to participate. Facial mask wearing is required for all indoor activities and encouraged for outdoor activities except when actively eating or drinking. Attendees are asked to observe social distancing protocols and respect other's personal space. All attendees are required to review and agree to USGBC's Event Attendee Release & Liability Waiver (included in the registration).
CONTACT:
Dustin Mason, Associate Director - dmason@usgbc.org, 202.591.3899