Description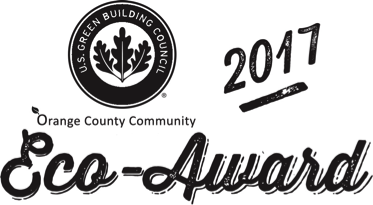 Enjoy an evening at the beautiful LEED Platinum Certified, Environmental Nature Center in Newport Beach. Converse with friends and colleagues as we honor Orange County companies and individuals committed to sustainable practices.
In addition to the awards, the event features a keynote address from Bo Glover, Executive Director of the Environmental Nature Center (ENC). Bo's career at the ENC began with trail building, habitat restoration and leading educational tours as a volunteer in 1991. Bo became ENC's Executive Director in 1995, and when he's not hiking or camping with his family, he works with a number of worthwhile community organizations.
The 2017 Eco Awards will honor the accomplishments in sustainable practices and educate the Orange County public about sustainable places and businesses in the county. This event will feature light networking over food and beverages, award program, and a celebration.
This year, we will recognize achievements in the following categories:
3rd Eco-City Award

Most Sustainable Company in Orange County (> 50 Employees)

Most Sustainable Company in Orange County (< 50 Employees)

Most Sustainable Land Plan, Landscape Design, or Open Space in Orange County

Most Sustainable NGO

Healthiest Hotel, Multi-Family or Overnight Accommodation

Most Sustainable Restaurant/Retail

Most Sustainable Home (Single Family)

Most Sustainable or Healthiest School

Eco-Leader (Most Sustainable Professional, Educator, or Elected Official)
Program Agenda:
5:30 – Doors open and registration
5:30-6:15 – Networking/Food Service
6:15- 6:30 – Keynote, City of Anaheim
6:30 – 7:00– Malcolm Lewis Tribute/LEED Fellow and Eco Award Judges Recognition
7:00 – 8:00 – Eco Awards Presentations
8:00 – 8:30 – Dessert/Networking
8:30 – Event concludes
To learn more about the event, visit our website: https://www.usgbc.org/event/usgbc-orange-county-2017-eco-awards
---
If you are interested in sponsoring this event, please contact: Ray Dapp, at 949-933-9707 or rdapp@usgbc.org.
If you would like to submit a nomination for an Eco Award, please see the website the award nomination process and application and/or contact, Contact Ray Dapp, at 949-933-9707 or rdapp@usgbc.org.